Best Central Coast Beaches
We've covered the amazing array of Santa Barbara beaches in a separate article, and this article will introduce you to the rest of the Central Coast beaches, traveling south to north.
After the highway turns inland at Gaviota State Beach, travelers are foreclosed from easily seeing the beautiful California Central Coast beaches until north of Lompoc and Vandenberg Air Force Base.  It should be noted that the coast, which has been running almost east-to-west through Santa Barbara county, now turns north-south, and the water turns decidedly more chilly than it is further south. This "dog leg" is basically a boundary between the warm sandy beaches of Southern California and the brisker beaches of the Central Coast and further north.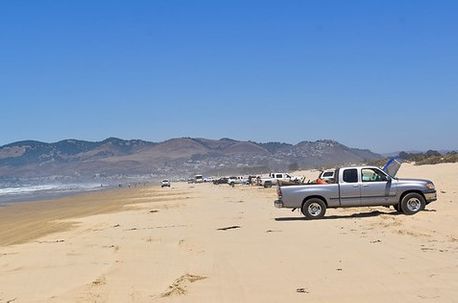 The first major beach area you reach is Pismo Beach, which has a wide expanse of white sand with reasonable surf, oceanfront lodging and other amenities. Dogs are allowed on the beach, on a leash.
You can no longer harvest clams (which were over-harvested by people and the sea otter), although Pismo was the "clam capital" of California for many years.  Nearby wineries, the monarch butterfly grove, shopping, surfing, fishing and a host of other activities beckon.
Tucked between Rt. 1 and the beach is a wonderful array of inns, lodges, hotels, hostels, resorts and vacation rentals. This is a tourist town with a fabulous, uncrowded beach.  It is here for your enjoyment, especially in the warmer summer months.
Avila beach, a few minutes north and off Rt. 1, is smaller, newer and a bit more sophisticated than Pismo. The beach is more sheltered, and the hotels are more resort like.  Golf and hiking are popular non-beach activities here, as the physical beauty of the surrounding area is astounding.  This is a great place for a spa-like getaway.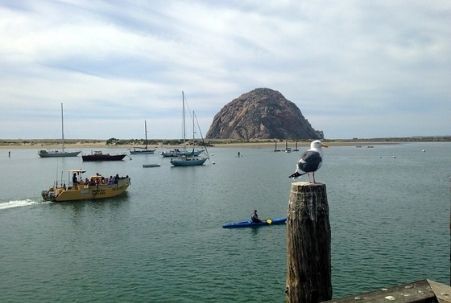 After ducking inland to San Luis Obispo, Rt. 1 rejoins the coast at Morro Bay.  Unlike Pismo, where accommodations are a block or two from the beach, Morro Bay is a real town with a working waterfront and the hotels are in town. The area beaches — just north of town and a wonderful pristine state beach on the south side — are a short drive away.  The area around Morro is also a wildlife refuge, and it's a great place to watch birds.
Just up the road a mile or two is Cayucos State Beach, where you will find a wonderful array of restaurants, and "On The Beach Bed and Breakfast" offers an exemplary lodging experience.
Moonstone Beach, near Cambria, has wonderful ocean view inns and motels, but the beaches in this area are more to be looked at than used.
From here, Rt. 1 begins the long, spectacular run through Big Sur and "beaches" is not what you think of in this Central Coast locale. You think: Vistas… rustic charm… meditative retreat, perhaps, but it's very different than the typical California beach lifestyle.  In fact, you won't see much beach for almost 100 miles, until Carmel-by-the-Sea, specifically Carmel River State Beach and Carmel City Park. The Carmel peninsula, of course, is famously rocky, but both here, on the south side, and at Monterey on the north you will find sandy beach and plenty of hotels, motels, resorts and inns from which to enjoy it.
Monterey State Beach is one of the most spectacular beaches on the Central Coast.  In addition to swimming and surfing, the park attracts scuba divers.  Visitors also enjoy kayaking, kite-flying and volleyball, and the flat beach is an excellent place for beachcombing.  There are miles of sandy beaches to enjoy here, with a youth hostel, resort-class hotels and several intermediate accommodations in between.  A seaside path for walking and biking delivers a knockout view at sunset. Monterey Bay beaches are essentially totally public and very well preserved from Monterey to the Santa Cruz county line at Rio Del Mar.
Come explore and enjoy California's Central Coast beaches. There is truly something here for everyone!
Photo of Pismo State Beach, Central Coast, CA by Nick Anoscato via flickr (Creative Commons) and Photo of Morro Rock at Morro Bay, Central Coast, CA by Brian via flickr (Creative Commons).