Orange County Festivals – 2021 / 2022
While there's certainly no shortage of things to do in Orange County, visiting during the area's Restaurant Week celebration or when a fun food or wine festival is happening can definitely kick your trip up a notch! The event list below may be useful for your trip planning purposes.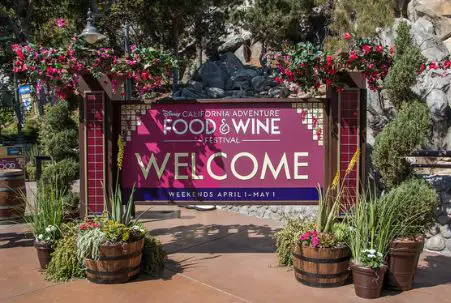 For each entry on the list, you'll find in which city and on what date(s) it's scheduled to occur, plus a link to a website that provides additional details. Given the ongoing pandemic, it would probably be wise to check again and verify the details closer to an event's date.
The list includes many dates for 2022 culinary events and others with 2021 dates. ***Events for which a 2022 date is not yet available are marked with a triple-asterisk.***
Many of these are annual events that are held around the same time every year. While we plan to check and update this list from time to time, if a 2021 event looks particularly interesting you may want to click through to see if the organizer's website has been updated.
If your travel dates are already set, here are some handy jump links that you can use to advance to a specific month's events quickly:
January *** February *** March *** April ***
May *** June *** July *** August ***
September *** October *** November *** December
January
OC Vegan Fest, Santa Ana
January 22, 2022
February
Orange County Tet Festival, Costa Mesa
February 5 & 6, 2022
Outstanding in the Field at
Ecology Center, San Juan Capistrano
February 10, 2022
March
Disney California Adventure Food & Wine Festival
March 4 – April 26, 2022
Orange County Food & Wine Festival
Marconi Automotive Museum, Tustin
March 6, 2022
Orange County Restaurant Week
March 6-12, 2022
Taste of Villa Park
March 14, 2021***
April
Taste of Huntington Beach
April 24, 2022
May
Orange County Greek Festival, Anaheim
May 13-15, 2022
Scottish Festival, Costa Mesa
May 28 & 29, 2022
Taste of Orange
May 2, 2021***
June
Avalon Restaurant Week
June 4-10, 2021***
La Habra Citrus Fair
June 25-27, 2021***
July
Orange County Burger Week
July 10-16, 2022
Downtown Santa Ana Margarita Trail
July 1-15, 2021***
OC Brew Hee Haw, Costa Mesa
July 23 & 24, 2021***
August
California Wine Festival, Dana Point
August 22 & 23, 2022
Noodles Around the World Festival, Santa Ana (virtual)
August 29, 2021***
September
Orange International Street Fair
September 2-4, 2022
(Labor Day weekend)
Tustin Tiller Days
September 30 – October 2, 2022
OC Brew HaHa
September 11, 2021***
Old World Oktoberfest, Huntington Beach
September 19 thru October 31, 2021 (Wednesday-Saturday)***
San Juan Capistrano Greek Festival
September 25 & 26, 2021***
October
Pacific Wine & Food Classic, Newport Beach
October 1, 2022
Phoenix Club Oktoberfest, Anaheim (moving to Brea in 2022?)
October 1-24, 2021*** (on Friday, Saturday and Sunday)
Newport Beach Wine & Food Festival
October 2 & 3, 2021***
La Habra Lions Corn Festival
October 8-10, 2021***
Irvine Greek Festival
October 8-10, 2021***
Irvine Global Village Festival
October 9, 2021***
Tastemakers of Orange County
Segerstrom Center for the Arts, Costa Mesa
October 13, 2021***
Taste of Laguna Food & Music Festival
October 14, 2021***
626 Asian Night Market, Costa Mesa
October 22-24, 2021***
Scotober Fest, Irvine
October 23, 2021***
November
California Wine Festival, Huntington Beach
November 5 & 6, 2021***
OC Meets Napa, San Juan Capistrano
November 6, 2021***
Orange Coast Whiskey Classic, Costa Mesa
November 18, 2021***
Swedish Christmas Fair, Costa Mesa
November 21, 2021***
December
There are currently no events scheduled in December.
If you know of any additional culinary-related events or festivals happening in Orange County, please use our Contact form to let us know. (And, thanks in advance!)
Photo of Disney California Adventure Food & Wine Festival by Anna Fox via flickr (Creative Commons).

PLEASE NOTE: Hours of operation, driving times, etc., can vary with then-current conditions. While every effort is made to provide accurate information,we cannot be responsible for errors or for changes that may have occurred since publication. Please confirm all information with actual service providers.The information provided on this website is done so without warranty of any kind, either expressed or implied.