San Francisco Bay Area Festivals – 2021 / 2022
The San Francisco Bay Area is world-renowned for offering excellent foodie experiences, and its chock-full calendar of food and beverage events probably won't surprise you. And, now you have a handy list to help you enjoy them!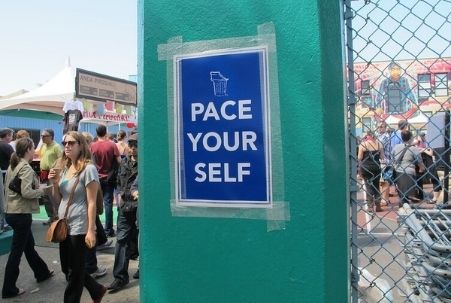 Like so many California travel destinations, the Bay Area is embraced by what one could call an epicurean trifecta — the Pacific Ocean's varied seafood offerings, a variety of vineyards and, finally, amazingly fertile farmlands — and it's also blessed with thoughtful men and women dedicated to making the most of those assets.
In fact, a main purpose of many of the festivals you'll discover below is to showcase and celebrate their talents.
For each event entry, you'll find where and on what date(s) it's scheduled to occur and a link to a website where you can learn additional details. Given the ongoing pandemic, obviously plans may change. Accordingly, please plan to check again and verify the details closer to an event's date.
You'll notice that the list includes many dates for 2022 culinary events and others with 2021 dates. ***Events for which a 2022 date is not yet available are marked with a triple-asterisk.***
Many of these are annual events (in typical times, that is), held around the same time every year. While we plan to update the list periodically, you can of course click through to see if the organizer's website has been updated to provide a 2022 date in the interim.
Also, if you know of any other San Francisco Bay area culinary-related events or festivals that should be added to the list, please use our Contact form to let us know. (And, thank you in advance!)
Finally, if you already know when you plan to visit the Bay Area, you can use these jump links to advance to a specific month's events quickly:
January *** February *** March *** April ***
May *** June *** July *** August ***
September *** October *** November *** December
January
Santa Cruz Fungus Fair
January 2022 – various dates
Alameda Restaurant Week
January 14-23, 2022
Concord Comfort Food Week
January 14-31, 2022
Oakland Restaurant Week
January 20-30, 2022
San Francisco Fungus Fair
Orinda Community Center
January 23, 2022
February
San Francisco Beer Week
February 11-20, 2022
Taste Tri-Valley (Livermore, Pleasanton, Dublin & Danville)
February 18-27, 2022
Crab & Tri-Tip Feed – Walnut Creek
February 26, 2022
Santa Cruz Beach Boardwalk Clam Chowder Cookoff & Festival
February 26 & 27, 2022
SF Zinfandel Experience
February 27-29, 2022
March
San Francisco Chocolate Salon
Spring 2022 (***click link to see if date is now more specific)
Berkeley "March Munch Madness" Restaurant Week
March 18-31, 2021***
April
San Francisco Cider Summit – Presidio
April 2022 (***click link to see if date is now more specific)
Los Gatos Spring Wine Walk
April 2022 (***click link to see if date is now more specific)
Taste Mendo at the
Berkeley Country Club, El Cerrito
April 9, 2022
Nikkei Matsuri – Japantown San Jose
April 24, 2022
San Francisco Restaurant Week – Spring
(Fall is in October, part of eatdrinkSF)
April 9-18, 2021***
May
Oakland Greek Festival
May 2022 (***click link to see if date is now more specific)
Burger & Brew Fest – Fremont
May 21, 2022
Mushroom Mardi Gras – Morgan Hill
May 28 & 29, 2022
Peninsula Restaurant Week (restaurants in Los Altos, Menlo Park,
Mountain View, Palo Alto, Portola Valley,
Redwood City, San Carlos & Stanford)
May 14-22, 2021***
June
Mill Valley Wine, Beer &
Gourmet Food Tasting
June 5, 2022
Boots & Brews – Morgan Hill
June 25, 2022 ***UNCONFIRMED
July
Livermore Taste Our Terroir
July 22-25, 2021***
Gilroy Garlic Festival
July 23 through August 1, 2021***
August
San Francisco Nihonmachi Street Fair – Japantown
August 7 & 8, 2021***
Watsonville Strawberry Festival
August 8, 2021***
Fioli Wine Weekend
August 14 & 15, 2021***
Bay Area Black Restaurant Week
August 20-29, 2021***
Scotts Valley Art Beer & Wine Festival
August 21 & 22, 2021***
Italian Family FESTA – San Jose
August 21 & 22, 2021***
Assyrian Food Festival – San Jose
August 22 & 23, 2021***
Oakland Chinatown Streetfest
August 28 & 29, 2021***
September
Bonny Doon Art, Wine & Brew Fest (near Santa Cruz)
Fall 2022 (***click link to see if date is now more specific)
Belmont Greek Festival
September 3-5, 2022
San Francisco Rum Festival
September 4, 2022
Pittsburg Seafood & Music Festival
September 10 & 11, 2022
Mountain View Art & Wine Fest
September 11, 2022
Lafayette Art & Wine Festival
September 17 & 18, 2022 – UNCONFIRMED
Berkeley Vegan Food Fest
September 5, 2021***
Mezcal Week
September 8-15, 2021***
San Francisco Chinatown Autumn Moon Festival
September 11 & 12, 2021***
Negroni Week
September 13-19, 2021***
Walnut Creek Walnut Festival
September 23-26, 2021***
San Francisco Greek Food Festival
September 25 & 26, 2021*** (was Grab & Go for 2021)
October
San Francisco Sake Day
October 1, 2022
Half Moon Bay Art & Pumpkin Fest
October 15 & 16, 2022
Walnut Creek Oktoberfest
October 17, 2022
Santa Cruz Beach Boardwalk Chili Cook-Off
October 22, 2022
Tiburon Wine Festival
October 2, 2021***
Mission San Jose Olive Festival – Fremont
October 2 & 3, 2021***
Corks, Forks, Rhythm & Brews – Alameda
October 7, 2021***
eat drink SF – includes Fall Restaurant Week!
October 15-24, 2021***
Santa Cruz Restaurant Week
October 20-27, 2021***
Halal Food Truck Fall Fest – Fremont
October 30, 2021***
November
San Francisco Plate by Plate Benefit
November 6, 2021***
Mexico In A Bottle
November 7, 2021***
Séka Hills Olive Crush Festival – Brooks
November 13 & 14, 2021***
San Francisco Coffee Festival
November 13 & 14, 2021***
December
Swedish Christmas Fair – Palo Alto
December 4, 2021***
Photo of A Word to the Wise at San Francisco Street Food Festival by Gary Stevens via flickr (Creative Commons).
PLEASE NOTE: Hours of operation, driving times, etc., can vary with then-current conditions. While every effort is made to provide accurate information,we cannot be responsible for errors or for changes that may have occurred since publication. Please confirm all information with actual service providers.The information provided on this website is done so without warranty of any kind, either expressed or implied.