San Francisco Culinary Vacations
If you fancy yourself a foodie — or even if you just like eating excellent food — you'd be hard-pressed to find a better place for a culinary vacation or weekend getaway than the gastronomic mecca of San Francisco. With its world-class wine, coffee, chocolate and artisan cheeses and its delectable fruits plucked from land and sea, the California Bay Area offers an off-the-chart culinary experience. And, if you're lucky, there might even be a fun food or beverage festival happening during your San Francisco Bay Area visit!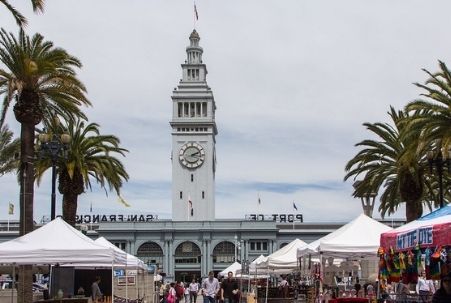 In part, the genesis of San Francisco's rich culinary tradition can be traced to its geographic location and easy access to the very best ingredients.
If you were to stand atop San Francisco's highest building (since 2018, the Salesforce Building, which is infinitely easier to stand atop than its predecessor, the Transamerica Pyramid), a turn of your head would present the Pacific Ocean, the Napa-Sonoma Wine Country and California's Central Valley.
While the first two make obvious contributions of amazing seafood and world-class wine, some may not realize that the latter — the Central Valley — is known as "America's salad bowl" for the abundance of fruits and vegetables grown there. The three commodities, in turn, inspire and supply a stable of talented, creative and visionary chefs. The symbiosis between the Bay Area's growers, food purveyors and chefs is truly a beautiful thing.
As odd as it may seem, the California Gold Rush in the mid-1800s also had a hand in creating San Francisco's 21st Century culinary prowess. As dreams of opportunity and prosperity brought immigrants to the state, those new residents' different backgrounds — representing ethnic cultures from all over the world — laid the foundation for a unique culinary diversity that still very much exists today.
Bay Area Food Tours
One of the best ways to sample that diversity is a San Francisco food tour — which can be accomplished by hiring a private tour guide, arranging a guided walking food tour with one of the many companies selling city tours or using our suggestions in the linked article to pick a neighborhood and design your own self-guided walking tour of its various food, wine and beer establishments.
We've heard that Secret Food Tours has a private tour option, and you might also look through Airbnb's tour experiences if that's what you're looking for. For tour guide-led options, we recommend (in no particular order) Avital Tours, Sidewalk Food Tours, Gourmet Walks and/or Edible Excursions. All of these companies have been in business for a number of years and between them all, cover just about every San Francisco Bay Area neighborhood of culinary note — the Mission District, Chinatown, Japantown and Little Italy in The City, as well as Oakland and Berkeley in the East Bay. Marin County's Sausalito food tour is offered by the aptly named Sausalito Food Tour.
And, for the techie-foodies out there, here's a unique treat — a virtual tour of San Francisco food that's prepared and delivered by robotic means, brought to you via a series of Instagram posts. How very San Francisco!
Food Halls in the Bay Area
Another good way to sample a variety of tasty treats is to visit one — or more! — of the Bay Area's food halls.  The Ferry Building Marketplace is probably the best known of the bunch, and the newest one (just opened at the time of this writing) is La Cocina Municipal Marketplace.  The former is probably in a better location for tourists; the latter is located in The Tenderloin, but it certainly sounds interesting.
There's also China Live in Chinatown, a food hall/marketplace that's definitely worth a visit if for nothing else than to try the Sheng Jing Bao and the Dutch Crunch Baked Buns. Finally, one to watch in San Francisco is Chase Center's (the new home of the Golden State Warriors basketball team) Thrive City. The rollout of eateries here was massively delayed because of Covid, but future plans include a food hall by celebrity chef Michael Mina.
Some other Bay Area food hall options are:
East Bay Food Halls
Swan's Market – Downtown Oakland
Oakland Assembly – Jack London Square – coming in late 2021?
Rockridge Market Place – Oakland Hills
Market Hall Foods on 4th – Berkeley
Public Market – Emeryville
Castro Valley Marketplace – Castro Valley
South Bay Food Halls
San Pedro Square – Downtown San Jose
SoFA (South First Arts) Market – Downtown San Jose
Abbott Square Market – Santa Cruz
San Francisco Food Trucks
There is a no shortage of San Francisco celebrity chefs, of course, but you definitely don't have to spend an arm and a leg to get a good meal in the city. In fact, making an effort to include some of the more economical food providers in your plans is a "must-do" from this writer's perspective. Be sure to check out the fare offered by San Francisco food trucks. They typically keep in contact with their customers and broadcast their whereabouts via twitter.com, but there's also a smartphone app — Roaming Hunger — that's useful for this purpose.
Photo of San Francisco Ferry Building by Gary via flickr (Creative Commons); Photo of Tour bus for sffoodtours.com by Gary Stevens via flickr (Creative Commons); and Photo of China Live Marketplace display, Chinatown, San Francisco by Gary Stevens via flickr (Creative Commons).