Come have some fun in California!
Welcome to the California Tourist Guide — a great place to plan the perfect California vacation, holiday or weekend getaway. Even if you're still in the California Dreamin' stage, you're sure to find information and inspiration here that will get you going and off to a good start.
As you can see, this is a BIG state, and you'll probably want to focus on a particular city or area when you visit. Have you decided where in California you want to go? Do you want to check out the San Francisco Bay Area and maybe work in a side trip to the Napa-Sonoma Wine Country? Are you hoping to "unplug" for a while on a fabulous California beach or at one of its gorgeous National Parks?
Perhaps you want to combine a little history lesson for the kids with an opportunity for the adults to sample some excellent Gold Country wine? Or, maybe you're trying to decide which Southern California area — Los Angeles, Orange County or San Diego — would work best for your family?
Rest assured, we take our California tourism assistance role seriously, and the information here can help you make better choices. For most travelers, resources are limited and a little planning will go a long way toward getting the most bang for your vacation buck!
Whatever your particular circumstances and preferences, our articles can help guide your planning. If you already know where you're going, just click on one of the top navigation buttons and then drill down to a specific area for trip ideas. You may also want to use this cities-by-area list to find additional touring and recreation opportunities near your primary destination.
If you find a magazine-like guide useful when learning about a large geographic area like California, the State makes that resource available to U.S. and Canadian residents. If you'd like to request that a free 2022 California vacation information brochure be mailed to you, just click the preceding link for all the details. You'll also find links to some free California maps there, including ones you can access online for real-time traffic information.
And remember, when you get here you absolutely have to sample – even indulge in! – California's superb culinary offerings. From food tours in San Francisco (there are several to choose from) to an itinerary designed around touring some of Napa's coolest wineries (there are quite a few of those, too), activities that revolve around enjoying epicurean delights will definitely enhance your visit. And, these types of extraordinary food and beverage experiences are available virtually everywhere in the state!
For example, while Napa and Sonoma wines are unquestionably wonderful, there are several other areas where you can enjoy excellent, locally produced wine. The Central Coast (Monterey/Carmel, Paso Robles, Santa Barbara and more) and Gold Country areas boast award-winning offerings, and there are also amazing smaller wineries in the North Coast and the Inland Empire's Temecula areas.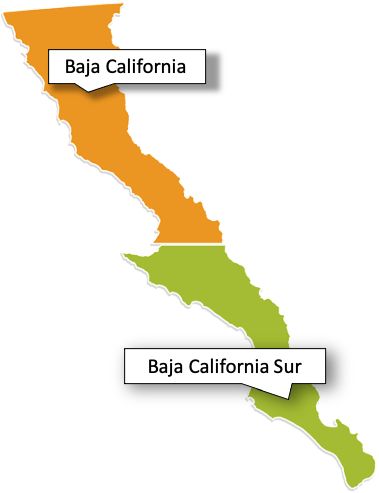 And, speaking of wine, oenophiles will definitely want to explore the up-and-coming Guadalupe Valley wine region. We've recently begun adding articles about Mexico's two Baja Peninsula states: Baja California (where you'll find the Guadalupe Valley) and Baja California Sur (home to several lovely seaside destinations, including Los Cabos). They comprise the original California, after all, and they offer endearing tourism attributes — beautiful beaches, incredible outdoor experiences, a general appreciation for "the good life" — combined with Mexico's welcoming and charming culture. (In the spirit of complete disclosure, we also moved to Los Cabos recently which made the addition of Mexico's California states to this guide a no-brainer from our perspective.)
So, let's get planning… just choose an area from the top navigation buttons… or use the Search box if you're looking for something specific… or click the following link to begin reading the guide's statewide articles to learn more about all the wonderful things there are to see, do, eat, drink and enjoy here!