California Culinary Vacation Ideas
The World Food Travel Association's "World Food Travel Monitor 2020" shared that nearly 80 percent of leisure travelers cite food and drink experiences as important to their trip enjoyment, adding that such experiences are even more important to them now than they were five years ago. "Culinary travel is here to stay," summarized Erik Wolf, the association's president.
California is a popular food-related travel destination as well as America's definitive top state for wine-related travel. Its verdant farmland and thriving economy help attract talented chefs and winemakers, which in turn attract culinary-focused travelers. And, for those not drawn to fine dining and wine tasting, there are abundant farmer's markets, an array food-and-beverage festivals and tours, cooking experiences galore and restaurants to fit every budget.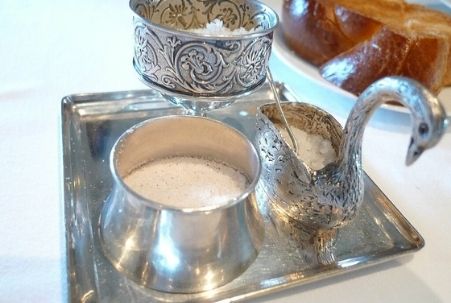 While the Napa-Sonoma Wine Country, San Francisco and Los Angeles are world-renowned for their celebrity chefs and Michelin-starred restaurants, each of California's areas offers unique discoveries to adventuresome foodie travelers. There are, for example, award-winning offerings from still-under-the-radar Gold Country wineries to be savored and amazing Central Valley and Central Coast events to be enjoyed. Travelers often don't know about them, though, because they're only publicized locally.
To help get the word out, we've compiled a brief look at a culinary highlight or two for each California tourism area, arranged as if you are traveling the state from north to south. There are even entries that will give you a look at what's on tap for 2022! And, just to be clear, rest assured this is a mere sampling of all that awaits you in California:
Shasta-Cascades – Olives are BIG in this area, and you can find some of the oldest olive trees in the U.S. at the Lucero Family's groves near Corning. There's also an annual Olive Festival in Oroville, typically held in June.
North Coast – Already admired for elegant Pinot noir, this area also has a vibrant craft beer scene. In fact, way back in 1983 Hopland Brewery became the state's first brewpub, only the second such brewery+restaurant in the entire country. While that establishment no longer exists, several North Coast breweries fill the void, and craft beer aficionados should check out Boonville, Fort Bragg, Fortuna, McKinleyville, Eureka and Ukiah. (And, maybe sample some seafood and/or mushrooms, too? They're especially tasty here!)
Napa-Sonoma Wine Country – You've no doubt heard a thing or two about the Disneyland-like wineries and the splurge-worthy restaurants here, but did you know Napa and Sonoma Counties are also good places to find delicious, reasonably priced Mexican fare? The Napa Taco Trail — the link goes to a Google Map of the various food trucks, etc. — can keep you well-fed for days, but there are also a couple of Michelin-recognized Mexican restaurants in the area that you may want to put on your list. Both La Calenda in Yountville and El Molina Central in Sonoma recently earned a Michelin "Bib Gourmand" nod to recognize them as "friendly establishments that serve good food at moderate prices," and are excellent additions to the Wine Country dining scene.
San Francisco Bay Area – This is a geographically large area – encompassing not only the City of San Francisco, but also cities in Marin County (e.g., Tiburon and Sausalito), the East Bay (e.g., Oakland and Berkeley), the South Bay (e.g., Palo Alto and San Jose) and around Santa Cruz (e.g., Gilroy and Watsonville) – and we'd definitely encourage you to check out other parts of the area if you've already explored The City. First-time foodie visitors, however, are in for a treat – maybe even LOTS of BIG TREATS. There's a wide variety of guided food tours, of course, but you might also want to use our by-neighborhood information to put together a DIY San Francisco Food Tour (or six). Chocolate lovers will definitely want to check out the Mission District's Dandelion Chocolate Factory Tour!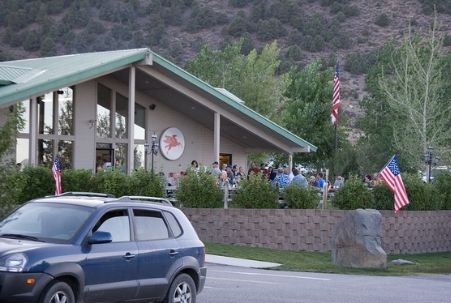 Sierras & Gold Country – The introduction mentioned our appreciation of Gold Country wine, but there's excellent beer to be found here, too. Many Californians believe that "it takes a lot of good beer to make good wine," and we've not witnessed anything to disprove that.
There's also a wonderful honey producer in Valley Springs, Gold Country Honey (you can find it at various stores in the area), and there's a cool, little goat farm in Lincoln (near Auburn), too.
If you make it down to the Eastern Sierras portion of this area, make sure your itinerary includes a stop at The Whoa Nellie Deli, located at the Tioga Gas Mart in Lee Vining. Seriously! It was even written up in Food & Wine magazine! Both the fish tacos with mango salsa and the wild buffalo meatloaf are highly recommended!
Central Coast – We already mentioned this area's awesome array of culinary events, but you can find delicious food and wine here all the time… well, at least Thursdays through Mondays, we should qualify. The area is finally receiving the recognition it deserves and is kind of exploding right now as a new foodie-favorite darling. Who knows, they may need to quit taking Tuesdays and Wednesdays off soon! First there were three, brand-new Michelin stars awarded here in September 2021 (to Bell's in tiny Los Alamos, Sushi | Bar in Montecito and Six Test Kitchen in Paso Robles), and then in November Wine Enthusiast magazine announced that Santa Barbara Country is its 2021 Wine Region of the Year pick. "Bravo," we say!
Central Valley – Since it's known as "America's Fruit Basket," it'll come as no surprise that, like the Central Coast, there's a gracious-plenty of Central Valley events to sweeten your visit to the area… not to mention the Sacramento craft beer scene, the Lodi wine region and a bunch of California Cheese Trail entries to explore. Getting to know this area can be a wonderful addition to a Yosemite National Park visit, and if you enjoy Port wine, be sure to add Ficklin Winery in Madera to your itinerary. It's America's most awarded Port winery, and for good reason!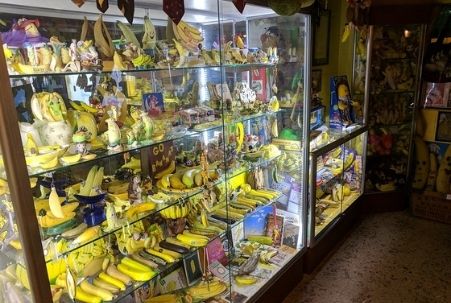 Deserts & Inland Empire – We could mention how this area boasts some fab Palm Springs dining options or how its Temecula wine region is growing, but we're going quirky, instead, to point you toward the small town of Mecca.
Not far from Joshua Tree National Park and very close to the Salton Sea, it's home to the Bautista Family Organic Date Ranch — did you know that 90 percent of America's dates are grown in this area? — AND you'll also find The International Banana Museum here. Basically, it's one room with 20,000+ banana-related items (it set a Guinness World Record for "the largest museum devoted to a single fruit" in 1999) that also sells homemade banana ice cream – so, really, what's not to love? By the way, date season runs from early-October through early-April, which is also the best time to visit this area since summers can be uncomfortably warm.
Los Angeles – Stretching from the lovely Ventura-and-Ojai area in the north to Long Beach in the south, Los Angeles is literally jam-packed with creative culinary adventures. If your time here is limited, however, you may want to consider focusing your visit on Downtown LA and the nearby Arts District, and maybe tack on Chinatown and Little Tokyo if time allows. Grand Central Market is a must-visit, and we note there are some interesting new DTLA openings happening in 2022. First, Ray Garcia (the beloved LA chef of Broken Spanish and B.S. Taqueria fame) is slated to open a new restaurant at Walt Disney Concert Hall in January; second, Australian celebrity chef Curtis Stone plans to open a rather massive rooftop restaurant at the Trust Building in April. There are also a bunch of new-ish distilleries in the Arts District – Lost Spirits, Our/Vodka and The Spirit Guild – joining Greenbar Distillery that opened way back in 2012 to become the first distillery in Los Angeles County since Prohibition's repeal way-way back in 1933! It appears the distilleries are all currently closed for tours and tastings due to the pandemic, but the Lost Spirits Yelp listing says they plan to reopen on 12/31/2021. Let's keep our fingers crossed!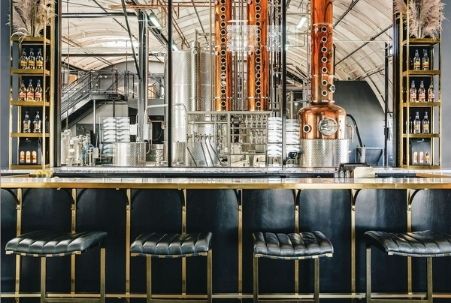 Orange County – Speaking of craft distilleries, OC finally has one, too, in Santa Ana, and it looks like a dandy that even has a restaurant! Adding to its cool quotient, Blinking Owl Distillery and Bistro also sources only certified organic grain to craft their spirits. If you've been looking for an excuse to check out California's largest weed dispensary (Planet 13 opened in Santa Ana on July 1), this may qualify! And, if you're celebrating or feeling splurgy, maybe put Playground 2.0 on the list, too?
San Diego – In 2021, we spent a late-summer week in Little Italy, only venturing out of the area to explore some Balboa Park gems and to walk the waterfront path to the Midway Museum and Seaport Village. Each dinner was divine, at restaurants ranging from a casual food hall stop to a place with homey Italian fare to a full-on, white-linen experience. There's truly something for every mood here! We hope to write about the visit soon (and remember to put a link here), but a couple new bars that you may want to consider if you're headed there are:
Wolfie's Carousel Bar – Inspired by The Carousel Bar & Lounge in New Orleans, this 256-seat restaurant opened in August 2021 and features a carousel-shaped, 24-seat cocktail bar that actually spins, making a full rotation every 14 minutes. The French-focused food and cocktails look rather amazing, too… check out the link to its Instagram.
Coco Maya by Miss B's – Slated to open in February 2022, this sure looks like a favorite new place to see and be seen.
Neither was open when we visited, so maybe we need to go back soon? No arm-twisting required for that… or for visiting any of the other areas on this list, truth be told!
Photo of Salt Selections at The French Laundry restaurant in Yountville by Arnold Gatilao via flickr (Creative Commons); Photo of Beer Flight at Anderson Valley Brewing Company in Boonville by Cody and Maureen via flickr (Creative Commons); Photo of Exterior of Whoa Nellie Deli in Lee Vining by Brad Greenlee via flickr (Creative Commons); Photo of International Banana Museum in Mecca by sporst via flickr (Creative Commons); and Photo of Blinking Owl Distillery in Santa Ana by Business Owner Courtesy via Yelp listing.
PLEASE NOTE: Hours of operation, driving times, etc., can vary with then-current conditions. While every effort is made to provide accurate information,we cannot be responsible for errors or for changes that may have occurred since publication. Please confirm all information with actual service providers.The information provided on this website is done so without warranty of any kind, either expressed or implied.