For millions of people in Southern California, Big Bear Lake offers a pristine alpine refuge and the perfect place for a weekend or week-long getaway. Just a two-hour drive from Los Angeles, Big Bear Lake and the mountains around it offer relaxation, rejuvenation and lots of interesting things to see and do.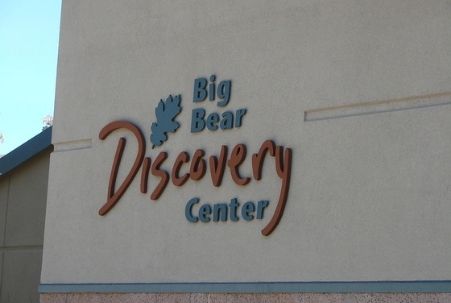 First things first, though: your Big Bear getaway will need a "home base," and you may want to consider one of the hotels in Big Bear, most of which are located along or near Rt. 18. If you're staying longer than the weekend, though, our Big Bear Cabins article is probably a better place to begin your accommodations search. Cabins are really popular in the area, and they do typically have kitchen facilities and provide more room to stretch out. If neither of those sound good, our Big Bear Lodging article discusses some other options.
Once your accommodations sorted, it's time to start planning all the things you want to see and do in this four-season, vacation-fun paradise! The Big Bear Discovery Center, the visitor's welcome center, is located on the north shore of the lake and might be a good place to start to see if anything special is happening during your visit. The Discovery Center hosts about half a dozen concerts at its amphitheater on select summer-Saturday evenings which may be of interest. It's also a good place to obtain further information about any of the activity ideas discussed below.
Big Bear Lake – Things to Do
The lake itself is the source of many of the best activities, and it's been popular with travelers ever since 1912, when the newest dam was built at the west end. (Fun fact: When the original dam was built in 1884 and Big Bear Lake was created, it was the largest man-made lake in the world.) On or around the lake you can enjoy:
Boating. You can bring your own boat (launching it at one of the two public launches at the east and west ends of the north shore) or rentals are available at the marinas. There are some exotic craft to choose from, too — a 24′ pontoon float boat for easy exploration of some of the coves; one- and two-person kayaks (great for exercising your core or wearing out your kids!); a dinner cruise on the Big Bear Queen; a ride on a New Zealand jet boat; a harbor tour on the actual pirate ship used in the movie Time Bandits; and jet skiing (for those who desire "hands-on" speedboating).
Fishing. The cold water from the mountain snowmelt supports a large number of sportfish — trout, bluegill, crappie, catfish and largemouth bass. It also has a carp problem, but annual "carp roundups" and "no limit" carp fishing helps keep the population of this invasive species under control.

Parasailing. Big Bear Parasailing at Marina Resort gets good reviews.
Solar Observatory. Big Bear Lake is home to the country's only alpine solar observatory — using the elevation and location in the lake (which is cool and has no heat reflections). It is presently closed to the public, however.
Swimming. Since the lake's source is snow-melt, the water offers a refreshing respite during the summer months. The three best locations for swimming are lined up along the south shore, beginning with Treasure Island (also sometimes called Garstin Island and/or China Island). Next is Boulder Bay Park and, finally, Ski Beach Park. Sadly, it appears Ski Beach Park, also known as Swim Beach, is closed in 2022 due to the California drought. (Things are looking up for the 2023 season, though, so click the link to check the status for your summer trip!)
Water Skiing, Wakeboarding and Tubing. You may think you need a speedboat with a rope to go water skiing, wakeboarding or tubing, but Big Bear also offers a "Cable Park" at Pleasure Point Marina. This unique, two-tower cable system can pull you 500 feet across the controlled water space and back — a perfect way to learn to ski or wakeboard. (Please remember when skiing on the lake to be mindful of underwater hazards near the shore.)
Bear Mountain – Things to Do
The mountains on either side of the lake offer robust outdoors activities, summer or winter:
Biking. Biking is popular up and down several dedicated mountain paths and along ridge trails, and the list of biking trails is similar to the one for hiking trails below. Be sure to take the "Town Trail" from Snow Summit west to Knickerbocker Road to look over the whole town and lake.

Golf. The nine-hole Bear Mountain Golf Course is located at Big Bear Mountain Resort. Rentals, lessons and a driving range are also available.
Hiking. Here is a list of Big Bear area hiking trails, with directions, gps, maps, etc.
Horseback Riding. This amenity is offered by Baldwin Lake Stables.
Skiing and Snowboarding. There are two ski areas, Bear Mountain and Snow Summit. Check out the half pipe for special thrills, and "innertubing" can offer fun for the whole family, requiring less skill than skiing.
Sky Chair. During the summer you can ride to the top of Bear Mountain in the Sky Chair (also known as the ski lift).
Zipline. Action Tours offers a variety of zipline tours.
Big Bear Boulevard – Things to Do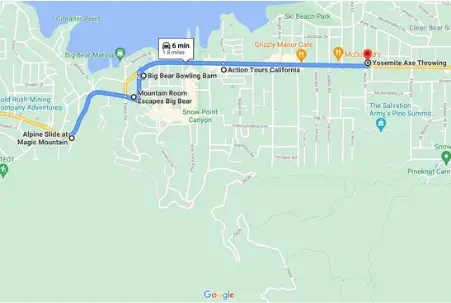 In a different article, we set out some of the fun north shore things to do in our "Big Bear North Shore vs. South Shore" discussion, and now we'll do the same for fun things to do along Big Bear Boulevard on the lake's south shore. You can access the original Google Map seen in the screenshot here.
Big Bear Events and Festivals
Big Bear Lake is home to several great annual events, including: a New Year's Torchlight Parade (at Big Bear Mountain Resort's Snow Summit); the Memorial Day Grill & Chill BBQ (May); a Trout Derby (June); an Independence Day Festival (July); an Antique Car Show (August); an Oktoberfest celebration (October); and the Mountain Christmas Boutique (offering arts and crafts in November). There are probably more; these folks know how to have fun!
We do hope that you enjoy your Big Bear getaway. Find a good place to stay, rest and breathe that fresh mountain air, get some exercise, shake off your stress and enjoy some of nature's finest in Southern California's only four-season vacation destination!
Photo of Big Bear Discovery Center by Jeremy Miles via flickr (Creative Commons); Photo of Solar Observatory on Big Bear Lake by Jeremy Miles via flickr (Creative Commons); Photo of Bear Mountain Snowboarding by king damus via flickr (Creative Commons);; and Screenshot of Google Map showing South Shore Activities by CaliforniaTouristGuide.com.