The "cabin in the mountains" concept is so inviting to harried city-dwellers that virtually all Big Bear rentals are called cabins and/or are styled as cabins. This guide will introduce you to the various types of cabins available and should help you find the perfect one for your Big Bear getaway or vacation.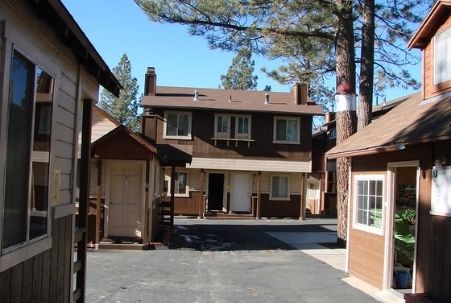 For most people, the words "cabin" or "cottage" conjures a small standalone structure, perhaps with a raised porch to keep the snow or mud out, some exposed wooden sides, maybe a peaked roof with a chimney. The interior standard is an open living area sporting lots of natural wood, rustic furniture and an inviting fireplace.
While that type of cabin exists here (and you may find them listed as "vacation rentals" or "private homes" in Big Bear area rental directories), as you begin looking at the listings you'll soon discover that some of the listings decidedly don't fit that mold. Some listings, especially when you're looking at larger directories like Airbnb or VRBO, take the "cabin" notion to the luxury-and-price extreme — with five-bedroom "cabins" near the slopes renting out for upwards of $1200 per night!
If your needs are more of the standard variety, you might consider the Golden Bear Cottages, not far from the dam at the west end of the lake. It's composed of 20+ units each constructed in a different architectural style — from log cabin, to barn, to manor house and more — and varying in size. Some of them allow pets, and others are near the pool. You select the one that best fits your needs and inquire about availability of that particular unit.
Timber Haven Lodge is another example, although perhaps a bit different than how you'd picture a "lodge." It's a set of about 10 cabins, all clustered around a playground for the kids and a hot tub for the adults. The centrally located Bay Meadows Resort offers 10 bungalows which look simple from the outside but are tastefully and comfortably decorated. And yet another cabins cluster — Big Bear Village Cabins — is composed of "Jacuzzi cabins" arrayed around a pool, with llamas walking on the premises and available for petting purposes or Instagram posts. There's truly something for everyone in Big Bear!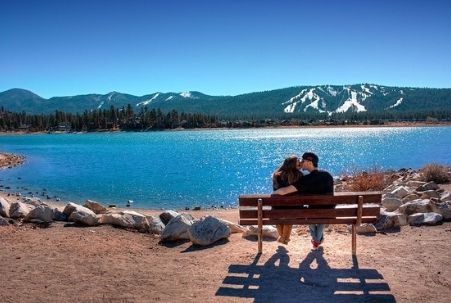 Your best approach is to just poke around a bit online until you find a Big Bear cabin that's the size and style you like and situated near the location where you want to spend the bulk of your time. The cabins on the north shore (Rt. 38) are typically higher in elevation, offering spectacular views of the lake but less access to lakeside activities, restaurants and the like.  The ones on the south shore are near Bear Mountain or Snow Summit, often within walking or skiing distance to the ski lifts.
Other Big Bear cabin rentals include small cottages or bungalows, and these are typically clustered near marina landings, restaurants, shops or other points of interest. There are some "cool" cabins in the mix, too — some kind of kitschy, really, like Castlewood's themed cottages that offer "experiences" like Castle Garden, Enchanted Forest and Antony & Cleopatra. Castlewood is for couples only and might be perfect for a romantic getaway.
Check the suggestions on this page for special offers and promotions. Often you can get a good deal, especially in the spring and autumn months. If your schedule allows, do consider autumn; it's a spectacular time for a Big Bear getaway, replete with yellowing aspens, chilly night air and moist greenery bedding down for the winter. It's a quieter time at Big Bear, following the fun-filled summer. Fall is when Big Bear cabins and the idea of some R&R in the great outdoors almost always elicits an "yes, please, of course" response.
Photo of Big Bear Cabins by Jeremy Miles via flickr (Creative Commons); and Photo of A Delicate Kiss at Big Bear Lake by Chad McDonald via flickr (Creative Commons).