[ad name="320×100″]
The "cabin in the mountains" concept is so inviting to harried city-dwellers that virtually all Big Bear rentals are called cabins and/or are styled as cabins. This guide will introduce you to the various types of cabins in Big Bear and should help you find the perfect one for your getaway or vacation.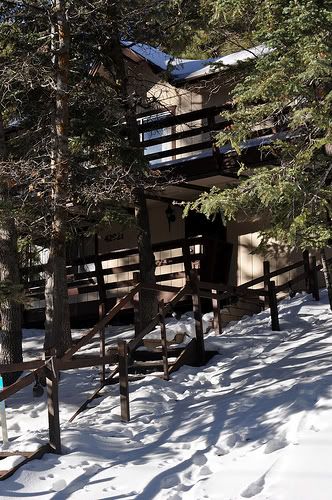 For most people, the word "cabin" conjures a standalone alpine chalet with a raised porch to keep the snow or mud out of the house; exposed wooden sides; a peaked roof with a chimney showing; and an open living area inside sporting lots of natural wood, rustic furniture and an inviting fireplace.  That type of cabin exists here (and you may find them listed as "vacation rentals" or "private homes / cabins" in directories of Big Bear cabins for rent), but as you begin looking at listings and ads for Big Bear accommodations called "cabins" you'll soon discover some do not fit that mold. Some vacation rental directories take the "cabin" notion to the extreme of luxury and price — with five-bedroom "cabins" near the slopes renting out for upwards of $1200 per night — and they are quite different from the "cabins" originally built by miners in this valley 150 years ago!
The best plan is to just poke around a bit online until you find a Big Bear cabin you like that's situated near the location where you want to spend the bulk of your time in the area.
The cabins on the north shore (Rt. 38) are typically higher in elevation, offering spectacular views of the lake but less access to lakeside activities, restaurants and the like.  The ones on the south shore are near Bear Mountain or Snow Summit, often within walking or skiing distance to the ski lifts.

[ad name="300x250L"]
Other Big Bear cabin rentals include small cottages or bungalows, and these are typically clustered near marina landings, restaurants, shops or other points of interest.  Some good places to start your search for this type of accommodation include Mallard Bay Resorts and Robin Hood Resorts.
Big Bear "cool" cabins. Some of the most unique cabin rentals in Big Bear are Castlewood's themed cottages (for couples only) offering experiences like Cleopatra's Palace, Sherwood Forest and Gone With The Wind. There's even a one-bedroom Victoria's Secret cabin, complete with hot tub and complementary champagne — perfect for a romantic getaway. Bay Meadows Resorts offers 10 recently renovated bungalows which look simple from the outside but luxurious on the inside – all centrally located to marinas and the mountains.
Check the suggestions on this page for special offers and promotions.  Often you can get a good deal, especially in the spring and autumn months. And, if your schedule allows, do consider autumn … it's a spectacular time for a Big Bear getaway, replete with yellowing aspens, chilly night air and moist greenery bedding down for the winter. It's a quieter time at Big Bear, following the fun-filled summer. Fall is when Big Bear cabins and the idea of some R&R in the great outdoors almost always elicits an "of course" response.
Photo of Big Bear Cabina by fantasy profvia flickr (Creative Commons) and panorama photo of Big Bear Lake by tksummers via flickr (Creative Commons).
[ad name="300x250R"]
Related posts:
Deserts and Inland Empire Travel Guide
[ad name="PC1″] [ad name="PC2″]
PLEASE NOTE: Hours of operation, driving times, etc., can vary with then-current conditions. While every effort is made to provide accurate information,we cannot be responsible for errors or for changes that may have occurred since publication. Please confirm all information with actual service providers.The information provided on this website is done so without warranty of any kind, either expressed or implied.