Regardless of the season or what you plan to see and do in Big Bear, you'll find a good variety of lodging alternatives — from full-service hotels to rustic cabins, B&Bs, luxury condos and RV/camping parks. To begin your search, you simply need to decide the type of accommodation you want and the general area. Let's first discuss the area's popular accommodation types, and then we'll provide some north shore vs. south shore considerations for staying at and enjoying Big Bear Lake.
Big Bear Hotels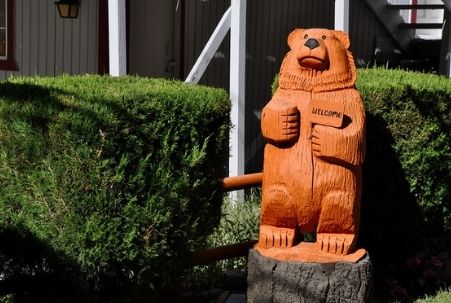 Hotels are not all alike, of course. Like most places, Big Bear hotel accommodations range from four-star resorts (Bear Creek Resort and Snow Lake Lodge, for example) to a basic one-star Motel 6.
In other cities and locales, there are often several hotels that cater especially to business travelers. Here, however, the Holiday Inn's The Lodge at Big Bear — with its 148 guest rooms and conference center amenities — is unique to this area.
Most hotels in Big Bear are on or near Big Bear Boulevard or Lakeview Drive as it travels along the south shore of the lake. You can find a hotel room with a lake view, and there are others located near shops and other amenities or, optionally, close to the Big Bear ski areas (Bear Mountain and Snow Summit).
Unlike the predictable national-chain hotels represented in the Big Bear Lake area (Travelodge, Best Western, Knights Inn and Motel 6), most hotels in Big Bear are independent, and they reflect the 19th century heritage of this former mining community. They typically embrace "lodge" and "cabin" ambiances with exposed wood, fireplaces and rustic furnishings. All of them will give you access to the area's scenic wonders and clean, fresh air.
Big Bear Motels
The term "motel" was invented to distinguish the "motor hotel" located and designed for automobile access from the traditional downtown "hotel," but Big Bear's layout — with one major thoroughfare requiring car-centered transportation — moots the distinction.
All hotels and motels accommodate cars. All have rooms and basic amenities. Some have on-site dining, and some are within walking distance to marinas, restaurants, shops, outdoor recreation areas and/or ski areas.
For all intents and purposes, Big Bear motels are included with the "Big Bear Hotels" and "Big Bear Cabins" highlighted in this article.
Big Bear Cabins
A main takeaway from this discussion should be that whatever sort of accommodation you're looking for in Big Bear — "a luxury resort" or "a vacation rental" or even just "a Big Bear Airbnb," you may want to use the word "cabin" in your search in order to see the most options. We presume this is because, given the lake's proximity to Los Angeles (only two hours away), the marketing "powers that be" use the term to appeal to the popular desire to "escape city life" for a while.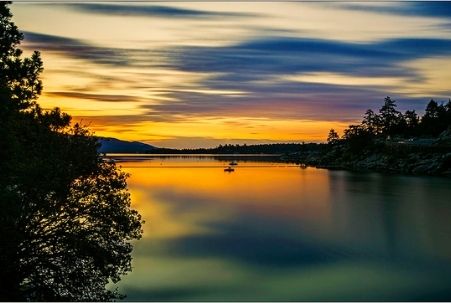 A cabin in Big Bear can, indeed, provide the perfect balm to soothe the soul: an alpine setting and decor, stunning lake and mountain vistas, crisp air and the vintage charm of simple living.
If this sounds like the getaway you're looking for, check out our separate article on Big Bear Cabins for rent to see our picks — some with Jacuzzi tubs and renovated facilities, others offering fantasy themes and many with more conventional and sometimes more modest amenities.
As you look for a Big Bear cabin, keep in mind that a grouping of cabins might be called a "resort" or "lodge" or even "lakefront suites" or "private homes" for rent. The cabin moniker is dominant here, so expect to find it used to describe a variety of accommodations, even on sites like Airbnb and VRBO.
Camping and RV Parks
There are a few RV Parks in Big Bear. On the south shore, we recommend that you look into Big Bear Mobile Estates & RV Resort. (There's another, Holloway's Marina & RV Park, and while we've not had personal experience with it we've heard and read enough things to make us disinclined to recommend it.)
For the best RV park options, we suggest that you consider staying on the north shore. There you'll find Lighthouse Trailer Resort & Marina, Serrano Campground, Big Bear Shores RV Resort and Pine Tree RV & Mobile Home Park, and they all sound excellent.
If you don't own an RV, there's a local company — Big Bear RV Rentals — that rents them to visitors and delivers the rental to a local campsite. It's a great way to experience staying in an RV before investing in one!
When you begin looking for Big Bear lodging alternatives, you'll likely wonder, "Which is better, the north shore or the south shore?" While neither one is inherently "better" than the other, it's quite possible one might prove better for your purposes. To determine which, we recommend that you consider who you're traveling with and what you plan to do with your time at Big Bear.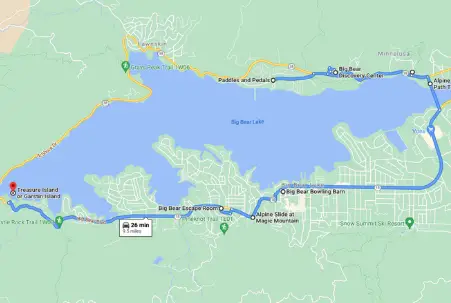 If you're traveling with children and have a primary objective to entertain and please them, for example, then we'd steer you toward looking at south shore lodging alternatives. As you can see from the Google map screenshot – the original of which you can access here – the south shore is where you'll find activities like swimming at Treasure Island, the Bowling Barn and all of Alpine Slide's entertainment offerings. This is Big Bear's commercial area and where you'll find most of its shops and restaurants. Bear Mountain and Snow Summit are on this side of the lake, as well, so staying here during winter can give you easy access to skiing, snowboarding, etc.
The north shore is not without charm, however, and may be the better choice if you want a more relaxed, quiet, nature-oriented getaway. Explore the fascinating Woodland Trail Interpretive Loop (Forest Service pdf map download). Bring your bike or rent one at Paddle & Pedal, and check out the lovely Alpine Pedal Path. There may even be a concert scheduled at the Discovery Center's amphitheater to enjoy during your stay.
While the North Shore Café is the only dining option and has limited hours (it is a very good option, though), keep in mind that it's only about a 15-minute drive to the south shore's offerings. Besides, if you're staying in a "cabin" with cooking facilities, you may not be eating all your meals out, anyway.
Photo of Carved Wood Welcoming Bear by Clinton Steeds via flickr (Creative Commons); Photo of Winter at Big Bear Lake by Rene Mayorga via flickr (Creative Commons); Photo of Big Bear Lake at Dawn by Rex Boggs via flickr (Creative Commons); and Screenshot of Google Map by CaliforniaTouristGuide.com.