Deserts and Inland Empire Vacation Ideas
Exploring California's Deserts and Inland Empire is a study in contrasts. There's the can't-miss state's highest point (Mt. Whitney, near Lone Pine) within just a few hours' drive of its lowest (Death Valley's Badwater Basin). You'll also gaze in wonder at barren deserts bumping up against lush mountain lakes; you'll experience empty endless vistas juxtaposed with teeming urban oases; and, last but not least, you'll soon enough realize those lifestyles of the rich and famous exist in close quarters with seriously struggling communities. Thoughtfully, we'll consider Carl Jung's wise observation — "the greater the contrast, the greater the potential" — to better appreciate this unique California area.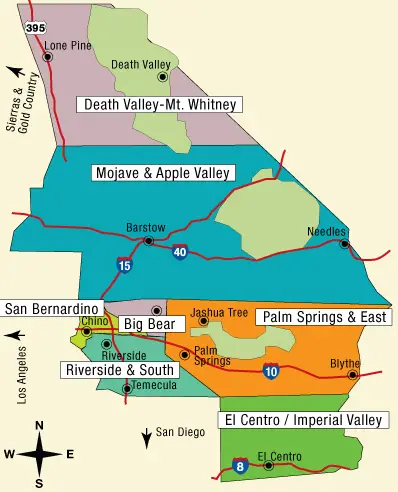 The northwestern section of The "Deserts" portion of this area picks up where our Sierras & Gold Country area left off. After a visit to the Ancient Bristlecone Forest, keep driving on Hwy. 395 and you'll soon reach the Eastern California Museum in Independence and shortly thereafter Lone Pine, where the Museum of Western Film History chronicles the Alabama Hills' deep connection with Hollywood. This area is breathtakingly gorgeous and definitely worth checking out, especially if you're into photography.
Keep driving south and you'll see the unusual looking Trona Pinnacles near Ridgecrest (they've been in movies, too, as you might guess), and it's not much further to the stunning Red Rock Canyon State Park and a small-but-intriguing desert town, Randsburg, about 20 miles east of it.
Further afield, you can explore Death Valley National Park, the Mojave National Preserve (including Joshua Tree National Park) and Anza-Borrego Desert State Park. It's California's largest state park and seems almost boundless, flowing into the San Diego area.
For many years the California desert has been all about "roughing it" in predominantly-secluded, wide-open spaces. These days, though, that's just as apt to mean sleeping on a cloud-like bed in a stark-but-stocked Airbnb, hot tub included, rather than car camping with sleeping bags and a cooler, searching for solace in Mother Nature's bubbling pools. A quick word to the wise, though: if you're one of those who prefers the camping, hunting, hiking trails and off-road-vehicles approach, please be aware those activities may require a permit these days. Travel smart and travel safely.
Like it or not, change happens, even in places where it doesn't happen very quickly. Even Death Valley's "Furnace Creek Resort" became "the Oasis at Death Valley" a few years ago. And, truth be told, their updated amenities and those at similar accommodations like Borrego Springs Resort & Spa make staying in these desert destinations a lot more palatable for some people. And, either way you choose, rest assured you're still going to be wowed by the desert sunset and the stars in the evening sky.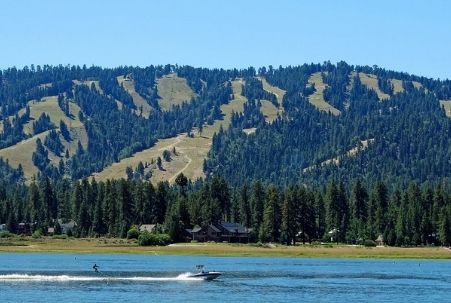 Our "Inland Empire" portion, on the other hand, includes the two lush and lovely mountain-lake areas near the San Bernardino National Forest — Big Bear Lake and Lake Arrowhead. Then, to the southwest we find San Bernadino County and Riverside County (both with their eponymous main cities), and then traveling southeast from there, the popular Coachella Valley destinations — Palm Springs, Palm Desert and Rancho Mirage. Especially when it's hot, we'll take time to also explore the nearby San Jacinto Mountains retreat, Idyllwild.
Finally, we head west again to Lake Elsinore (and if you're here during the Spring in a year when there's been rain, do check out the Walker Canyon Poppy Fields); and from there it's only a 20-minute drive to the beautiful Temecula Valley and its thoroughly enjoyable wineries.
The Inland Empire's mountains and lakes have served as a retreat for centuries, first used by the area's indigenous Native Americans as a respite from the valley heat where they could also find a reliable source of food. In later years, the area's forests were harvested and used to build much of Los Angeles, and a dam was built to supply water and power to the San Bernardino Valley orange growers. Presently, the San Bernardino National Forest and its mountain home offer a natural setting just 90 miles east of Los Angeles where you can enjoy fresh air and a myriad of outdoor activities.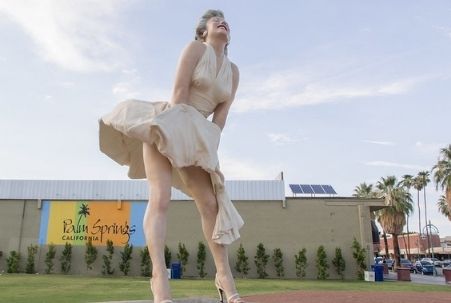 Palm Springs has a good deal of history, too, although we won't go as far back. From the 1930s through the 1970s, Palm Springs was known as the "Playground of the Stars" because so many Hollywood celebrities owned homes there. While the area remains a popular retreat for the rich and famous, it's now largely a playground for retirees, conventioneers and travelers of all means. In addition to a stunning collection of mid-century modern architecture, it boasts a lovely art museum and hosts many festivals throughout the year, including an International Film Festival, Fashion Week, multiple food festivals and several LGBT events. What's not to love about all the wonderful spas, casinos, golf courses, stores and restaurants just waiting to cater to your every whim?
There are smaller towns, too, that deserve your attention. Check out the Hi-Desert Nature Museum in Yucca Valley (about a half hour north of Palm Springs), and don't miss Moreno Valley, east of Riverside, and its March Field Air Museum, Orange Empire Rail Museum, Western Science Center and abundance of biking and hiking trails.
Our Inland Empire vacations ideas discussion wouldn't be complete without at least some mention of the infamous Route 66, even though the days of folks getting their travel "kicks" there are now mostly mere nostalgia. This area is home to most of the Route's California section headed toward its Santa Monica terminus, and in bygone days this Mojave Desert portion was unquestionably the most dreaded. While services in this area are still few and far between, present-day travel in more reliable vehicles is not nearly as harrowing.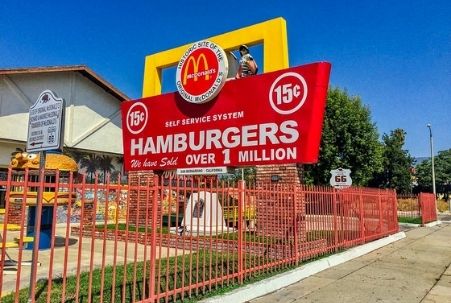 A couple of Route 66 historical points of interest still exist in San Bernardino: the site of the world's first McDonald's (located at 14th Avenue and E Street and now a museum) and the Wigwam Motel near the city's border with Rialto.
The Wigwam's individual teepee-shaped units are arranged in a small village-like setting and offer a unique lodging opportunity. It's almost hard to believe now that The Wigwam was at one time southern California's most famous hotel.
And here's a final interesting Deserts & Inland Empire tourism contrast to ponder: what's considered "high season" for the two parts of this area is largely the same but for entirely different reasons. That's because while the winter — more specifically, January through April — is the Desert's most comfortable season when compared to its 115+ degrees summer temperatures, the Inland Empire's mountains come alive during this period with snow skiing and snowboarding. It's not unusual to be floating in a Palm Springs pool and gazing at snow-covered mountains nor is it out of the question to begin your day at Laguna Beach and spend the afternoon skiing on Big Bear Mountain — if you still have the energy to ski after the 3.5-hour drive through Orange County traffic, that is. It's worth a try, for sure!
Deserts & Inland Empire map © CaliforniaTouristGuide.com; Photo of Two Ways to Ski at Big Bear Lake by Don Graham via flickr (Creative Commons); Photo of "Forever Marilyn" statue (designed by Seward Johnson) at the Palm Spring Art Museum by Mathieu Lebreton via flickr (Creative Commons); and Photo of First McDonald's located in San Bernardino on Historic Route 66 by Simon Morris via flickr (Creative Commons).