As we begin this discussion, it's important that you realize a couple things about Big Bear hotels. First, with a few exceptions, they are independently owned and operated, thereby creating a charming array of lodging options for you. While some popular chain hotels have a presence in Big Bear — in fact, Holiday Inn now runs what used to be called Northwoods Resort — the majority are still family-owned lodges, inns and clusters of cabins.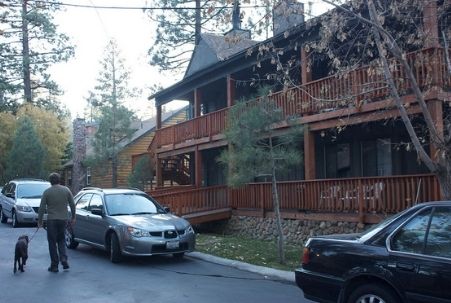 Second, the final entry in that list — the "cluster of cabins" — is an extremely popular form of Big Bear lodging. For example, Big Bear Frontier is unique because it offers both a cluster of cabins near the lake and hotel rooms in a building with street frontage and because it has a name that actually describes it well: Big Bear Frontier Cabins and Hotel. To put that in perspective, let's take a look at Noon Lodge (the former Mallard Bay Resort). The words "lodge" and/or "resort" typically conjure a hotel-like building, but Noon Lodge is a cluster of cabins of varying size, some set up as a studio accommodation while others offer multiple bedrooms. The studio configuration is quite hotel-like, although their standalone nature is not. (We must add, though, the new management did an excellent job updating the property for the 21st century, and it has one of the best websites you'll run across as you investigate our Big Bear hotel suggestions.)
On the other hand, the Robinhood Resort is more like what you expect when you see the word "resort," offering a selection of rooms divided between three buildings. It even offers two ADA-accessible rooms, a feature that's not that easy to find in Big Bear. Likewise, some of the area's "inns" are simply a large building with multiple rooms, each with a bath and some with a sitting room, and they'd more properly be called hotel rooms in most locales.
Knickerbocker Mansion (named after the first dam keeper) is an example, although "mansion" does offer a new twist on the unique Big Bear accommodations nomenclature. It's basically a property on which there are two average-size homes and an "apartment building" in which the so-called "apartments" consist of a bed and a bath. On the plus side, though, given the hotel rooms the building provides the property can accommodate groups of up to 33 people. This feature positions it well for gatherings like family reunions, church or work retreats and wedding parties.
Another, Snow Lake Lodge, has 20 one-bedroom suites (tucked in the trees; no lake views) and is especially convenient for skiing vacations. Fireside Lodge has single rooms and suites for families and groups at an in-village location near marinas, shops and the movie theater. Marina Resort is a similar offering, but it's located right on the lake.
Big Bear Hotels with a Fireplace
While many Big Bear cabins offer a fireplace — both for heat and ambiance purposes — you can also find this amenity in some Big Bear hotels. Even one of the Big Bear chain hotels, the Best Western Plus Hotel Big Bear Chateau, offers this charming and coveted detail. Some of the other hotels in Big Bear you may want to consider if you think your Big Bear getaway will be enhanced by having a fireplace in the room are:
Robinhood Resort
Marina Resort
Noon Lodge
Goldmine Lodge
Snow Lake Lodge
Fireside Lodge
Big Bear Frontier Cabins and Hotel
Honey Bear Lodge and Cabins
Big BearLakefront Lodge
Sometimes only select rooms are equipped with a fireplace, however, so make sure your reservation inquiry, request and confirmation specifies this feature.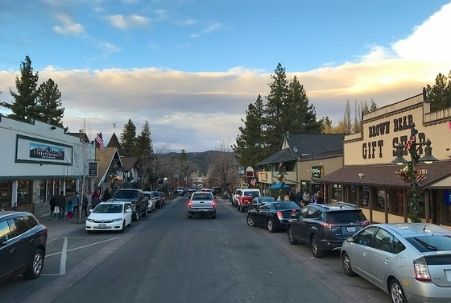 For people who prefer a bed & breakfast inn, there are Apples B&B and the Eagles Nest B&B Lodge, but personally we'd only consider the first one. There's even a "hostel" near the village center which offers a few rooms with bunk beds; however, please be aware that given this configuration Big Bear Adventure Hostel has closed for the duration of the Covid pandemic.
All in all, your Big Bear hotel options provide a broad range of locations, amenities and price-points for enjoying a getaway or vacation.  If you want access to village services, one of the lodges near the village would be best. If you want a a little more privacy or autonomy with services still easily accessible, then we'd recommend you consider one of the "cluster of cabins" Big Bear hotels. And, for the really relaxing retreat, consider getting a standalone cabin, as outlined in the our Big Bear Cabins article.
Photo of Big Bear Frontier Hotel by Ewen Roberts via flickr (Creative Commons); and Photo of Big Bear Lake Village Drive by David Fulmer via flickr (Creative Commons).