Joshua Tree National Park
For several southern California cities, Joshua Tree is the most accessible national park. Located about an hour east of Palm Springs, about two hours east of Los Angeles and about three hours from San Diego (assuming good traffic conditions), the park includes two California desert areas — the higher Mojave Desert and the lower Colorado Desert — each of which supports an ecosystem indicative of its elevation.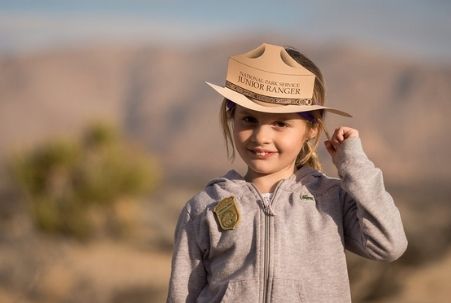 This California National Park is a popular destination for camping, hiking, biking, horseback riding, rock climbing and bird watching. Climbing enthusiasts are particularly intrigued by the geologically unique landscape, featuring hills of bare rock formation produced from magma that cooled over 100 million years ago.
Two other groups that love this natural wonderland — photographers and children of all ages! The park is literally filled with what the former sees as Instagram-worthy scenery, which the latter sees as places to climb, explore and just generally use up all their amazing energy. And, speaking of kids, hat's off to the park rangers who dreamed up the Junior Ranger and National Park Passport programs. Both are incredibly engaging for youngsters, that perfect education-and-entertainment combo. You can get all the details at any of the three Joshua Park visitor centers.
One thing your Junior Ranger might learn: the tree from which the park takes its name – the Joshua Tree (or Yucca Brevifolia) – was so-named by early Mormon emigrants who thought their outstretched branches resembled the supplicating arms of the biblical prophet, Joshua. Abundant in the park's higher, slightly cooler northern section, the Mojave Desert is, in fact, the only place in the world where natural stands of this picturesque, spike-leafed evergreen are found.
Despite the early Mormon connection, the Joshua Tree didn't become world famous until 1987 when Irish rock band U2 named their fifth studio album after it. Even though the iconic Joshua Tree photo that graces the album cover wasn't taken inside the park — that tree was located about 200 miles away at Darwin, California, which is actually closer to Death Valley National Park — there's no doubt that the album's release contributed to this park's popularity.
Fun fact: In 2020, Joshua Tree was the most visited California National Park and ranked #10 in visitation for all national parks… which is why it's highly recommended that you do some pre-planning before your visit.
There are three visitor centers at Joshua Tree National Park:

Joshua Tree Visitor Center – On the Mojave side but technically outside the park, at Joshua Tree Village;
Oasis Visitor Center – Also on the Mojave side, near the north entrance at Twentynine Palms; and
Cottonwood Visitor Center – In the Colorado Desert side of the park, near the south entrance at Cottonwood Spring.
The Joshua Tree Visitor Center, near the park's west entrance station, is the most visited of the three, and you may want to stop and check out Noah Purifoy's Outdoor Museum or the World Famous Crochet Museum — both in Joshua Tree Village — before entering the national park area. It's also the closest visitor center to Black Rock Canyon Campground and the Black Rock Nature Center.
The north entrance is only about a 20-minute drive from Joshua Tree Village and is the closest entrance to the popular Arch Rock and Cholla Cactus Garden sites as well as Jumbo Rocks Campground. Both Indian Cove Campground and Hidden Valley Campground are about equal distance between the west and north entrances, as is the Barker Dam Nature Trail, one of the park locations where you may catch sight of desert bighorn sheep or mule deer.
The Cottonwood Campground is quite close to the south entrance's visitor center. Most visitors are surprised at the barren and foreboding terrain they find here; the low desert looks remarkably different than the high desert.
You can find the address, hours and information about what facilities are available at each of the three centers here, as well as any current alerts for the park. Do be sure to check for alerts and to review the park rangers' "Top 10 Tips for Visiting Joshua Tree National Park" before leaving on your trip.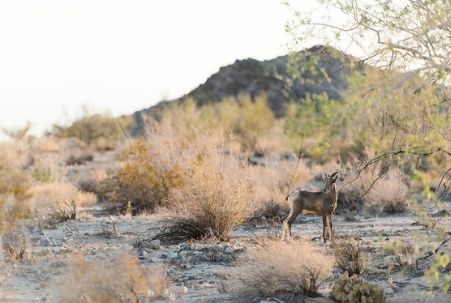 Spring is the most popular time to visit, when the Yuccas and numerous wildflowers add a vibrant and panoramic splash of color to the otherwise stark desert environs. The iconic Joshua Tree is usually the first to bloom (around late February), followed by an array of annuals sometime in March. Cacti usually follow suit and flower in April or May. Not coincidentally, it's also an excellent time for bird watchers to visit the park.
Spring and Fall high/low temperatures average 85/50 degrees Fahrenheit, respectively, but summer daytime highs often exceed 100 degrees. If you plan to visit during summer months, prepare accordingly. Winter brings cooler days (around 60-degree highs), freezing nights and occasional snow at higher elevations.
What To See and Do
If you like to hike or are a rock climber, you'll be pretty much set for trip activities. Depending on your available time, you might have to make it a jam-packed Joshua Tree day trip or you might choose to spend a few days exploring everything the park has to offer. And, since the park is larger than the state of Rhode Island, there's quite a bit to see here! In addition to the sites already mentioned – Black Rock Nature Center, Hidden Valley, the Cholla Cacti Garden, Arch Rock and Barker Dam – you should also consider exploring:
Skull Rock – A short walk from the road, this is a fun stop for snapping some cool rock photos. There's also an adjacent 1.5-mile easy hike if you feel like stretching your legs a bit.
The Pinto Basin – This is where the two desert environments – the Mojave and the Colorado – come together. Check out the Fried Liver Wash… and maybe compete to see who can come up with the best story about how it got that name!
Lost Horse Mine – This is not an easy hike due to elevation changes, but you'll have plenty of time to wonder as you wander: why would someone decide to start mining in such a remote and unusual location? (Thanks to the internet, you need wonder no more.)

Keys View – Named after desert loner Bill Keys (who, interestingly, was successfully defended by Perry Mason author and lawyer Erle Stanley Gardner in a notorious 1940s murder trial), offers a 360-degree summit view of the Salton Sea, the San Andreas Fault traversing the Coachella Valley and the San Gorgonia and San Jacinto Mountains. If the air quality is particularly good, you might even be able to see Mexico's Signal Mountain.

This is an ideal spot to enjoy a sunrise or sunset any time of the year; honestly, though, this beautiful national park has many such locations. The Keys Ranch Tour is also quite interesting, but be advised that requires advanced reservations and tickets.
Photo of Proud New Junior Ranger at Joshua Tree by Joshua Tree National Park Service via flickr (Creative Commons); Photo of Geo-kinetic Sculpture at the Oasis Visitor Center by Joshua Tree National Park Service via flickr (Creative Commons); Photo of Young Bighorn Sheep at Bajada Nature Trail by Joshua Tree National Park Service via flickr (Creative Commons); and Photo of Keys View in Joshua Tree National Park by Tony Webster via flickr (Creative Commons).