Death Valley National Park
Are you considering a desert road trip to enjoy some hiking and backcountry camping? Or perhaps your preferred challenge is playing 18 holes at the world's lowest-elevation golf course — Furnace Creek Golf Course is on Golf Digest's "America's 50 Toughest Courses" list, after all — followed by laps at the Oasis at Death Valley's spring-fed pool and dinner views of the Panamint Mountains' towering peaks? Either trip, Death Valley has you covered!
Death Valley National Park Facts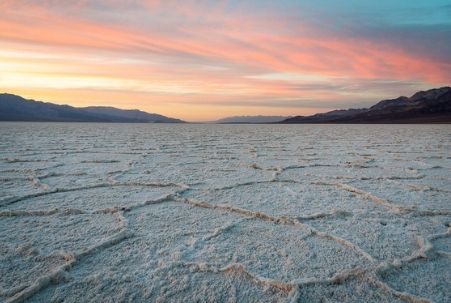 Open year round, Death Valley National Park is North America's hottest and driest place. It's also home to its lowest place (and the second-lowest in the entire Western Hemisphere), Badwater Basin, which measures 282 feet below sea level.
For contrast, Telescope Peak, the park's highest point, soars to 11,049 feet over the salt flats and sports snow much of the year, even while the valley floor sizzles. Summer is the ideal time to attempt to summit this magnificent peak.
This Mojave Desert area averages less than two inches rainfall per year, and summer temperatures routinely reach — and often exceed — 120 degrees Fahrenheit. The area's 134-degree day on July 10, 1913, is the highest temperature ever recorded on the planet. (Ironically, the coldest temperature ever recorded at Death Valley occurred in the same year and exactly six months earlier; on January 10, 1913, the thermometer registered 50 degrees.) Death Valley also recorded the second-highest temperature on July 9, 2021, when the high was 130 degrees as well as the third-highest on August 16, 2020, when it reached 129.9 degrees.
1849's California Gold Rush brought the first non-Indians to the area, and in December of that year two groups of Gold Country-bound travelers got lost and stumbled upon the valley. This fateful journey, whose travelers were forced to eat their oxen and burn their wagons to survive, is the purported source of the national park's moniker. Leaving the area on foot, one of the women in the party was said to have turned around and uttered, "Goodbye, Death Valley."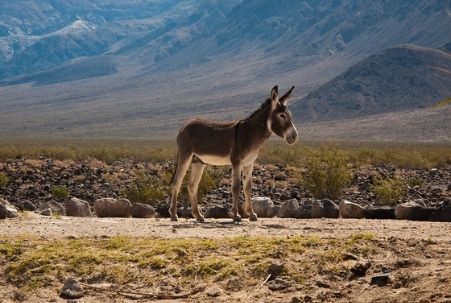 With wilderness stretching over 3.4 million acres, Death Valley National Park is the largest of the nine California National Parks — in fact, it's the largest national park in the lower 48 states and the sixth largest in the country overall. It also boasts around 90% wilderness area, again a record for the lower-48 parks and only surpassed by Alaska's behemoths.
While the park's first tourist facility was a cropping of tent houses built in the 1920s at the present-day Stovepipe Wells Village, the Pacific Borax Company established Furnace Creek Resort a few years later, hoping to utilize the railroad originally built for its recently closed mines. This resort received extensive renovation and was renamed The Oasis at Death Valley when it reopened in 2017.
Death Valley became a well-known winter travel destination in the 1930s, as its natural springs — a much-desired feature at resorts in that era — were believed to restore one's health. Given its popularity, President Herbert Hoover designated the area a national monument in 1933. Roads, water, campgrounds, an airplane landing field and various scenic lookouts were added by the Civilian Conservation Corps in the 1940s. Years later, more land was added, and it became a national park on October 31, 1994, the same day that Joshua Tree National Park was so-designated.
Planning Your Death Valley National Park Visit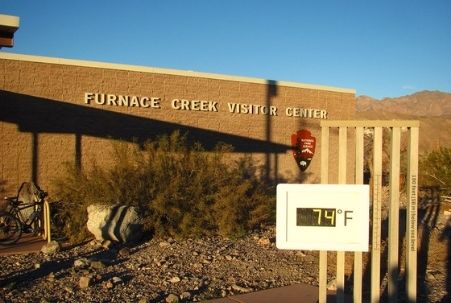 There are several ways to enter Death Valley National Park, depending upon whether you're headed there from California, Nevada or Arizona. Coming from locations in California, you'll use the park's west entrance at Panamint Springs and drive about an hour along CA-Hwy. 190 before reaching the Furnace Creek Visitor Center. This is where you can pay park fees — or buy a national park pass if you haven't already done so — and pick up a map. The exterior's large digital thermometer also provides an excellent photo opportunity!
Three campgrounds encircle the visitor center area: Furnace Creek Campground, Texas Springs Campground and Sunset Campground. You can find information about them here.
The extensive Oasis at Death Valley resort area is nearby (its The Last Kind Words Saloon is open year-round for dining, although its The Inn restaurant closes for the summer), and the Furnace Creek Visitor Center includes informational exhibits and a small bookstore (where grab-and-go sandwiches and drinks may be available). Additionally, visitors can view a 20-minute film about the park here and speak with park rangers about their questions or concerns. The staff presents talks during the temperate November-through-April period, and information about the popular Junior Ranger program — open to all ages — is also available.
Also part of the Oasis at Death Valley, at its The Ranch at Death Valley area on the valley floor next to the visitor center, the Borax Museum is worth a visit. This small, circa-1883 building (the park's oldest structure) celebrates the 20-mule teams that hauled borax out of this area over the Panamint Mountains and across the desert to the railroad at Mojave during the valley's 1883-1889 borate mining period. Although the building is currently closed due to the Covid pandemic, there's an extensive outdoor equipment and artifacts display you can still enjoy. And, Tripadvisor users report that explanatory sheets with numbers that correspond to the displayed items are available near the museum door. You can also read more about Death Valley's borate mining history here in this NPS brochure pdf document.
Things to See and Do in Death Valley National Park
Canyons, lush oases, sand dunes and salt flats combine to create this otherworldly national park. And, speaking of otherworldly, a Star Wars filming location tour of Death Valley provides a unique way to see many of the sites discussed below. And, thanks to the 2021 National Park Service app (see this article for download links), you can even go do the tour in style with guided narration. You simply download the data prior to your trip (you can assume you'll be without cell reception in Death Valley) and, beginning at the Furnace Creek Visitor Center, follow the driving directions provided by the app's map.
As mentioned above, if you're coming to the park from a California location, you'll enter at the west entrance at Panamint Springs.
About five miles in, on the left side, you'll pass an unmarked dirt road where hearty hiking adventurers begin the trek to access Panamint Dunes. These sand dunes are the most remote and least visited in the park; as such they offer a unique opportunity… but not without an increased degree of risk.
While not nearly as foreboding as it was back in the Gold Rush days, Death Valley is still unforgiving of carelessness. Please plan accordingly. Continuing our tour…
Mesquite Flats Sand Dunes – About a 30-minute drive from Panamint Springs, these sand dunes are a much safer stop than the Panamint Dunes for first-time visitors, but they're certainly not risk-free. If you decide to explore, be sure to keep your wits about you and to carry water. It's easy to get lost in these vast sand expanses if you don't maintain a reference point to the parking lot and your car. And, speaking of parking, we should also mention that the lot fills up early during the peak season. If you're into sand boarding, be aware that Mesquite Flats and Saline Sand Dunes are the only two areas in the park where this is allowed.
From Mesquite Flats, it's about a 25-minute drive to the Furnace Creek Visitor Center. There's an experience on the way that you may want to explore — at Salt Creek — which is about seven minutes before you arrive at the visitor center. Salt Creek is what remains of a massive freshwater lake that dried up about 10,000 years ago and is home to one amazing little creature — the Salt Creek pupfish. While it's only possible to spot the pupfish during the spring season, the area is an interesting year-round stop.
As you can see on the Google Map screenshot above — or you can open the original Google Map here (it will open in another window) to refer to as you read the descriptions below — as you leave the visitor center you can continue on CA-Hwy. 190 to see the eastern leg attractions or, alternatively, you can travel down Badwater Road to explore the western leg. If you have more than one day in the park, we suspect you'll want to do both.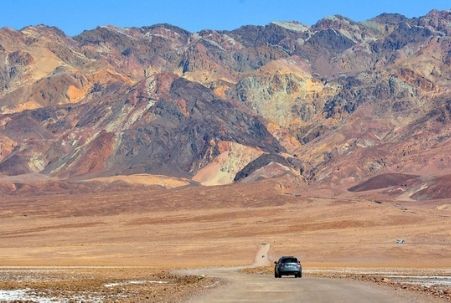 Golden Canyon – You'll find a variety of hiking options here, ranging from easy to strenuous. Use sunscreen, carry water, you know the drill…
Artist's Drive – The name will strike you as "spot-on" as you traverse this nine-mile, one-way scenic drive. We highly recommend that you exit the car at Artist's Palette to snap some photographs or to simply bask in the amazing view. Photographers may want to try to time this to take advantage for the early-afternoon light.
Devil's Golf Course – A sand road off Badwater Road accesses this site, where you'll be able to view another Death Valley phenomenon — salt crystals that form large holes in the ground — and, again, props to whoever thought of the spot-on name!
Badwater Basin – This site, the lowest place in North America, is reached via a 20-minute walk from the main road. In the summer months, you might prefer just to enjoy the view from the parking lot.
And, here are the map's western leg points of interest:
Zabriskie Point – This is a popular photography location (sunrise and sunset are peak-time, of course) and, consequently, it's also the park's most famous scenic view. About a 20-minute drive south of Zabriskie Point leads you to another picturesque area, 20 Mule Team Canyon, from which borax was extracted via mules during the 1883-89 borate mining period.
Dante's View – The elevation at this site (5,475 feet) conspires to give you another killer sunrise view, complete with the Panamint Mountains rising above Badwater Basin. It's worth getting up early!
Death Valley Junction – You can actually see a performance and spend the night in this fascinating ghost town since it has one remaining business, the Amargosa Opera House and Hotel. While its founder, Marta Becket, passed away in 2017 at the age of 92, her legacy continues. What a fascinating woman! She performed her right up until the end!
While much less popular than the park's southern attractions, the northern section of Death Valley is similarly fascinating. Currently, however, access to the Grapevine Canyon area is prohibited, unless part of a ticketed Flood Recovery Tour. You can find a visitor center here when it's open — although there's no gasoline available — and year-round tours are available for a fee. At the time of this writing, the Castle isn't expected to reopen before December 2022.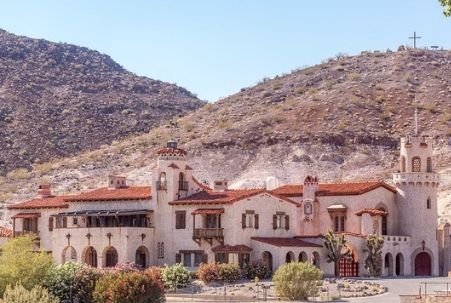 The visitor center is located at Scotty's Castle, which is close to the park's north entrance, shortly after you cross from Nevada to California on NV-Hwy. 267. Sadly, the Castle was severely damaged by a 2015 flash flood and restoration is ongoing. The former Death Valley Ranch was built and owned by Chicago millionaire Albert Mussey Johnson and his wife in the late-1920s. The Scotty's Castle nickname comes from a Johnson cohort, the notorious Walter Scott, a gregarious miner who lived there for many years. The property has a fascinating history.
Also nearby, you'll find the Ubehebe Crater, a volcanic crater formed thousands of years ago. There's dirt road access to a lovely scenic viewpoint, from which you might choose to embark on a hike through some of the area's smaller craters, including the perfectly formed Little Hebe.
Death Valley seems to be one of those places that people either fall in love with … or don't … and it's difficult to guess which side another person might choose in that debate. One thing people who've visited the area do seem to universally agree about, though: you will retain distinct memories of the place, for a long time, maybe forever. And, it's not about remembering the record-breaking this or the biggest-lowest whatever; it's something totally unique, something that defies description, something truly unforgettable. We hope you, too, will have the opportunity to experience Death Valley.
Photo of Badwater Basin by Keith Yahl via flickr (Creative Commons); Photo of Wild Donkey at Death Valley National Park by Paretz Partensky via flickr (Creative Commons); Photo of Furnace Creek Visitor Center by Jeremy Thompson via flickr (Creative Commons); Screenshot of Death Valley Attractions Google Map © CaliforniaTouristGuide.com; Photo of Artist's Palette in Death Valley National Park by Mike McBey via flickr (Creative Commons); and Photo of Scotty's Castle by russellstreet via flickr (Creative Commons).