Death Valley National Park
Open year round, Death Valley National Park is the hottest and driest place in North America, and it contains the second-lowest point in the Western Hemisphere — Badwater Basin at 282 feet below sea level.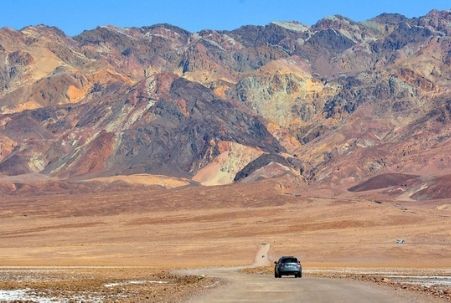 The area averages less than two inches rainfall per year, and summer temperatures routinely reach — and often exceed — 120 degrees Fahrenheit. The area's 134-degree day on July 10, 1913, is the second-highest temperature ever recorded, edged out only by Libya's 136 degrees in 1922.
1849's California Gold Rush brought the first non-Indians to the area, and in December of that year two groups of Gold Country-bound travelers got lost and stumbled upon the valley. It was a harrowing time later detailed by William Lewis Manly in his autobiography, Death Valley in '49.
With wilderness stretching over 4,774 square miles, Death Valley National Park is the largest of the nine California National Parks — in fact, it's the largest national park in the lower 48 states — and the sixth largest in the country overall. The park's first documented tourist facilities consisted of a set of tent houses built in the 1920s at what is now Stovepipe Wells. Resorts built around natural springs were believed to have curative properties and were quite popular in that time period, and the valley became a well-known winter travel destination.
Death Valley Ranch, better known as Scotty's Castle, became a hotel in the late 1930s, largely because of the notorious Walter Scott who lived there. Known as "Death Valley Scotty," this gregarious miner — who falsely claimed to have built the castle with profits from his gold mine — was the human equivalent of a tourist attraction. The property was actually owned by Chicago millionaire Albert Mussey Johnson, who was likewise enamored with Scotty and actually perpetuated the myth.
IMPORTANT NOTE: Scotty's Castle was severely damaged by a 2015 flash flood and restoration is ongoing. At the time of publication, it's not expected to reopen before December 2022. Currently, access to the Castle and Grapevine Canyon areas is prohibited, unless part of a ticketed Flood Recovery Tour.
One of Death Valley's more picturesque areas is 20 Mule Team Canyon, from which borax was extracted via mules between 1882 and 1890. Also, as you plan your time in the park, consider a visit to Ubehebe Crater, either on the way to or from Scotty's Castle. The road will deliver you to a lovely scenic viewpoint, from which you may choose to embark on a hike through some of the area's smaller craters, including the perfectly formed Little Hebe.
The park's Furnace Creek Visitor Center can be found near the Oasis at Death Valley resort area (State Route 190, P.O. Box 579, Death Valley, CA 92328; 760-786-3200), where rangers present talks and walks during the more temperate December-through-April period. Year-round "living history" tours are available for a fee at Scotty's Castle, which is located in the far-northern portion of the park. While there is also a visitor center at Scotty's Castle, it is important to note there is no gasoline available at that location. The area is not nearly as foreboding as it was in 1849, but it is still unforgiving of carelessness. Plan accordingly.
Photo of Artist's Palette in Death Valley National Park by Mike McBey via flickr (Creative Commons).
PLEASE NOTE: Hours of operation, driving times, etc., can vary with then-current conditions. While every effort is made to provide accurate information,we cannot be responsible for errors or for changes that may have occurred since publication. Please confirm all information with actual service providers.The information provided on this website is done so without warranty of any kind, either expressed or implied.