North Coast Festivals – 2022
There's no shortage food and beverage events on the North Coast – seafood receives a well-deserved, special shoutout here and various libation-focused fêtes are also well represented – but the area also hosts a bounty of festivals which celebrate inedible human pleasures like music, gardening and art. If those are your interest areas, you may want to contact one of the friendly California North Coast visitor centers to inquire about what's scheduled during your visit.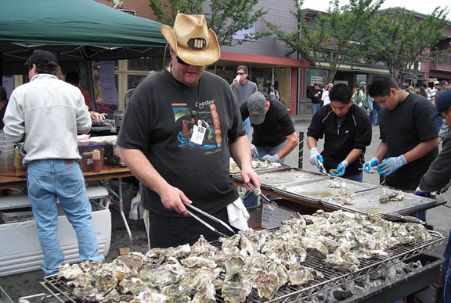 And, if you haven't already read it, do check out our North Coast travel ideas article. This is an amazing and gorgeous part of California, and there's A LOT to enjoy here!
This North Coast festival list is arranged by month, and you can easily determine what's happening during your visit. For each entry on the list, you'll find the date(s) it's scheduled to occur, plus a link to a website that provides additional details.
Also, please note that we strongly recommend you make note of the website for future reference. It's wise to check again and verify the event details closer to the actual date, especially during these "things-can-change-quickly" pandemic times.
The list includes dates for 2022 festivals as well as some with 2021 dates. ***Events for which a 2022 date is not yet available are marked with a triple-asterisk.*** These are often annual events and held around the same time every year, so if a 2021 event looks interesting you may want to click through to see if the organizer's website now provides the new date.
If you're still in the planning stage, you may just want to browse the list to see if any of the festivals especially appeal to you. (If you're headed to this far-north California area, you may also want to check out our Shasta-Cascades festival list.) Alternatively, if your travel dates are already set, you can use these handy jump links to advance to a specific month's events quickly:
January *** February *** March *** April ***
May *** June *** July *** August ***
September *** October *** November *** December
January
–There are usually a bunch of Crab & Wine events here in January, but they've been cancelled for the last few years. Here's hoping they return in 2023!
February
White Wine Weekend, Anderson Valley
February 19 & 20, 2022
Lake County Wineries Barrels & Verticals
February 26, 2022
March
–March usually sees a series of North Coast Whale Fests, but it's been a while. They've already set some dates for 2023, though, and we're keeping our fingers crossed!
April
Boonville Beer Festival
April 23, 2022
May
Anderson Valley Pinot Festival
May 20-22, 2022
Lake County Wine Adventure
May 21 & 22, 2022
June
Legacy Cannabis Farmer's Market, Philo
June 5, 2022
Mendocino Winegrowers Summer Celebration, Hopland
June 11, 2022
An Afternoon with Captain Fletcher, Navarro Beach
(grand opening fundraiser at the Navarro Interpretive Center)
June 11, 2022
Mendocino Coast Purple Urchin Festival
June 18, 2022
Summer Solstice Winemaker Dinner at Goldeneye, Philo
June 18, 2022
Sake Seminar, Little River Inn
June 18, 2022
Bacon, Bougee & Blues, RIVINO Winery, Ukiah
June 19, 2022
Lake County Beer, Wine & Swine Baconfest
June 19, 2022
Taste of Trinidad
June 21, 2022
Oyster Festival Unleashed, Arcata
June 23-25, 2022
July
World's Largest Salmon BBQ, Fort Bragg
July 2, 2022
Lavender Harvest Festival
Peace & Plenty Farm, Kelseyville
July 16, 2022
Foursight Wines Taste of the Future Barrel Tasting, Boonville
July 23 & 24, 2022
Rotary Club of Willits Festival in the Redwoods &
Golf Tournament, Brooktrails Golf Course
July 30, 2022
August
Eureka Street Art Festival & Block Party
August 1-6, 2022
Mendocino Sparkling Wine Festival
TERRA SÁVIA Winery, Hopland
August 6, 2022
The Pinot Noir Experience at Goldeneye, Philo
August 12-14, 2022 – SOLD OUT
Cannabis Tasting & Tour Weekend, Philo
August 13, 2022
Humboldt County Fair
August 18-28, 2022 (closed Monday)
Klamath Salmon Festival
August 20, 2022
Saracina Vineyards Sunflower Festival, Hopland
August 20, 2022
Taste of Lake County, Lakeport
August 20, 2022
Farm to Table Dinner
Peace & Plenty Farm, Kelseyville
August 20, 2022
Round Valley Blackberry Festival
August 20 & 21, 2022
A Very Victorian Tea, Eureka
August 21, 2022 – SOLD OUT
Lake County Blackberry
Harvest Dinner, Middletown
August 26, 2022
Cobb Blackberry Cobbler Festival
August 27, 2022
Hops in Humboldt
August 27, 2022
September
Lake County Fair
September 1-4, 2022
Tolowa Dee-ni' Day, Smith River
September 10, 2022
Humboldt Botanical Garden Gala, Eureka
September 10, 2022
Farm to Table Dinner
Peace & Plenty Farm, Kelseyville
September 11, 2022
Taste of Hopland
September 17, 2022
Mendocino County Fair & Apple Show
September 23-25, 2022
Kelseyville Pear Festival
September 24, 2022
October
Pumpkin / Dia de los Muertos Street Fair, Lakeport
October 1, 2022
Wine by the Sea
Humboldt Coastal Nature Center, Arcata
October 1, 2022
Cannabis Tasting & Tour Weekend, Philo
October 1, 2022
Hopland Oktoberfest Block Party
October 8, 2022
Upper Lake Fall Festival
October 8, 2022
Saffron Celebration
Peace & Plenty Farm, Kelseyville
October 8, 2022
Harvest Tidrick Celebration, Anderson Valley
October 21-23, 2022
Farm to Table Dinner
Peace & Plenty Farm, Kelseyville
October 23, 2022
November
Forager's Feast at Goldeneye, Philo
November 5, 2022
Anderson Valley Brewing Co.
Huge Arker Day, Boonville
November 5, 2022
Taste Mendocino, Redwood Valley
November 5, 2022
Winter Celebration
Peace & Plenty Farm, Kelseyville
November 27, 2022
December
–There are currently no foodie-type events scheduled for December, but some of these North Coast cities do have a fun holiday vibe to enjoy.
If you know of any other North Coast events we should add to this list, would you please use our Contact form to let us know? (Thanks in advance!)
Photo of Arcata Oyster Festival by T Mac via flickr (Creative Commons).

PLEASE NOTE: Hours of operation, driving times, etc., can vary with then-current conditions. While every effort is made to provide accurate information,we cannot be responsible for errors or for changes that may have occurred since publication. Please confirm all information with actual service providers.The information provided on this website is done so without warranty of any kind, either expressed or implied.