While Southern California may be best for the beach boys and girls, the state's North Coast beaches are perfect for heartier souls!
As you leave San Francisco's Golden Gate National Recreation Area behind and head north along the California coast, you cover almost 400 miles of thinly populated, very rocky and rugged terrain. The north's more frequent river mouths deposit silt and other soils along its coast, and its beaches tend to be more muddy than sandy.
While our North Coast actually begins at Mendocino County, the drive there from San Francisco is spectacular. Driving north on Rt. 1 from Marin County, you will first reach Sonoma Coast State Park. The park encompasses a string of beaches, spanning 17 miles from Bodega Head (near Bodega Bay) to the Sonoma Coast Outlook at Vista Trail (four miles north of Jenner).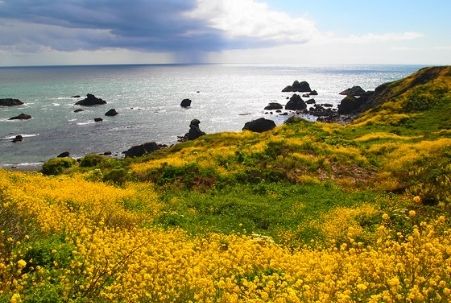 As you travel north from Bodega Bay, the state park beaches along the drive include Salmon Creek State Beach, Marshall Gulch, Carmet Beach, Schoolhouse Beach, Portuguese Beach, Scotty Creek, Duncan's Landing Overlook, Gleason Beach, Shell Beach and Goat Rock Beach. (Without stops, it's roughly an hour's drive from the first to the last.)
While there isn't any beach access at the park's northernmost Vista Trail, it is handicap-accessible and will deliver you to some extraordinary views. During whale migration season (December through April), you might even see whales from this bluff-top trail! By the way, earlier we referred to the "hearty soul," blustery North Coast beaches, but even the beaches in Marin and Sonoma Counties are chilly year-round, so do come prepared with appropriate clothing layers. Depending on the time of year, a hat and gloves may even be appreciated.
Moving on, Rt. 1 then climbs and cuts back and forth along the cliffs. This is a stunningly picturesque California coast drive, second only for us to the views you can enjoy around Big Sur on the Central Coast. About a 30-minute drive from Vista Trail, will deliver you at Salt Point State Park which boasts an undersea park where SCUBA divers and skin divers explore the kelp beds, caverns and rocky promontories. There are also miles of trails in the area that support hiking, horseback riding, camping and great fishing. While you're here, check out the nearby Kruse Rhododendron State Reserve.   It's truly remarkable.
Another ten miles up Rt. 1 you'll find Sea Ranch, a vacation spot noted for its distinctive architecture. The next town about five miles north, Gualala, divides Sonoma County from Mendocino County. A public beach on the south side of the Gualala River and private lodging options on the north side and in town make it a popular vacation destination.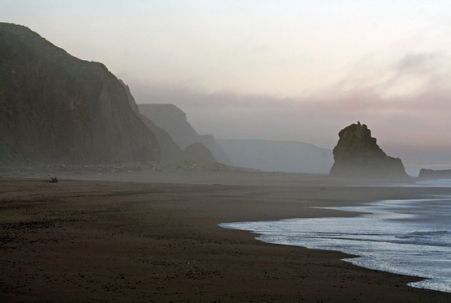 Next stop: the North Coast's Mendocino County, where the Point Arena lighthouse and marine reserve welcome you. A favorite beach in this area, Manchester Beach State Park, offers camping, hiking and fishing along five miles of sand dunes, beaches, bluffs and grasslands. From there, you're about five miles away from Irish Beach, a popular vacation rental location. About half a mile north, near Mallo Pass Creek, there's another scenic outlook where you might spot migrating whales during the December-through-April season.
The town of Mendocino is worth the drive no matter where you're coming from or where you're headed. A throwback to the '60s with a "West-meets-East" sort of vibe, the town is surrounded by seaside vacation rentals, a funky-to-fabulous range of hotels, cool restaurants and a cluster of large state parks (Russian Gulch, Mendocino Headlands and Van Damme State Beach Park). Cute and quaint, Mendocino is an excellent place to escape and "just get away from it all."
North of Mendocino, you'll find Fort Bragg, which has many hotels, motels and inns for travelers. It's the largest town south of Eureka, so it's also a good place to buy supplies and gear if you're planning to "rough it" in the Lost Coast area (roughly Rockport to Ferndale).
Eureka is an active port and mill town, still thriving off the nearby redwood forests but diversifying to become a services center, including some tourism. The beaches on the barrier peninsulas that protect the Eureka harbor (Humboldt Bay) are deserted, yet close to all the amenities a traveler might want. North of town is Clam Beach, a Humboldt County park named for the razor clams that can be found here; sadly, eating them is not recommended.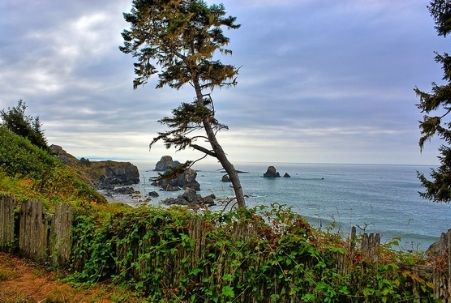 Up the road about 15 minutes, you'll come to Luffenholtz Beach (kid-friendly, with abundant tide pools) and nearby, Trinidad State Beach. A bit further on is Patrick's Point State Park, with picturesque paths along sandy beaches and sheer cliffs that rise above them. Like most North Coast beaches, Patrick's Point is for strolling — not so much for swimming — but enjoying the gnarly driftwood and soothing sunsets is a different-but-still-vital form of exercise. Great camping, a visitor's center, picnicking and trails will delight all outdoors fans and their families.
Past that, you'll soon enter the Redwood National and State Parks area, covering thousands of square miles on the mountain side of the road, and a series of parks and state beaches embrace the shoreline here almost uninterrupted to Crescent City and the Oregon border 30 miles north.
Again, come prepared for the weather. Temperatures in this part of Northern California range from year-round chilly to downright blustery in the winter. Come prepared, as well, to enjoy the stunning coastline and surreal North Coast beaches. They're desolate, pristine, absolutely gorgeous and definitely worth exploring on foot, by bicycle or by car.
Photo of Shell Beach, Sonoma Coast State Beach by Craig Given via flickr (Creative Commons); Photo of Sunrise at Irish Beach, Mendocino Coast, California by Sharon Mollerus via flickr (Creative Commons); and Photo of Luffenholz Cove, Trinidad Bay by Kirt Edblom via flickr (Creative Commons).