North Coast Vacation Ideas
You've come to the right place for California North Coast vacation ideas! While the Pacific Ocean is definitely the star of the show here, there's lots more to explore and enjoy, including the amazing Redwood trees, fresh-as-can-be seafood and some excellent wine and/or beer to go along with it! And, speaking of the area's incredible edibles, you should check out this North Coast festivals list to see if there might be somewhere especially fun to eat and drink during your visit!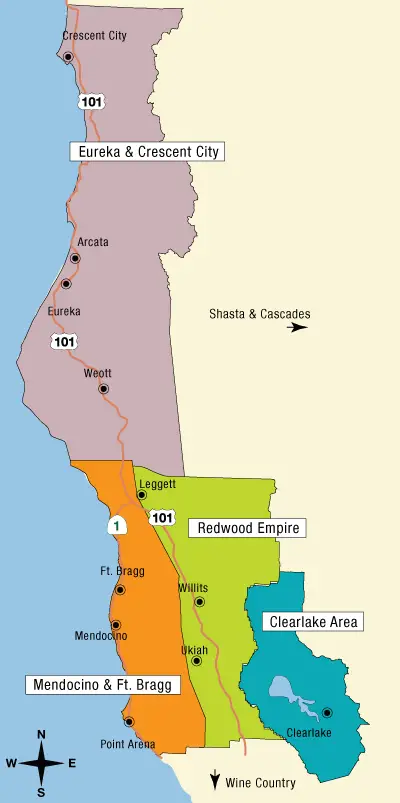 Mendocino is reached via a mere four-hour drive along the Pacific Coast from downtown San Francisco, but it's not hyperbole to say that it's like visiting another world. You'll soon realize why the North Coast is sometimes called "the Lost Coast" and especially why it's considered a must-do California road trip.
This is one of Northern California's most charming areas — and certainly the most remote portion of the Pacific Coast Highway — beginning at Mendocino County's southern tip with Point Arena and continuing on to the towns of Elk, Albion and Mendocino, then north to the tallest trees on Earth in the Redwood National and State Parks near Humboldt Bay and, finally, to the Trees of Mystery park, near Crescent City and the Oregon border.
IMPORTANT NOTE: In parts of the North Coast, cell phone service is unreliable. Plan ahead, and download maps and itinerary information before hitting the road.
Wine Country's Sonoma County sits between the San Francisco Bay Area and the North Coast, and this part of the coast is known for three of our favorite things: oysters, wine and cheese. If you're of like mind and time allows on your drive up from San Francisco, we recommend spending an afternoon (or more) enjoying Point Reyes and/or Tomales Bay.
As you continue on this truly idyllic Northern California drive, the landscape opens to rugged cliffs, sweeping headlands and offshore reefs. We encourage you to slow down and enjoy the journey — maybe plan to get out and enjoy a hiking trail and/or to stop at a beautiful beach along the Mendocino Coast to stretch your legs and check out the teeming tide pools. At the very least, you'll want to break up your California coast road trip to shop and/or grab lunch at a quaint coastal town.
If you've decided to extend your California road trip itinerary to include a stop at Redwood National and State Parks (near Orick and where some of the trees are as tall as a 36-story building and wide enough to drive through), you won't want to miss the collection of ornate Victorian homes in Ferndale and Eureka, two towns that hug the Humboldt Bay. If you have time and/or a particular interest, you can even tour Blue Ox Millworks, a company whose dedication to preserving 1800s woodworking craftsmanship played a major role in restoring the Victorian homes.
Perhaps you're in a hurry, though, or you've already enjoyed the coastal road trip experience on a previous excursion? An alternative route, inland on U.S. 101, can shave about an hour off the drive time to Mendocino. If rushing isn't necessary, you might want to spend the surplus time in the magical Anderson Valley AVA, known for producing Pinot Noir, Chardonnay and sparkling wines. You don't want to drink and drive, of course — especially along these hilly, twisty-turny roads — but it's never too early to begin stocking some picnic provisions!
The eastern boundary for our North Coast area is Lake County, home to Clear Lake, which is California's largest natural freshwater lake and possibly the oldest lake in North America. Known for its exceptional bass fishing and emerging wineries, Lake County offers fun for the whole family.
An unique way to experience inland Mendocino County is aboard the Sierra Railroad's Skunk Train, so named because its original gas engines prompted people to say, "You can smell 'em before you see 'em!" From April through October, the Skunk Train runs 40 miles from coastal Fort Bragg to Willits (inland near US Highway 101), a route that's considered one of the top ten train rides in the west. You'll cross some 30 bridges and trestles and pass through two deep mountain tunnels, all while viewing cathedrals of Redwoods from the line's restored rail cars. The halfway point of Northspur is a popular lunch spot, giving passengers a chance to snack before continuing to Willits or heading back to Fort Bragg. Roundtrip between Fort Bragg and Willits takes around eight hours.
If you're visiting the North Coast between the months of December and April, you may want to check out the whale watching opportunities at Noyo Harbor in Fort Bragg. Beginning around the first of December, California gray whales begin their migration from the Bering Sea to the Sea of Cortes, where they will calve. Then, toward the end of March, the adults (some weighing around 100,000 pounds) and their calves (weighing a mere 1,500 pounds) reverse the course and again traverse these waters on their return from Mexico to Alaska. This 14,000-mile journey is the longest known distance any mammal migrates on an annual basis.
Speaking of Fort Bragg, we should probably mention Glass Beach, a vacation destination in and of itself for sea-glass lovers worldwide. As often happens to fascinating natural displays in California, notoriety has had a negative effect. This shoreline, once drowning in beach glass, is at this point pretty picked over. If your level of interest is high and you still want to check it out, planning your visit for low tide may help.
North Coast Map © CaliforniaTouristGuide.com; Photo of Goldeneye Winery, Anderson Valley by T Chu via flickr (Creative Commons); and Photo of Glass Beach Sea Glass by Ken Lund via flickr (Creative Commons).