California National Parks
Wyoming's Yellowstone National Park was the first to receive a formal designation in 1872, but some might argue that California was the birthplace of the U.S. National Park Service. This is because President Lincoln's 1864 signing of the Yosemite Land Grant — protecting the Yosemite Valley and Mariposa Grove — marked the first time the government set aside a wilderness area for citizens' present and future enjoyment.
Nationally Owned Land in California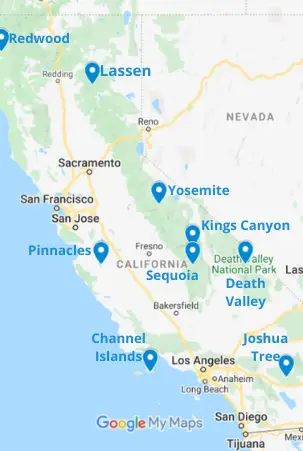 According to the Congressional Research Service, the Federal government owns nearly half of California's total acreage, and these lands are managed by the Forest Service, the National Parks Service, the Bureau of Land Management and the Defense Department.
California's National Parks are diverse and dramatic, and all nine of them offer visitors amazing experiences, from:
an incredible marine sanctuary (at Channel Islands National Park); to
the tallest trees in the world (at Redwood National and State Parks); and
the world's largest tree (at Sequoia National Park); to
one of the most intriguing-yet-inhospitable locations on Earth (Death Valley National Park).
Here's a link to the California National Parks Google map in case you'd like to zoom in on a particular park or area.
From north to south, the California National Parks are:
Redwood National and State Parks – Located on the North Coast and encompassing 139,000 acres, this park is comprised of three 1920s-era state parks — Jedediah Smith, Prairie Creek Redwoods and Del Norte Coast — to which the national park area was added in 1968. In addition to nearly 200 miles of hiking trails, guided nature walks are available at the park's three visitor centers.
Lassen Volcanic National Park – Located in our Shasta and Cascades area of northern California, this park is one of the few places in the world where all four types of volcano — cinder cone, plug dome, shield and stratovolcano — can be found. In fact, the park's Lassen Peak is the largest plug dome volcano in the world.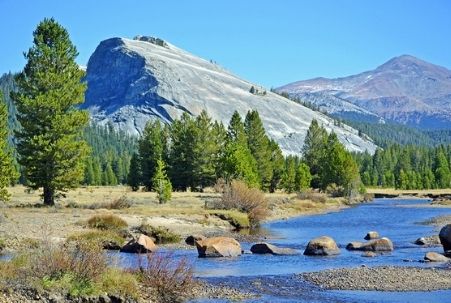 Yosemite National Park – Located in the Sierras and Gold Country area and embraced by the Sierra Nevada mountain range, this park presents some imposing rock formations — the Valley's well known El Capitan and Half Dome, of course, but smaller ones, too, near Tuolumne Meadow — making it a world-renowned rock climbing destination. You won't be disappointed, though, even if your skills are limited to simply walking around and taking photographs. It's incredibly beautiful!
Pinnacles National Park – Located south of San Jose and east of Salinas near where the San Francisco Bay Area ends and the Central Coast area begins, this is the state's newest park (established in 2013). In addition to beginner or advanced rock climbing, the park offers hiking, camping, cave exploration and an opportunity to see the largest North American land birds, California Condors.
Kings Canyon National Park – About a 2.5-hour drive south of Yosemite and also in our Sierras and Gold Country area, this park was originally created in 1890 as General Grant National Park but added to and redesignated in 1940. With a focus on maintaining a pristine natural environment, road access and accommodations are quite limited. Subsequently, it's the state's least visited land-based national park.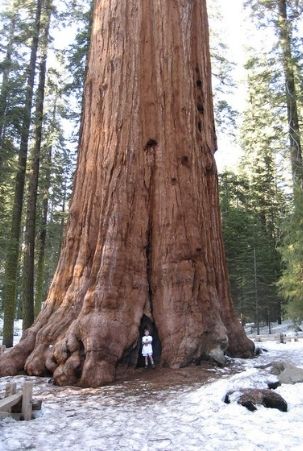 Sequoia National Park – Also in the Sierras and Gold Country, this park is about a 1.5-hour drive south of Kings Canyon (the two are contiguous), and it's known for giant sequoia trees. The largest tree on Earth by volume, named General Sherman, can be found in its Giant Forest. General Sherman is in good company, too, as the Giant Forest actually holds five of the world's ten largest trees! Another feature of interest is Moro Rock, where a 351-step stairway was built in the 1930s and at the top of which one is afforded an incredible view of the park, including the Great Western Divide. The tallest mountain in the U.S. lower 48 states, Mount Whitney, sits on the park's eastern border, but you can't see it from here as the Great Western Divide blocks the view.
Death Valley National Park – Located in the Deserts and Inland Empire area, visitors to California – especially international tourists – often combine a stop here with a trip to Las Vegas in the neighboring state of Nevada (about a two-hour drive from the park). Death Valley enjoys an excellent visitor's center at Furnace Creek, where you can also find accommodations and restaurants. Check out the linked article for more information, but a couple of interesting features of the park are Badwater Basin (at 282 feet below sea level, the lowest point in the U.S.), the Mesquite Flats sand dunes (a Star Wars filming location briefly described at this link and included in the National Park Service app's free audio tour) and, near there, Burned Wagons Camp (where a waylaid expedition of hopeful 1849 gold miners sought survival by burning their wagons and roasting their oxen).
Channel Islands National Park – Located in the Pacific Ocean, offshore from where the Central Coast and Los Angeles areas meet, you will find the eight Channel Islands. Five of these islands — Anacapa, Santa Barbara, Santa Cruz, San Miguel and Santa Rosa — were designated as a national park in 1980. Sometimes referred to as "California's Galapagos," the islands are home to 150 species found nowhere else on Earth. Access is provided by Island Packers, via the Ventura Harbor, where you will also find the park's visitor center.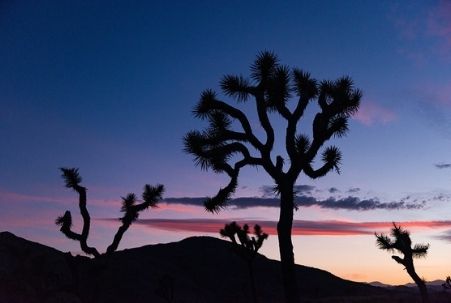 Joshua Tree National Park – Located in the Deserts and Inland Empire area but easily accessible from Southern California (e.g, only a 148-mile drive from San Diego), this park affords visitors the unique experience of hiking in two distinct desert ecosystems — the Mojave Desert and the Colorado Desert — in the same day.
In 2020, Joshua Tree was the most visited California National Park and ranked #10 in visitation for all national parks.
In addition to the national parks, there are 19 additional California locations overseen and managed by the National Park Service. These include national monuments (7), historic sites/parks (6), recreation areas (3), marine sanctuaries (3 in addition to the aforementioned Channel Islands National Park), along with a national preserve (Mojave), a national memorial (Port Chicago Naval Magazine) and a national seashore (Point Reyes).
There are also 20 National Forests in the Golden State (three of which are shared with other states), and they are managed by the U.S. Forest Service. The national forests, which cover 19 percent of the state's total land (20,061,888 acres), are often contiguous to the national parks — and sometimes even to a state park, as well — resulting in huge swaths of stunning wilderness.
The forest service oversees the Lake Tahoe Basin Management Unit, as well, where attention is paid to how the lake affects the surrounding forest and vice versa. Lake Tahoe is amazing — one of our favorite places to spend time — and we've often wondered, "Why is Lake Tahoe not a national park?" (Follow the link if you've wondered that, too!)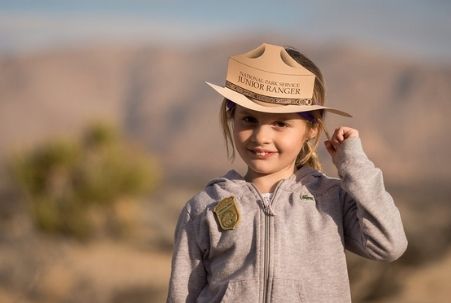 California National Parks offer hiking trails for every fitness level, an assortment of campground facilities and, in some cases, luxury accommodation and food service options. Whether you're visiting a national (or state) park, a national historic site or national monument, your first stop should be at the visitor center where a park ranger, when available, can provide an orientation to the location's highlights and advice regarding any safety and/or resource preservation concerns.
If you're traveling with children, consider taking advantage of the National Park Service Junior Ranger program. Once a child completes the requisite activities, most NPS Rangers do a fantastic job of "swearing in" the new junior rangers, administering the oath with proper gravity, raised right hands, the whole bit.  It's a great photo opportunity!
National Park Service App
As of February 2021, researching and planning a national park visit became much easier with the help of a new, free smartphone/ipad app (available in the Google and Apple stores).
It's titled simply "National Park Service" and contains information about all 423 of the service's sites. Each park has its own page that includes general information, maps, photos, hike suggestions, accessibility details, audio tours (for some locations), accommodation and restaurant availability and more.
While the app is a work in progress (at the time of this writing it shows only two hikes for Yosemite), it's equipped with a fantastic feature that allows you to toggle a switch to save a park's information for offline viewing. Since reliable cell service and wilderness often don't go together, this makes park visits so much easier.
California National Parks Map (created with Google Maps and Canva) © CaliforniaTouristGuide.com; Photo of Lembert Dome near Tuolumne River in Yosemite National Park by Don Graham via flickr (Creative Commons); Photo of General Sherman Tree in Sequoia National Park by NAParish via flickr (Creative Commons); Photo of Sunset in Joshua Tree by Joshua Tree National Park Service via flickr (Public Domain); and Photo of Proud New Junior Ranger at Joshua Tree by Joshua Tree National Park Service via flickr (Public Domain).