Lake Tahoe Tourist Information
The Lake Tahoe area is a pristine natural environment that sits on the border between California and Nevada. The state boundaries actually run through the middle of the lake, and each state also has a county border within it. In California, there are Placer County (in the north) and El Dorado County (in the south), mirrored by Washoe and Douglas Counties in Nevada.
"Lake Tahoe" (or sometimes simply "Tahoe") is used to refer to the lake, itself, as well as to the lake's surrounding land areas. The California portion consists of North Lake Tahoe, South Lake Tahoe and a few West Shore cities.  Its popular destinations include: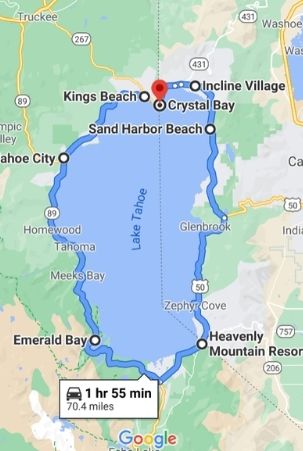 North Lake Tahoe – Kings Beach, Tahoe Vista, Carnelion Bay and Ridgewood on the lake; and inland, Truckee, Olympic Valley (formerly known as Squaw Valley) and Olympic Village / Alpine Meadows
West Shore – Tahoe City, Homewood, Tahoma and Meeks Bay
South Shore – Emerald Bay, Camp Richardson, South Lake Tahoe and Heavenly Village
Nevada's South Shore is where you'll find the area's best casinos — in the aptly named Stateline, an eight-minute walk from California's Heavenly Mountain Resort.  Traveling up its East Shore, there's Zephyr Cove, Spoon Lake and the Sand Harbor / Lake Tahoe State Park area (which hosts a wonderful Shakespeare Festival each summer). Nevada's North Shore includes the always popular, Incline Village, and the decidedly less-so Crystal Bay (where the casino scene is, in our opinion, rather depressing).
Many visitors spend time in both states and in all of these areas, but it's important to know that driving from the North Shore to the South Shore takes an hour or more in summer and, depending upon the weather, may not even be feasible in winter.  As you can see from the Google map image above, it takes roughly two hours (under the best conditions) to simply drive around Lake Tahoe without stopping.
That's why it's important to plan and to have a clear idea of what you want to see and do in each of the areas.  Our Lake Tahoe Tourist Attractions article sets out the destination's museums and other points of interest, grouped by location, to inspire your planning. If you'd like to use a copy of the above Google map to begin plotting the Tahoe sites and locales you'd like to visit, you can access it here.
What's the Best Time to Visit Lake Tahoe?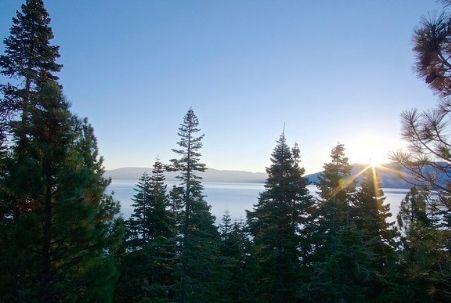 That depends on what you want to do there!  Lake Tahoe is a year-round tourist destination, offering a plethora of water activities as well as golf, horseback riding, hiking, mountain biking and more in the fair weather months and a similarly complete array of winter sports opportunities when the weather changes. While most accommodations, restaurants and some state parks are open year-round, it's important to note that many of Tahoe's attractions, visitor centers and beaches are closed from November through May.
No matter when you visit, you can expect to be wowed by the crystalline purity of North America's largest alpine lake and absolutely stunning views of the Sierra Nevada Mountain range's majestic peaks. Tahoe may be only a three-hour drive from San Francisco or a two-hour drive from Sacramento, but from the moment you arrive it truly feels like you've entered a different world.
Given its breathtaking beauty, photography is a popular all-season activity in Tahoe. There are even organized tours that offer visitors transportation to scenic spots and helpful instruction for getting the best shots. If photography is of interest to you, we highly recommend that you check out all the 5-star reviews for this tour's half-day, small group offering!
Although there's no real "shoulder season" in Tahoe, it's significantly easier to find spring and fall accommodations, and rates are also often somewhat lower then. September and October – when the crowds are gone but the weather is still nice – are among the most pleasing and least expensive months to visit. July 4th and Christmas week are the busiest times and consequently the most expensive.
Where Should You Stay in Lake Tahoe – North, South, East or West?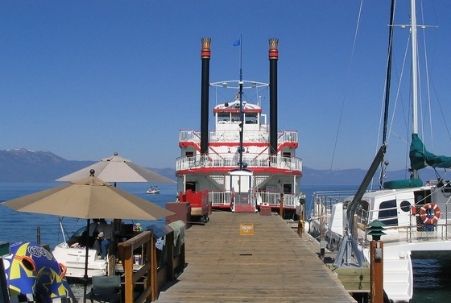 Choosing where to base your visit is a critical planning step, as the lake's areas are quite different. Generally speaking, if you're looking for relaxation and/or outdoor adventure, then you should probably investigate the North, East or West Shores. Conversely, the South Shore is where you'll find casinos, nightlife and more of a "party scene" for both water and mountain activities. This is not to say that the South Shore is devoid of sightseeing opportunities or outdoor activities; it's more a "vibe" sort of thing.
In our opinion, the North Shore has a better selection of quality resorts and vacation rentals, while the South Shore has more accommodation options overall and, sometimes, the best deals. That latter point seems especially true on the Nevada side, which this makes sense as casinos have other ways to extract dollars.
Whether you choose north, south, east or west, California or Nevada, on the lake or inland — rest assured that ALL of Tahoe will be crowded during the peak summer and ski seasons. There may be exceptions, but overall it's definitely not a good "last minute" destination. Plan ahead, and realize that visiting on Sunday through Thursday can offer a better value if you have flexibility.
Tahoe Transportation Considerations
During winter, snowstorms can blow in quickly, can cause power outages that may last days and, depending on the remoteness of your accommodation location, can limit your ability to get around. ALWAYS CARRY CHAINS in your car if you travel to Tahoe during the winter months, and it also doesn't hurt to bring extra food, just in case, if you're staying in a more remote area.
You can check road conditions on this site, or you can also call CalTrans at 1-800-427-7623 for current highway conditions. We also highly recommend that you click on this link and read CalTrans winter driving tips.  "It's better to be safe than sorry" definitely applies to driving in a snowy mountain area.
If you're staying in South Lake Tahoe, you can use the Tahoe Blue-GO Trolley and Emerald Bay Shuttle to avoid stressing over the area's all-too-common traffic congestion problems. (It's like having a designated driver, too, which is important because area police STRICTLY enforce driving-intoxication limits.)
While there's a bus service in North Tahoe called TART (Tahoe Area Rapid Transit), its schedule is quite limited. Generally speaking, unless you've arrived via the Amtrak train and just want to relax in Truckee for a few days (and we highly recommend both of those ideas), having a car is a necessity in the North Lake areas .
Misc. Tips for Enjoying Lake Tahoe
Wear Sunscreen. The sun is intense at 6,000 feet, so you will definitely want to wear sunscreen and you may want to use a higher SPF than usual.
Beware of bears. Do not feed them, and do not leave food or food wrappers in your car. Also beware of squirrels and other small rodents, as they may carry rabies.
If your visit falls on Friday and Saturday, dinner reservations are advised, especially on the North Shore.
If you don't own skiing or snowboarding equipment, you may be able to rent it at your Lake Tahoe resort. However, you will often have a better selection and save money by renting at Lake Tahoe's local shops or at Bay Area/Sacramento sports stores before you travel. There's also service, Ski Butlers, that can save you time by fitting rental equipment at your hotel.
Lake Tahoe circle tour Google map screenshot © CaliforniaTouristGuide.com; Photo of Tahoe Sunrise by purple Bulletvia flickr (Creative Commons); and Photo of M.S. Dixie Steamboat docked at Zephyr Cove by Ken Lund via flickr (Creative Commons).