Lake Tahoe Tourist Attractions
No matter the season, Lake Tahoe's stunning beauty makes it an ideal destination for your California vacation, holiday or weekend getaway. How can you miss, really, when your playground includes America's second-deepest natural lake, some of its most spectacular mountains, 274 days of sun, 300+ inches of snow and year-round activities for kids of all ages? Indeed, the variety of ways you can spend your time may be the most inviting of all Lake Tahoe tourist attractions!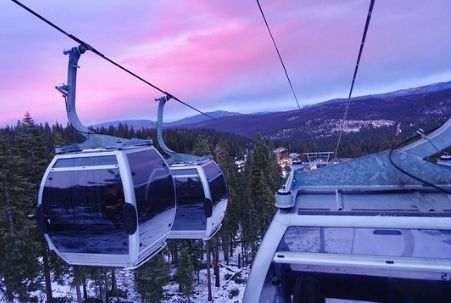 You'll find 15+ ski resorts and numerous cross country skiing centers as well as a whole host of other wintertime activities — snowboarding, snowmobiling, snow-shoeing and snow-tubing, ice skating and sleigh rides. Summer arrives with just about every imaginable fair weather recreation — boating, parasailing, paddle boarding, water skiing, kayaking, fishing, biking, horseback riding, rafting, rock climbing, hiking, camping, tennis, golf, hot-air ballooning, hang-gliding and helicopter tours.
Then, of course, there's also the razzle-dazzle of the casinos' year-round fun (including featured performers, cabarets and musical reviews). There are five casino resorts in South Lake Tahoe and another four in North Lake Tahoe.
There are also some interesting homes remaining from the days when Northern California's wealthiest families built summer lake residences (perhaps the closest thing to "Lake Tahoe tourist attractions" that you will find) and some interesting museum offerings, as well. From north to south, they include: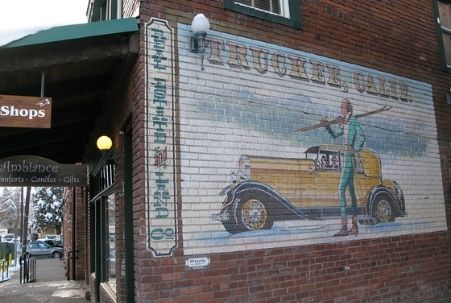 Emigrant Trail Museum, Truckee – Located in the Donner State Memorial Park and open year-round, this museum focuses on the people who were prominent in the area's history, including local Native Americans, the ill-fated 1846 Donner Party and the Chinese laborers who built the Central Pacific Railroad (the California-to-Utah portion of North America's first transcontinental railroad). Pioneer Monument nearby depicts the Donner Party's Murphy family cabin site and the depth of snowfall that tragic year. A self-guiding nature trail (a one-half-mile loop) begins at the museum, and staff-led hikes, special events and campfires start in late June. (parks.ca.gov/?page_id=503)
Historic Downtown Truckee – This old logging, mining and railroad town preserves much of its original architecture in what are now distinctive shops, excellent restaurants and fun bars. (Fun bars count as Lake Tahoe tourist attractions, right?) (truckeehistory.org)
Palisades Tahoe, Olympic Valley – Host to the 1960 Winter Olympics, you can enjoy breathtaking views of Lake Tahoe and the High Sierras on a cable car ride to High Camp, where dining, ice skating and other fun activities are available. (Please note that until 2021, this establishment was known as Squaw Valley Ski Resort and that Olympic Valley is comparatively new name for Squaw Valley. We appreciate and applaud the changes this business and the surrounding community have made.) (palisadestahoe.com)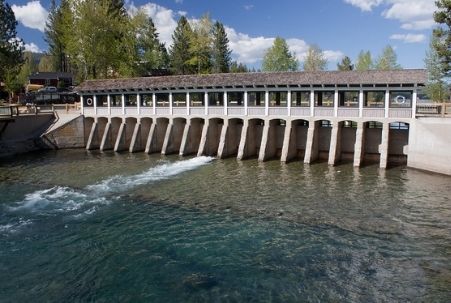 Gatekeeper's Museum, Tahoe City – Just down the street from the Tahoe Dam and sitting on the location of a known Washoe Indian campsite, this eclectic Tahoe history collection includes photographs, maps, written materials, artifacts, clothing and furniture. (northtahoemuseums.org/exhibits)
Museum of Sierras Ski History and 1960 Winter Olympics, Tahoe City – Located on the second floor of the Gatekeeper's Museum, exhibits include displays detailing the history of skiing up to and including the 1960 Winter Olympics which were held in the nearby Olympic Valley (previously known as Squaw Valley and the smallest resort area to ever serve as a winter games host). The collection includes extensive photos and memorabilia, including drawings made by Walt Disney to help strategize and plan for the event. (sierraskimuseum.com)
Marion Steinbach Indian Basket Museum, Tahoe City – Added to the Gatekeeper's Museum in 1992, this world-class collection includes over 800 utilitarian and fine baskets from 85 tribes throughout western North America. (northtahoemuseums.org/exhibits)
Watson Cabin, Tahoe City – This 1909 log cabin is listed on the National Register of Historic Places as the oldest house built on site in Tahoe City and currently serves as a living history exhibit showcasing Lake Tahoe pioneer life. The cabin is open Memorial Day through Labor Day. (northtahoemuseums.org/exhibits)
Hellman-Erhman Mansion, Tahoma – From the turn of the century until 1965, the lands of what is now Sugar Pine Point State Park were owned by financier Isaias W. Hellman, and later by his daughter Florence Hellman Erhman. This Queen Anne Victorian, a grand-but-informal summer home they called Pine Lodge, is a remembrance of the opulent post-mining period when wealthy businessmen built elegant summer homes at Lake Tahoe. Tours are available Memorial Day through Labor Day; please call for parking information. (parks.ca.gov/?page_id=991)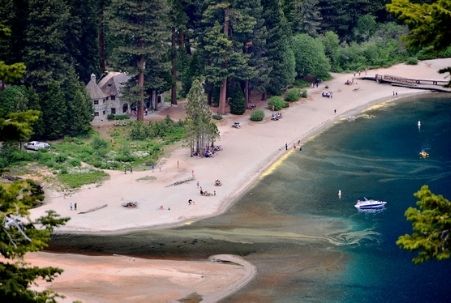 Vikingsholm, Emerald Bay – Built as a summer home by Mrs. Lora Josephine Knight in 1929, this magnificent "castle" – a unique blend of Nature's spectacular beauty and man's architectural ingenuity – is now part of the Emerald Bay State Park. Tours are available seven days a week from mid-June until the end of September. A short trail leads from the castle to beautiful Eagle Falls – it's a must-do for hikers! Emerald Bay has been declared a National Natural Landmark, and when you see it you'll know why. (vikingsholm.com)
Tallac Historic Site, near South Lake Tahoe – Home to the archeological remains of the Tallac Resort and three large summer estates built by wealthy San Franciscans, this 74-acre tract is listed on the National Register of Historic Places. The three estates – the Pope, Baldwin and Valhalla – are open to the public in different capacities. The Pope Estate, built in 1894, is open for guided tours and houses changing art exhibits, while Valhalla, built in 1923, is a Grand Hall with beautiful wood floors and a 20-foot-high stone fireplace. It is now the site of summer concerts and the Cultural Arts Gift Store, and it is also available for rental. (tahoeheritage.org)
Heavenly Gondola and Adventure Peak, near Stateline – This year-round sightseeing opportunity is a must-see-and-do attraction. Eight-passenger gondola cabins whisk you 2.4 miles up the mountain, and in 12 minutes you arrive at Adventure Peak, complete with restaurant, cross-country ski rentals and trails, snowshoe rentals, snowbike rentals and more!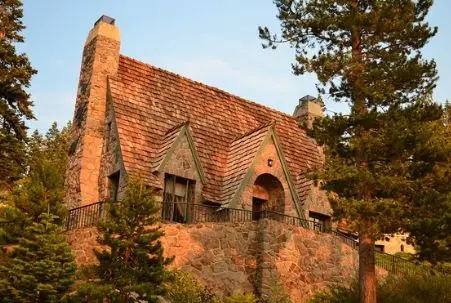 The Thunderbird Lodge, near Incline Village, NV – This six-acre estate is listed in the National Register of Historic Places and is one of the last and best examples of a "Tahoe society" residence. Located on the east side of the lake, it is surrounded by over 40,000 acres of Forest Service and Nevada State Parks land. Visitors may arrive via land-based shuttle buses or by water on a tour boat embarking from South Lake Tahoe's Tahoe Keys Marina. (thunderbirdlodge.org)
A sightseeing cruise offers an enjoyable "overview" of Lake Tahoe tourist attractions, and Woodwind Cruises 80-foot motor yacht "Safari Rose" will help you sightsee in Lake Tahoe with style. Departing from Tahoe Keys Marina, the four-hour tour includes stops and/or photo opportunities at Fleur-du-Lac (the estate where the movie "Godfather II" was filmed which is now a private resort), historic Chambers Landing, Sugar Pine Point State Park (site of the Hellman-Ehrman Mansion), Fannette Island (for Eagle Falls and the Vikingsholm Mansion) and the Tallac historic site. (tahoecruises.com)
Photo of Gondolas at Tahoe's Northstar Resort by Steve Jurvetson via flickr (Creative Commons); Photo of Truckee Mural by zemistor via flickr (Creative Commons); Photo of Tahoe Dam at Tahoe City (seen from the historic Fanny Bridge) by Nick Ares via flickr (Creative Commons); Photo of Vikingsholm at Emerald Bay, Lake Tahoe by Mike McBey via flickr (Creative Commons); and Photo of Thunderbird Lodge / Whittell Estate by tommy chheng via flickr (Creative Commons).