Sierras and Gold Country Vacation Ideas
With all there is to see and do in this area — home to the stunning Sierra Nevada Mountains and California's historic Gold Country — it's difficult to know where to begin. How about…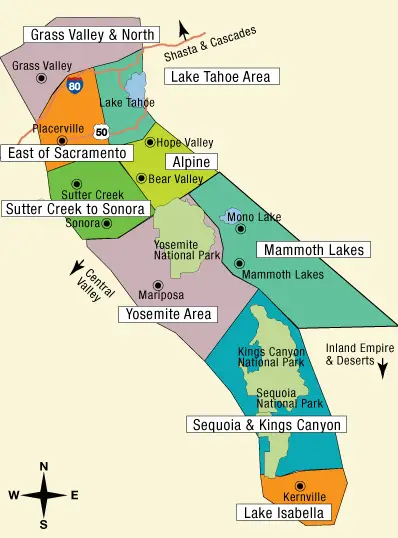 …in tiny Coloma (where the California Gold Rush began with a fortuitous discovery on January 24, 1848, and where you, too, can try your hand at gold panning), or
…in Grass Valley (once a mining town where you can revisit bygone days at Empire Mine State Park), or
…in Sutter Creek (with its lovely shops, galleries and restaurants housed in converted, century-old buildings), or
…in Placerville (where you'll learn why it was called "Hangtown" during the Gold Rush era); or
…in Jamestown (a historic Gold Rush town with a restored landmark 1859 Historic National Hotel)?
And, as you might imagine, in a unique area such as this — with one historic town after another — you'll easily find an interesting Gold Country museum (or ten!) to entertainingly introduce you to this fascinating period of California history. If you time your trip correctly, you might also be able to enjoy one of the area's many food, wine and beer festivals!
But, as you can see from the map, that initial list only touches on California's Gold Country history and barely scratches the surface of this amazing area. It doesn't even mention Lake Tahoe, Yosemite National Park or the area's photogenic ghost towns. There's so much more to explore and enjoy!
And, should you get thirsty along the way, there are award-winning Gold Country wineries to supply refreshment. (Our favorites are in Amador County, Calaveras County and El Dorado County, and be on the lookout for select Sierra foothills wineries that also produce olive oil and honey.) Or, if craft beer is more to your liking, Gold Country also boasts an abundance of breweries.
As you peruse this area's articles, you can learn all about Lake Tahoe, a Northern California treasure that's about 200 miles from San Francisco and 80 miles northeast of Sacramento. Its water is so pure that it's 99.7% clear. You'll have to see it to believe it; it's truly unforgettable! The approximately 75-mile loop around Lake Tahoe — a beautiful drive with lots to see and do — provides the unique opportunity to do a two-state, Nevada and California road trip that you can complete in a single day. How cool is that?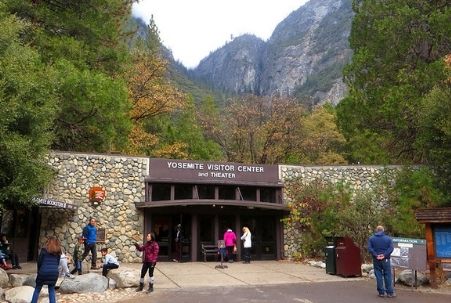 Yosemite National Park has it all, really — thousands of lakes and ponds, 800 miles of hiking trails, Giant Sequoia trees, majestic waterfalls and massive granite walls. Ansel Adams shot his most famous photos in the Yosemite Valley, and the park is extremely popular with professional and hobby nature photographers.
Northeast of Yosemite and near Mono Lake, photographers will also enjoy a stop at Bodie State Park. Bodie is an honest-to-goodness ghost town, deserted since the 1930s. Current park authority requires that it remain in a state of "arrested decay" (i.e., no repairs are made to the structures), and it provides a striking setting that's perfect for black-and-white or sepia-tone photos. Try to time your visit to coincide with the late-afternoon-into-sunset optimal "golden hour" lighting.
Driving southeast through the Sierra National Forest, you'll pass through the Mammoth Lake area and arrive at Bishop. From there, about another hours' drive will take you to the Ancient Bristlecone Pine Forest, whose resident trees are estimated to be more than 4,600 years old and believed to be the oldest living trees on Earth.
Two other national forests blanket this area, Inyo and Sequoia, and frame two more California geological jewels — Kings Canyon and Sequoia National Parks. Despite their close proximity, the two parks are quite different. Kings Canyon National Park takes its name from the narrow chasm – one of the deepest in this country – cut by the Kings River. Sequoia National Park encircles 14,495-foot Mt. Whitney (the highest mountain in the lower 48 states) and is home to a tree called "General Sherman," the largest tree in the world which is also believed to be the world's largest organism.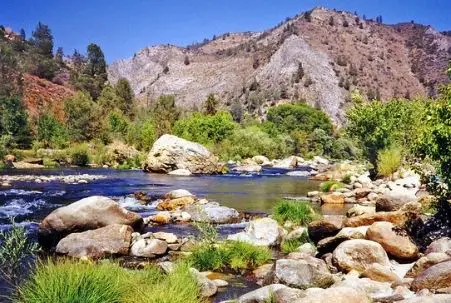 At the southern tip of our Sierras and Gold Country area, whitewater rafting and tubing enthusiasts will fall in love with the Kern River. Be careful, though, as this is California's most dangerous river! Those who prefer to stay on dry land will find easy hiking at the nearby Whiskey Flat Trail and should definitely check out the well-regarded Kern Valley Museum.
Are you ready to learn more about this fascinating area? Check out the articles linked below!
Sierras and Gold Country Map © CaliforniaTouristGuide.com; Photo of Yosemite Visitor Center and Theater by Ken Lund via flickr (Creative Commons); and Photo of Kern River by Don Graham via flickr (Creative Commons).