When you mention "California wines," people tend to immediately think of the Napa-Sonoma Wine Country or perhaps the new vineyards and wineries springing up along the Central Coast or in Baja California's Valle de Guadalupe. But long before any of those California wine regions took center stage, the rolling hills of historic Gold Country laid claim to some of the state's most bountiful wineries — and that's still true!
The Sierra Foothills AVA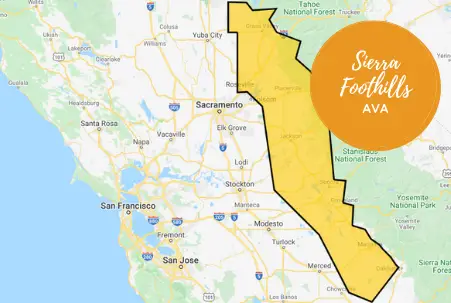 Gold Country wineries are primarily part of the Sierra Foothills AVA, where the most widely planted variety is Zinfandel. In recent years, the area has also become the California region most closely identified with Barbera.
Located on the western edge of the Sierra Nevada Mountain range and stretching for about 120 miles from north to south, this AVA is quite vast — one of the largest in California — and covers around 2.6 million acres.
Conversely, most of its wineries are relatively small, with 95% of them relying on direct-to-consumer marketing in tasting rooms and online sales as they simply don't produce enough cases to warrant national distributor representation.
Traveling generally from north to south, the eight counties in the Sierra Foothills AVA are: Yuba County (northern only); Nevada County; Placer County; El Dorado County; Amador County; Calaveras County; Tuolumne County; and Mariposa County. The AVA distinction basically means that if you see "Sierra Foothills" on a wine label, 85% of the grapes used to make it must have been grown somewhere in these eight counties.
This primary AVA is divided into sub-appellations based on various distinct, recognized variations in geography, climate and/or soil, and here's a brief overview of them: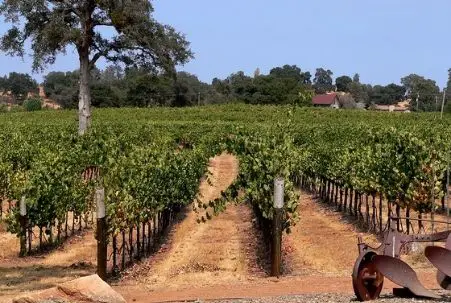 California Shenandoah Valley AVA – A warmer climate (lower elevations than others on this list), along with some of California's oldest Zinfandel vines and soil largely made up of finely decomposed granite (i.e., sand) and loose clay loam combine to produce amazingly rich and complex wines.
Fiddletown AVA – Higher altitudes (1,500 to about 2,500 feet) mean this small area is cooler than the nearby Shenandoah Valley AVA. As a result, its grapes tend to develop with more elegant fruit character and lower sugars. With its hot days and cool evenings (i.e., "the gift of diurnal shift"), this AVA — one of the smallest in the state — is known for quality, old growth Zinfandel as well as Syrah and Grenache.
El Dorado AVA – Elevations ranging from 1250 to 3500 feet and cooling breezes off the Sierras provide conditions that lead to a longer "hang time" here. The vast range of varietals that can flourish here does create a bit of a marketing identity crisis, however, leading wineindustryadvisor.com to dub it "the Wild West of the Wine World."
Fair Play AVA – El Dorado's premier wine growing AVA and the California AVA (American Viticultural Area) with the second-highest average elevation (2,000 to 3,000 feet), this appellation is mostly known for Zinfandel but with some unique characteristics given the area's acid-retaining, cool evening temperatures. The AVA is also expanding to include Cabernet Sauvignon, Syrah, Petite Sirah and Barbera.
North Yuba AVA – Primarily known for producing Viognier from grapes grown in its volcanic soil. Also, while technically not part of this AVA (albeit feet away from its boundaries), there's a winery, Clos Soron, that makes some interesting Pinot Noir.
The thing to remember is that the same 85% rule applies to wines that show any of these sub-AVA designations on the label. That is, if a wine label includes "Fiddletown" on it, then 85% of the grapes used to make the wine were grown in that small area.
Gold Country Wineries History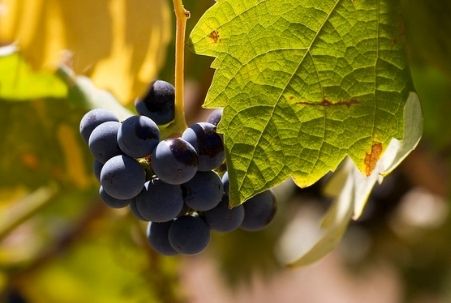 The region's history took root during the Gold Rush when European immigrant-prospectors brought wine appreciation to the area. Investigating these roots a bit further, we can learn that present-day Sobon Estate Winery in Plymouth was previously the D'Agostini Winery, established in 1856 by Adam Uhlinger, a Swiss immigrant.
Shortly after, in 1861, James Skinner, an engineer who'd immigrated from Scotland and enjoyed some gold mining success, bought land around the present-day city of Rescue, planted a vineyard and founded the J. Skinner Wine and Brandy Co., one of the first commercial wineries in the state. Mr. Skinner's new endeavor also proved fruitful, and by the 1870s El Dorado County was the third largest wine producing area in the state (trailing only Los Angeles and Sonoma counties).
By the 1890s, more than 100 wineries operated in the region, but Prohibition changed all that. Just as in all the California wine regions, Prohibition forced all but a few Gold Country wineries to close.
Gold Country Wineries Today
After hibernating here for nearly 50 years, the foothills' extraordinary climate and soil inspired some creative vintners, and the region is presently enjoying a wine-making renaissance. The Sierra Foothills AVA is known for producing robust Zinfandels and a handful of other reds, and several Gold Country wineries have begun attracting national attention and acclaim. For example, at the 2020 San Francisco Chronicle Wine Competition, the nation's largest competition of North American wine, two Plymouth wineries — Jeff Runquist Wines and Cooper Vineyards — each won two Best of Class awards.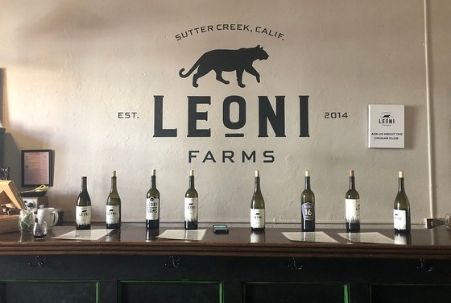 Today, the Sierra Foothills AVA is home to many thriving, family-owned wineries that produce extraordinary vintages. Generally smaller than their Napa-Sonoma counterparts, Gold Country wineries attract fewer visitors and consequently provide more access to information about the wine-making process, insights that are sometimes shared by the vintners themselves. The atmosphere is low-key and laid-back, and tasting fees are typically appreciably lower than what you'll find in elsewhere and often waived with per-bottle purchases.
Gold Country Winery Recommendations
Given the size of the Sierra Foothills AVA, we recommend that you pick an area that sounds interesting and focus on it for a few days. Once you have a sense of one area's wines, you'll probably want to start planning an exploration of a new area. The picturesque setting and laid-back, unpretentious hospitality can be a bit addictive.
Many Gold Country wineries are located in Amador County, about an hour drive east of Sacramento or a three-hour drive from San Francisco. The area's largest winery is Sutter Home's Montevina in the Shenandoah Valley, known primarily for its Zinfandel and Barbera varietals. Much smaller, Story Winery's beautiful view of the Cosumnes River Canyon makes it perfect picnic-lunch destination with facilities available for their customers' enjoyment. Another unique thing about Story is that, as the owner and winemaker are from the country of Georgia, they employ a traditional Georgian-style fermentation that's been used for around 8,000 years. If possible, you may want to time your visit for a weekday with the hope that they'll have more time to tell you about it. Highly recommended!
Fair Play, which is both a village and a six-mile-by-six-mile American Viticutural Area (AVA), is home to wineries that have produced stunning Zinfandels, Syrahs and Petite Sirahs for a good number of years. There are more than 20 wineries within a 15-minute drive of the village, and the nearby alpaca and Arabian horse ranches add a unique twist to your travels here.
Gold Country Wineries Maps
Of course, there are several other areas to enjoy wine in the Sierra Nevada Foothills AVA in addition to Fair Play and Amador County's Shenandoah Valley; those are just our personal favorites. You can use the maps linked below to help plan your visit to the wonderful Gold Country wineries in other areas like Nevada, Placer or Calaveras Counties as well as the Apple Hill and Gold Hill areas of central El Dorado County:
El Dorado County wineries map;
Apple Hill wineries map (El Dorado County);
Fair Play AVA wineries map (El Dorado County);
Calaveras County wineries map;
Amador County wineries map; and
The North Yuba AVA is primarily centered around the cities of Bangor and Oregon House, and you can see a list of its wineries here.
Google Map showing outline of Sierra Foothills AVA © CaliforniaTouristGuide.com; Photo of Amador County Vineyard by Lee Coursey via flickr (Creative Commons); Photo of Grapes on a Vine at Sobon Estate Winery by Sean Naber via flickr (Creative Commons); and Photo of Tasting Bar at Leoni Farms Wine in Sutter Creek by Sarah Stierch via flickr (Creative Commons).