San Diego Festivals – 2022
While you'll certainly have no problem finding fun things to do in San Diego, you can also check out the list below to see if there's a festival or event happening during your visit. It's a perfect way to enjoy some tasty treats and libations, oftentimes in a gorgeous outdoor setting and accompanied by music. What's not to love about that?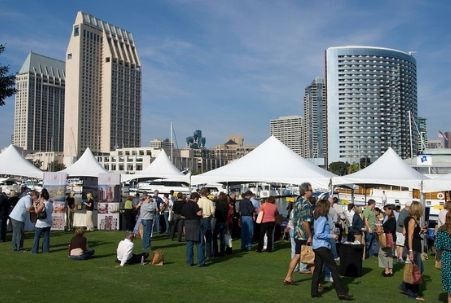 As you might guess given this wonderful city's inclinations, tacos and beer are often the stars of the show. It's one of the best places in California to enjoy them, after all.
Another cool thing about San Diego is that they celebrate Restaurant Week two times each year, once in the Spring and another in the Fall, when you'll also find lighter crowds to go along with the beautiful weather. Talk about a win-win-win situation!
For each entry on the list, you'll find the date(s) it's scheduled to occur, plus a link to a website that provides additional details. We recommend you make note of the website because it's wise to check again and verify the event details closer to the actual date.
The list includes many dates for 2022 festivals and others with 2021 dates. ***Events for which a 2022 date is not yet available are marked with a triple-asterisk.***
Many of these are annual events that are held around the same time every year. While we plan to check and update this list from time to time, if a 2021 event looks particularly interesting you may want to click through to see if the organizer's website has been updated.
If your travel dates are already set, here are some handy jump links that you can use to advance to a specific month's events quickly:
January *** February *** March *** April ***
May *** June *** July *** August ***
September *** October *** November *** December
January
San Diego Brew Fest
January 8, 2022
February
Escondido Chocolate Festival
February 12, 2022
San Diego Chinese New Year Fair
February 19 & 20, 2022
March
San Diego St. Patrick's
Day Parade & Irish Festival
March 12, 2022
Taste of Third, Chula Vista
March 31, 2022
April
North Park Festival of Beers
April 2, 2022
Uncorked Wine Festival, Spanish Landing Park
April 2, 2022
San Diego Restaurant Week – Spring
April 3-10, 2022
Taste of Hillcrest
April 9, 2022
Encinitas Spring Street Fair
April 9 & 10, 2022
Field-to-Vase Dinner, Carlsbad
April 21, 2022
San Diego Taco + Beer Festival, Downtown
April 23, 2022
Fallbrook Avocado Festival
April 24, 2022
SoCal Margarita Crawl
April 24-30, 2022
Cinco de Mayo Fiesta, Old Town
April 30, 2022
Taste of Julian
April 30, 2022 – SOLD OUT
Tequila & Taco Music Festival
April 30 & May 1, 2022
May
Carlsbad Village Street Faire
May 1, 2022
Liquid City Cheese Expo, BRICK
May 1, 2022
Gator by the Bay Mardi Gras in May
May 5-8, 2022
Tacotopia, Golden Hill Park (within Balboa Park)
May 7, 2022
SoCal Taco Fest, Waterfront Park
May 14, 2022
Foodie Land Night Market, Del Mar
May 13-15, 2022
San Diego County Vintners Association
Wine Festival, Bernardo Winery
May 15, 2022
Outstanding in the Field at Tuna Harbor Dock
May 18, 2022 – Tickets on sale March 20!
Sunset Rare and Reserve Tasting, Carlsbad
May 20, 2022
World's Largest Crawfish Boil, Waterfront Park
May 21, 2022
Wing Fest, Broadway Pier
May 21, 2022
Escondido Street Festival
May 22, 2022
El Cajon Maifest
May 22, 2022
Vista Strawberry Fest
May 29, 2022
Taste the World Festival
May 2022 ***clink link to see if date and location are now more specific
June
San Diego Brew Fest, Liberty Station NTC Park
June 11, 2022
Pacific Islander Festival
June 11, 2022
NatDiego Natural Wine Festival
June 18, 2022
San Diego Greek Festival
June 18 & 19, 2022
West Coast Hot Sauce Experience, Broadway Pier
June 18 & 19, 2022
Taste of Little Italy
June 21 & 22, 2022
Ocean Beach Street Fair & Chili Cook-off
June 25, 2022
July
Taste of the Pacific
July 28, 2022
Sip of Julian
July 30, 2022
August
Taste of Encinitas
August 2, 2022
Tiki Oasis, Town & Country Resort
August 3-7, 2022 – Tickets on sale February 2022!
Chula Vista Lemon Festival
August 13, 2022
San Diego Distillers Guild Fest
August 27, 2022
Chula Vista Harbor Fest
Postponed for 2022 (usually held in August)
September
San Diego Zoo Food,
Wine and Brew Celebration
September 17, 2022
Oceanside Harbor Days Festival
September 17 & 18, 2022
San Diego Spirits Festival
September 24 & 25, 2022
El Cajon Oktoberfest
September 30 through October 2, 2022
Beer & Wine Festival, Balboa Park
September 6, 2021***
San Diego Chocolate Festival
September 18, 2021***
San Diego Restaurant Week – Fall
September 26 through October 3, 2021***
October
El Cajon Oktoberfest
October 7-9, 2022
La Jolla Food & Wine Festival
October 8 & 9, 2022
Blended Festival
October 8 & 9, 2022
Taste of Carlsbad Village
October 13, 2022
Escondido Grand Avenue Festival
October 16, 2022
Untappd Beer Festival, Petco Park East Village
October 1 & 2, 2021***
San Diego Serbian Festival
October 9, 2021***
Taste of Coronado
October 13, 2021***
Great Pumpkin Beer Festival, Gaslamp Quarter
October 30, 2021***
November
Carlsbad Village Street Faire
November 6, 2022
San Diego Bay Wine & Food Festival
November 9-13, 2022
Encinitas Holiday Street Fair
November 20, 2022
San Diego Beer Week
November 5-14, 2021***
December
Taste & Tinis, Hillcrest
December 8, 2022
Taste of December Nights, Balboa Park
December 3-5, 2021***
If you know of any other San Diego festivals that we should add to this list, would you please use our Contact form to let us know? (Thanks in advance!)
Photo of San Diego Bay Wine & Food Festival by sdbaywinefoodfest via flickr (Creative Commons).
PLEASE NOTE: Hours of operation, driving times, etc., can vary with then-current conditions. While every effort is made to provide accurate information,we cannot be responsible for errors or for changes that may have occurred since publication. Please confirm all information with actual service providers.The information provided on this website is done so without warranty of any kind, either expressed or implied.