About three million people live in San Diego County, roughly half of them in the city of San Diego, itself. The Golden State's second largest city bills itself as "America's Finest City," which may seem like hyperbole… until you travel there! It's a wonderful place to explore, and we have A LOT of San Diego vacation ideas to share with you.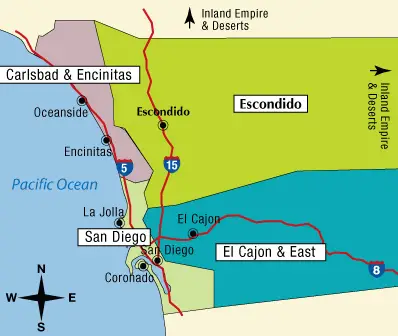 Bounded by Camp Pendleton to the north, Mexico to the south, the 600,000-acre Anza-Borrego Desert State Park to the east and the Pacific Ocean to the west, you'll find an amazing mix of cultures and geography here, as well as a seemingly endless array of entertaining diversions. It may take several vacations, in fact, to experience all there is to enjoy in just the city of San Diego, much less all the areas surrounding it.
You could spend the better part of a week just perusing the lovely grounds at Balboa Park, investigating its outstanding museums — many of which are detailed in our San Diego Museums article — and exploring the 100-acre, world-famous San Diego Zoo. You might even be able to enjoy a fun San Diego festival while you're there; be sure to check out that list!
And, you don't want to miss everything happening in Downtown San Diego, the historic Gaslamp Quarter and Seaport Village. If you have time, pop into Little Italy for a meal and/or a visit to the Maritime Museum.
And then there are all the wonderful beaches. There's a lot of fun to be had at the sandy trio surrounding Mission Bay — Pacific Beach, Mission Beach and Ocean Beach — and from there it's just a hop, skip and a jump to Sunset Cliffs Natural Park on the Point Loma peninsula's western shoreline. It's pretty much the perfect place to end the day… or to begin the evening. It's called Sunset Cliff for a reason, after all!
Mission Beach, a popular San Diego family vacation destination, offers SeaWorld San Diego and Belmont Park, a restored and treasured landmark theme park that first opened in 1925. And you're not far from Old Town San Diego State Historic Park, either.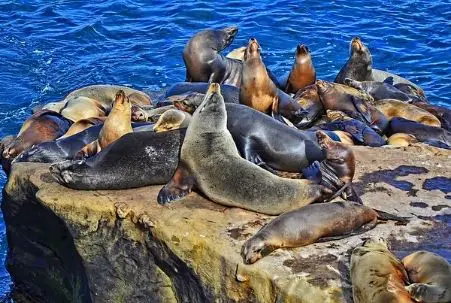 Shopping entertainment can be found among the boutiques and art galleries in La Jolla, about 10 minutes north of downtown and sometimes referred to as "San Diego's Beverly Hills." La Jolla is home to the fascinating Birch Aquarium, and has lots of natural gifts, too. It's perfect for a weekend getaway or even just a "let's enjoy some nature" day trip. Enjoy the hiking trails, explore the abundant sea caves and tide pools or visit with the sea lions. We offer even more ideas for enjoying the La Jolla area in our San Diego Attractions article.
Another good "day trip" is to the the exclusive enclave on "Coronado Island." We use quotation marks because it's actually a peninsula and easily accessible by car over the Coronado Bay Bridge or via the Bay Ferry from downtown's Broadway Pier. We promise, though, you'll still feel like you've gotten out of the city.
Coronado boasts the iconic Hotel del Coronado (aka "The Del") and, of course, the idyllic Coronado Beach. A frequent entry on Dr. Beach's (Stephen Leatherman's) annual "Top 10 Beaches in America" list, it came in at #8 in 2021 and is definitely a gem. (We discuss all the area beaches in our San Diego Beach article.)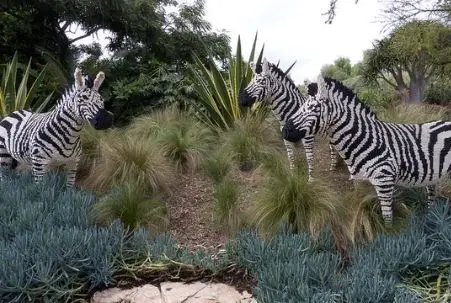 If you're heading out of San Diego proper — and especially if children are part of your traveling group — you may want to visit Legoland California (in Carlsbad, about 30 minutes north of downtown San Diego) or the Wild Animal Park (in Escondido, another 15 minutes or so east of Carlsbad).  Wild Animal Park is an 1800-acre division of the San Diego Zoo that offers a "safari-type" setup where animals roam free. You could build an entire San Diego itinerary around the North County's abundant attraction, restaurant and beach scene.
Adults might enjoy the race track at Del Mar (as well as its broad, white sand beach) or perhaps a bit of gambling at the casinos in El Cajon or Alpine. History buffs might want to explore the Mission San Luis Rey in Oceanside or take a longer excursion to the town of Julian, a charming village that once played a role as southern California's connection to the Gold Rush and is now largely prized for its surrounding apple orchards.
Travelers who want to venture south into Mexico should bring their passports. Tijuana, about 30 minutes from downtown San Diego and the world's busiest border town, is more "tourist" than "authentic" Mexico, but many visitors enjoy the shopping and nightlife opportunities. Bus tours and transportation are available. If you drive, it's best to park your car at the border and walk across.
San Diego Tourist Map © CaliforniaTouristGuide.com; Photo of Sea Lions at La Jolla Cove by Tomás Del Coro via flickr (Creative Commons); and Photo of Zebras at Legoland Safari Trek by Chris Christian via flickr (Creative Commons).