Many of San Diego's 90+ museums are in or near the city-center area, with Balboa Park — the city's cultural heart — hosting 17 of them. If you are a museum-lover, you may want to consider purchasing the money-saving Balboa Park Explorer Pass for your visit there. We've organized this San Diego museum list by areas of interest, and you can use these jump links to proceed to a specific section quickly. The up-arrow in the site's lower-right corner will return you to the top of the page.
Art, History and Culture Museums
Science, Transportation and Nature Museums
San Diego Museums – Art, History & Culture
Barona Cultural Center & Museum, Lakeside – San Diego County's only museum located on an Indian reservation is dedicated to the preservation of the heritage and culture of the area's original inhabitants. (baronamuseum.org)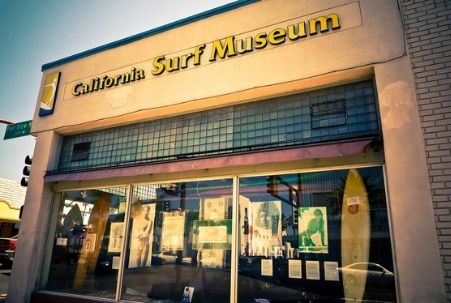 California Surf Museum, Oceanside – Dedicated to the display of surfing equipment and photographs, this small museum is open from 10am-4pm daily (except major holidays). (surfmuseum.org)
Children's Museum of San Diego, Downtown – Recently reopened, this $25 million, 50,000-square-foot facility is the first major public "green" project to be completed downtown. (thinkplaycreate.org)
Coronado Museum of History and Art, Coronado – Coronado's rich and wonderful history is shared in galleries and special exhibits that highlight its settlers, its friendship with the U.S. Navy, the landmark Hotel del Coronado and more. (coronadohistory.org)
The Firehouse Museum, Downtown – Located in the city's Little Italy area, this museum features a collection of fire-fighting equipment and memorabilia from across the country and around the world. (sandiegofirehousemuseum.com)
Heritage of the Americas Museum, El Cajon – This educational and cultural center features the prehistoric and historic art, culture and natural history of the Americas. For information on current exhibits, educational programs, special events or docent-led tours, please call the museum. (heritageoftheamericasmuseum.com)
The Marston House, Balboa Park – This classic 1905 Arts-and-Crafts style home was built for civic leader and merchant, George W. Marston and is listed on the National Register of Historic Places. It sits on five acres of formal gardens and is furnished with original furniture and decorative arts from the early American Arts and Crafts period. (sohosandiego.org/main/marston2.htm)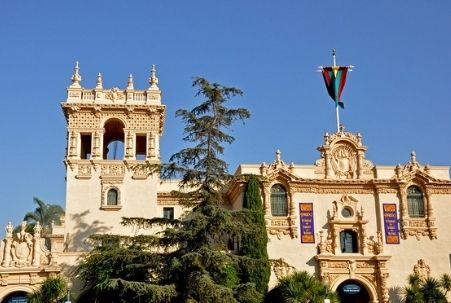 Mingei International Museum, Balboa Park – Come and enjoy a vast array of colorful and creative toys, pottery, textiles, costumes and gadgets from around the globe. (mingei.org)
Museum of Contemporary Art San Diego, Downtown – Explore contemporary art in a historic setting – the new Jacobs Building, formerly the Santa Fe Depot baggage building – that is easily accessible via San Diego's trolley system. (mcasd.org)
Museum of Contemporary Art San Diego, La Jolla – CURRENTLY CLOSED FOR EXPANSION & RENOVATION. Oft-remembered for its outdoor experience (enjoy the stunning view from Oceanview Terrace or lunch at the Museum Café patio), you can also find an array of fascinating exhibitions here, including Nancy Rubins' gravity-defying sculpture, Pleasure Point and an outdoor garden gallery. (mcasd.org)
Museum of Making Music, Carlsbad – To further its mission – to celebrate the rich history and encourage the future of music making – this unique museum chronicles the last 100 years of American music through interactive displays, a focus on six different musical eras and a collection of over 450 vintage instruments and artifacts. (museumofmakingmusic.org)
Museum of Photographic Arts, Balboa Park – Widely revered as one of the nation's best photography museums, its permanent collection includes works by Ansel Adams, Imogen Cunningham, Henri Cartier-Bresson and Edward Weston – everything from 19th-century daguerreotypes to contemporary photojournalism prints and Russian Constructivist images (many by Alexander Rodchenko). There is also a state-of-the-art theater that screens cinema classics and hosts the occasional jazz recital. (mopa.org)
The San Diego History Center, Balboa Park – With over 2.5 million photographs and curatorial collections that include a vast array of objects, this extensive museum documents the area's interesting past from 1840 to the present. Permanent collections include series on folk art, textiles, tools and transportation, and the museum regularly hosts temporary exhibitions and offers lectures, programs and workshops in its 100-seat Thornton Theater. (sandiegohistory.org/sandiegohistorycenter)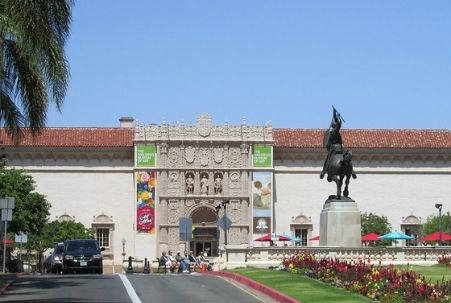 San Diego Museum of Art, Balboa Park – One of the country's leading art institutions, its holdings include collections of Italian Renaissance, Dutch and Spanish Old Masters, Asian art, south Asian paintings. While the museum has a particular focus on Spanish art, it also exhibits comprehensive examples of American art, 19th century European paintings and 20th century paintings. (sdmart.org)
San Diego Women's History Museum & Educational Center, Downtown – The nation's only women's history museum offers educational programs, exhibits, archives, oral histories and the Women's Hall of Fame to further its mission. (whmec.org)
Serra Museum, Presidio Park (near Old Town San Diego) – This 1929 mission-style building houses a wide range of Native American, Spanish, Mexican and American artifacts that chronicle the area's history. Exhibits include personal belongings like tools, furniture and paintings – even a cannon! – and there is a large collection of local history books for sale as well. (sandiegohistory.org/serramuseum)
Stuart Collection, La Jolla (UCSD campus) – A partnership between the University and the Stuart Foundation, an organization founded by James Stuart DeSilva and dedicated to funding experimental and challenging public sculpture projects, presents and displays more than a dozen public art projects sometimes described as "adventuresome," "ironic" and "humorous" at various campus locations. (stuartcollection.ucsd.edu)
Timken Museum of Art, Balboa Park – Admission is always free at this small-but-sumptuous museum. Its world-class Putnam Collection spans five centuries of art – from from the early Renaissance through the 19th century – and artists represented include Veronese, Breugel, Claude, David, Rembrandt and Copley. (timkenmuseum.org)
Whaley House Museum Complex, Old Town San Diego – A Victorian mansion and historical museum complete with resident ghosts. (whaleyhouse.org)
Davis-Horton House Museum, Downtown – This saltbox-style home (shipped around Cape Horn and assembled here in 1850) is the Gaslamp Quarter district's oldest surviving structure. The former home of many fascinating people, (including pre-Civil War soldiers, a German spy and the city's founder, Alonzo Horton), each room represents a historic period and is filled with fascinating artifacts to share its former inhabitants' entertaining stories. (gaslampfoundation.org/tours-virtual-and-in-person/)
San Diego Museums – Science, Transportation & Nature
USS Midway Museum, Downtown – Located aboard the historic USS Midway aircraft carrier docked along the Navy Pier, this museum features exhibits, flight simulators and tours of the carrier (an audio guide is provided with admission). (midway.org)
Botanical Building, Balboa Park – Built for the 1915-16 Exposition and one of the largest lath structures in the world, there are more than 2,100 permanent plants to enjoy here. Free to the public on Friday through Wednesday, from 10am to 4pm (closed Thursdays and holidays), many of the Park's vibrant seasonal flower displays can be found here. (balboapark.org/gardens/botanical-building)
Maritime Museum, Downtown – Located on the North Harbor Drive waterfront, about two blocks from the Little Italy trolley station, you don't have to be a nautical history buff to enjoy these fine vessels. The collection includes five restored sail- and steam-powered ships, dating from the late 19th and early 20th centuries, one of which is the world's oldest active ship, the Star of India. (sdmaritime.com)
Reuben H. Fleet Science Center, Balboa Park – This museum is filled with fun, interactive, educational exhibits. The center's IMAX Dome Theater, the first such theater in the world, screens exhilarating nature and science films. (rhfleet.org)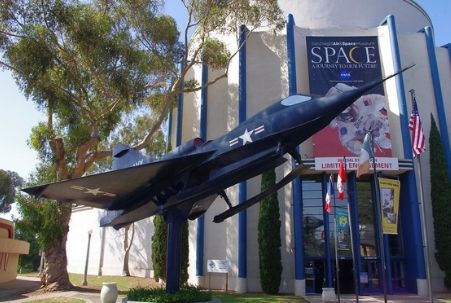 San Diego Air & Space Museum, Balboa Park – This popular museum celebrates five centuries of aviation history, demonstrating the remarkable progress with displays of more than 60 aircraft and space vehicles. Highlights include hot-air balloons, bi-planes, military aircraft and many fascinating space-related exhibits. (sandiegoairandspace.org)
San Diego Archaeological Center, Escondido – Located near the San Diego Wild Animal Park, this museum preserves and curates prehistoric and historic archaeological artifacts and shares them with the public through exhibits, educational programs and continued research. (sandiegoarchaeology.org)
San Diego Automotive Museum, Balboa Park – The museum showcases over 80 classic and historically significant vehicles – from "horseless carriages" to 50s favorites and from "muscle cars" to motorcycles – including Louie Mattar's fabulous, world-famous $75,000 Cadillac and potential future innovations. Special exhibits rotate ever few months to share other interesting and famous vehicles. (sdautomuseum.org)
San Diego Model Railroad Museum, Balboa Park – This is the world's largest operating model railroad museum, displaying four enormous and detailed layouts that portray California's transportation history in its 28,000-square-foot facility. There is also a Toy Train Gallery with an interactive Lionel layout with state-of-the-art theater lighting that is a big hit with kids of all ages. (sdmrm.org)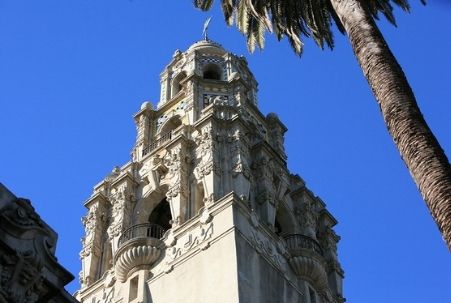 San Diego Museum of Us, Balboa Park – Formerly known as The Museum of Man and positioned beneath the Park's magnificent 200-foot California Tower, this fascinating museum specializes in the peoples of North and South America and showcases life-size replicas of various Homo sapiens as well as Egyptian tomb artifacts and Peruvian mummies. The Children's Discovery Center and its changing exhibits highlight arts, culture and scientific achievements. (museumofus.org)
San Diego Natural History Museum, Balboa Park – Founded in 1874 and southern California's second-oldest scientific institution, this flagship Balboa Park museum celebrates the natural wonders of Baja and Southern California with an extensive permanent collection, award-winning temporary exhibitions, giant-screen films and hands-on science activities. There are 7.5 million fossils, dinosaur models and even live reptiles and other specimens here – something for everyone and not to be missed! (sdnhm.org)
Photo of California Surf Museum, Oceanside by Roman Königshofer via flickr (Creative Commons); Photo of Mingei International Museum by Jennifer Boyer via flickr (Creative Commons); Photo of San Diego Museum of Art by Glen Bowman via flickr (Creative Commons); Photo of USS Midway Museum by Tomás Del Coro via flickr (Creative Commons); Photo of San Diego Air & Space Museum by tataquax via flickr (Creative Commons); and Photo of Museum of Us (formerly Museum of Man) by Bengt Nyman via flickr (Creative Commons).