There's an interesting array of Orange County museums for your education and enjoyment, and while the list below may not be exhaustive, it highlights some of the most popular ones. You may also want to review information about museums in adjacent areas — Los Angeles and San Diego — as you plan your vacation or getaway, and you can use the Southern California tab in our top-navigation bar to find those discussions. Also, be sure to take a look at our Orange County Attractions article as some of its entries are museum-like.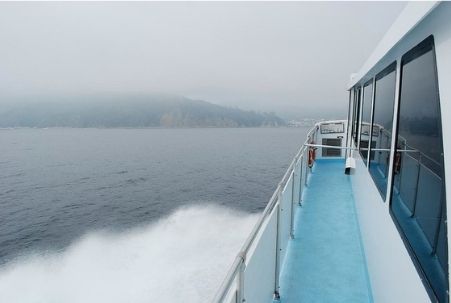 The list below is arranged geographically from north to south, flowing between beach and inland cities, and the jump links can be used to advance quickly to a specific location's discussion. The up-arrow in our site's lower, right-hand corner will always deliver you to the top of the page quickly. This first entry doesn't fit neatly into those categories, however, since it's in the Pacific Ocean on Santa Catalina Island. Catalina is technically Los Angeles County, but we include it here since you can catch a ferry to the island at either the Newport Beach or Dana Point harbor.
Catalina Island Museum, Avalon – In 2016, this museum moved to a facility with nine times the exhibition space of its former location in the island's Art Deco landmark Casino Building. It has used the space well. You'll find a permanent collection of historic artifacts, photographs and locally made pottery and tiles — don't miss the mural composed of Catalina tile designed by artist Richard Keit in the atrium — as well as Indian archaeological finds from the island. The new space also allows the private non-profit organization to host special events, some that come on-loan from collections throughout the world. (catalinamuseum.org)
La Habra, Brea, Yorba Linda, Fullerton, Buena Park and Anaheim Museums
Orange, Santa Ana and Tustin Museums
Huntington Beach, Newport Beach and Laguna Beach Museums
Costa Mesa and Irvine Museums
San Juan Capistrano and San Clemente Museums
The Children's Museum at La Habra, La Habra – A 1923-vintage Union Pacific railroad depot, with old railroad cars resting nearby, offering hands-on exhibits for children from preschool to fourth grade as well as an authentic Dentzel Carousel. Portola Park next door has tables for bring-your-own picnics. (lhcm.org)
City of Brea Art Gallery – Part of the Brea Civic and Cultural Center, the Gallery presents four major exhibitions per year in its a 6,500 square foot contemporary art space. Closed Monday and Tuesday. (ci.brea.ca.us/203/Brea-Gallery)
Richard Nixon Library & Museum, Yorba Linda – Located on the nine-acre site where President Nixon was born in 1913, the museum's exhibits focus on Nixon's life and checkered political career. You can also visit Pat Nixon's tranquil rose garden as well as both of the Nixons' grave sites. (nixonlibrary.gov)
Fullerton Museum Center, Fullerton – This museum is dedicated to developing and presenting the best in multi-disciplinary exhibitions and educational programs in the areas of history, science and art. The Leo Fender Gallery honors the life-long Fullerton resident — considered the father of the modern solid-body electric guitar — with instrument and music-oriented exhibits. (fullertonmuseum.com)
Ralph B. Clark Interpretive Center, Buena Park – Provides an educational view of prehistoric Orange County through exhibits, programs and guided tours. Among the fossils on display is a 9-million-year-old baleen whale skeleton, reputed to be one of the only complete Ice Age whale fossils in existence. Open Saturdays 10am- 2pm.; free admission. (ocparks.com/parks-trails/ralph-b-clark-regional-park/interpretive-center)
The MUZEO, Anaheim – The 25,000-square-foot MUZEO museum complex consists of a Main Gallery and an adjunct gallery located in the city's historic 1908 Carnegie Library, the only one left in the county (the ones formerly in Fullerton, Orange, Santa Ana and Huntington Beach didn't survive). The exhibits tend to be unique and locally-focused, in keeping with the institution's stated mission to explore and celebrate the community's diverse heritage, culture and arts through creative programming. (muzeo.org)
Hilbert Museum of California Art, Orange – Opened in 2016 and located at the Chapman University in Old Towne Orange, this museum shares the "California Scene" painting movement collection of Mark and Janet Hilbert as well as loaned pieces in rotating exhibits. The art includes oils, watercolors, sketches and lithographs of rural and urban scenes, coastal views, farms, ranches, freeways and landscapes representing the state's everyday life from around 1920 to 1970. Closed Sunday and Monday, with free admission. (hilbertmuseum.com)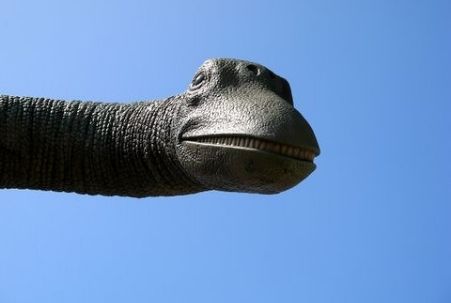 Discovery Cube, Santa Ana – Dubbed the "amusement park for your mind," this children's science museum has immersive, interactive science activities hands-on exhibits that delight children (although the adults accompanying them sometimes voice complaints about management, staff, cost and cleanliness). (discoverycube.org)
Heritage Museum of Orange County, Santa Ana – A collection of restored 1890's homes and buildings set amid extensive gardens, of which the 1898 home of Hiram Clay Kellogg is the focal point. This is a popular field trip location for local schoolchildren, and they put together a Kellogg House virtual tour for teachers' use during the pandemic. Availability varies; see the website for open days and hours. (heritagemuseumoc.org)
Bowers Kidseum, Santa Ana – Closed for renovations at the time of this writing, but historically it was a children's museum focused on ethnic arts and culture. (bowers.org)
Bowers Museum of Cultural Art, Santa Ana – One of Southern California's finest museums and the largest of all Orange County museums, this nationally celebrated institution has eight permanent exhibitions and often hosts world-class featured exhibits. The museum's permanent collection features more than 24,000 Native American objects including basketry, pottery, beadwork, stone and shell tools, weapons, and jewelry. (bowers.org)
Lyon Air Museum, Santa Ana – Located on the west side of John Wayne Airport, this aerospace museum houses a fleet of historically significant World War II-era aircraft and vehicles along with related memorabilia. (lyonairmuseum.org)
Marconi Automotive Museum, Tustin – Richard Marconi made his money in the diet and wellness sector (he was associated with Herbalife) and used at least part of it to amass a collection of cars that was valued at $30 million in 2004. The collection features one of North America's largest Ferrari collections and various other high performance street cars and race cars. (marconimuseum.org)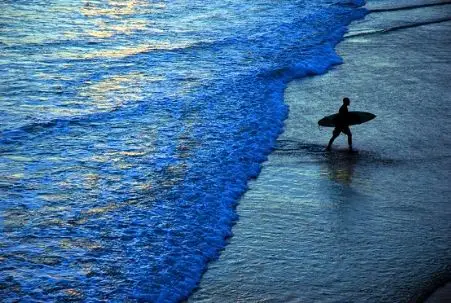 International Surfing Museum, Huntington Beach – Founded several decades ago by Natalie Kotsch, a woman who's never surfed, this small museum is about three blocks from the ocean and preserves over 100 years of surfing history. (surfingmuseum.org)
ExplorOcean, Newport Beach – Located near the Balboa Fun Zone Ferris Wheel and consisting of two facilities — the Richard and Betty Steele Model Pavilion (featuring a collection of model ships) and the East Wing Gallery (with exhibits such as Extraordinary People, which focuses on iconic heroes of the sea). (explorocean.org)
Balboa Island Museum, Balboa Peninsula – Open seven days a week and located in a historic building on Marine Avenue, this museum offers exhibits on the history of Balboa Island and Newport Beach. (balboaislandmuseum.org)
Laguna Art Museum, Laguna Beach – Offering a mix of historical and contemporary exhibitions and some "pop culture" shows dealing with topics such as surfing, cars and tattoos, the museum's location — about 300 feet from the ocean — is one of the most spectacular in the world. (lagunaartmuseum.org)
Orange County Museum of Art, Costa Mesa (expected to open in 2022) – At the time of this writing, the museum is in the process of moving from its prior Newport Beach location to a new, 53,000-square foot facility being built on a long-designated spot at Costa Mesa's Segerstrom Center for the Arts. It's expected to open in October 2022, in conjunction with the California Biennial. A temporary exhibit space was set up in the South Coast Plaza shopping center, but it appears that's currently closed due to the pandemic. (ocma.art)
Heroes Hall Museum, Costa Mesa – Celebrates the legacy of Orange County veterans and others who have served our nation with rotating exhibits in its two-story building on the fairground property. Open Wednesday through Sunday, 11am-5pm. (ocfair.com/heroes-hall/)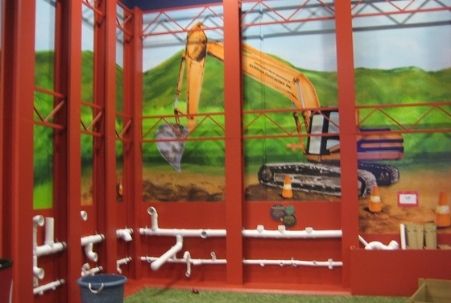 Pretend City, Irvine – A children's museum that's designed as a child-size interconnected city — with everything from a home and the beach to a Trader Joe's, a meditation studio and lots more — where children can "dress up" and assume real-world roles. The experience seeks to combine education with fun and develop creativity. (pretendcity.org)
UCI Institute and Museum of California Art (IMCA), Irvine – Already one of our favorite Orange County museums — it's the only California museum dedicated to the preservation of California Impressionism (plein air) paintings, an art style that flourished here from 1890 to 1930 — this is one to keep your eye on. It's received donations of a couple of extensive collections in recent years and is presently working on an expansion plan. (imca.uci.edu)
Heritage and Aviation Exhibition, Irvine – Located at Great Park's historic Hangar 244, this exhibition preserves Great Park's history – both its agricultural roots and also its former military role. Artifacts include a couple of lovingly restored WWII airplanes. Free admission and limited hours Thursday through Sunday. (cityofirvine.org/orange-county-great-park/heritage-and-aviation-exhibition)
Heritage Hill Historical Park – Lake Forest (near Irvine) – On Wednesdays and Saturdays at 11am, free walk-in tours are offered for individuals and groups of seven or less. Volunteer docents meet visitors at the front porch of the Serrano Adobe and tour each building in the park. (ocparks.com/historic-sites/heritage-hill-historical-park)
The O'Neill Museum, San Juan Capistrano – The Garcia/Pryor residence, now known as the O'Neill Museum, was built between 1870 and 1880 by José Dolores Garcia. The San Juan Capistrano Historical Society has restored and furnished it in keeping with 1880s design and decor. It's open Wednesday through Saturday, 9-Noon and 1-4pm. (sjchistoricalsociety.com/history/oneill-museum/)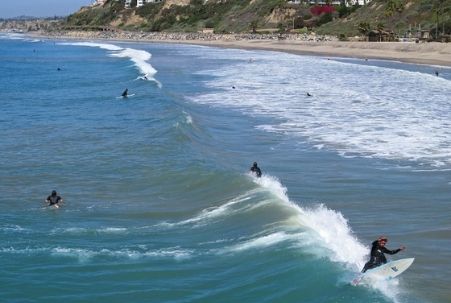 Surfing Heritage and Culture Center, San Clemente – Surfing artifacts, surfboards, memorabilia, photography, video, periodical and scholarly works from all over the world present a comprehensive overview on the history and culture of surfing. Open Tuesday-Sunday with free admission; donations appreciated. (shacc.org)
If that list of Orange County museums doesn't have anything that strikes your fancy, be sure to check out the museums in nearby Los Angeles and San Diego. You can find them under the Southern California tab in our top-navigation bar.
Photo of Aboard the Catalina Ferry by Mark Roland via flickr (Creative Commons); Photo of Nixon Helicopter at the Richard Nixon Presidential Library by Tim Evanson via flickr (Creative Commons); Photo of Discovery Cube Dino Quest, Santa Ana by debaird™ via flickr (Creative Commons); Photo of Surfer in Huntington Beach by Rudy via flickr (Creative Commons); Photo of Farm at Pretend City, Irvine by Kristin Ausk via flickr (Creative Commons); and Photo of San Clemente Surfers by Bennilover via flickr (Creative Commons).