Best Orange County Beaches
Orange County residents say their beaches are the best of the best in California — maybe the world. Speaking as beach lovers who've traveled extensively and live on a Los Cabos beach, we'd have a hard time arguing with them.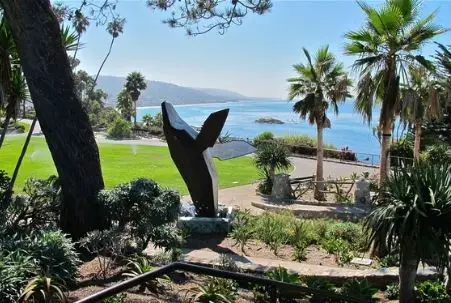 Laguna Beach, Newport Beach and Huntington Beach are the three main Orange County beaches (more about these below), and this 10-mile stretch is what most people think of when someone says they're headed for "an Orange County beach." That stretch is wonderful, to be sure, but you'll also want to check out the other sparkling gems in this southern California Pacific coast paradise. With about 50 miles of gorgeous coastline to explore, we've arranged the discussion below as if traveling north to south.
Los Angeles County ends with Long Beach, and Orange County picks up a few miles south of that at Seal Beach. The beach in this area is very wide, often a few hundred yards, and the sandy beach is white, course and clean. Surfing is also quite good here. Beach access is super easy, although parking can be a challenge; try to arrive early in the day. There's metered parking along the city's Main Street area, and from there it's a short walk to the pier. Walking the pier itself isn't so short, however. Clocking in at 1,865 feet, it's the state's second-longest wooden pier and a popular fishing location.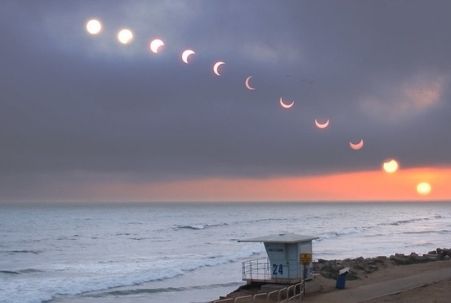 Continuing south, you'll soon arrive at Sunset Beach, part of the city of Huntington Beach. While it doesn't make any secluded beaches lists, it's appreciably quieter here than at many OC beaches and is therefore favored for sunbathing.
At the time of this writing, it's also the only one of the five Huntington beaches where you can still find free beach parking (along the Green Belt on Pacific Avenue and at the south end of the parking lot in Peter's Landing).
The other four Huntington beaches are Huntington Dog Beach, Bolsa Chica State Beach, Huntington State Beach and the iconic Huntington City Beach. The last three of those feature fire pits for your beach bonfires, with cumulative 500 fire rings available for free on a first-come, first-served basis. Be advised that if you're visiting during the Memorial-to-Labor-Day peak season, you'll need to arrive early to secure one. Also be advised that only the two state park beaches also feature picnic tables.
Huntington City Beach is located in one of the county's major population centers, so restaurants, nightlife and other attractions abound. It's also where you'll find the city's iconic pier, the center of activity for a variety of events throughout the year — many related to surfing, of course.
Throughout Huntington Beach and traveling south as you leave the area is where you'll find what most people associate with the quintessential beautiful OC beaches. It's a truly stunning natural environment that continues essentially uninterrupted to – and through – the Newport Beach and Laguna Beach areas.
Newport's stretch of beaches are perfect for surfing, swimming or sunbathing, and you can also find some wonderful lodging and dining choices here. The Newport Beach Harbor — the largest recreational harbor on the West Coast — offers sport fishing, whale watching and kayaking fun. You can even catch a ferry to Santa Catalina Island here.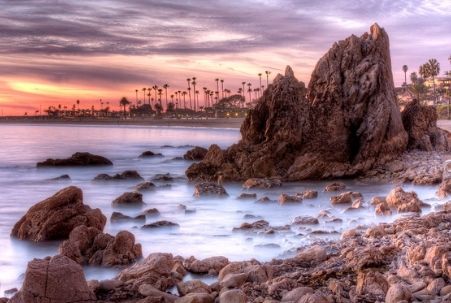 On the north side of the inlet to Newport Bay is the Balboa Peninsula, Balboa Island and the Balboa Fun Zone. Check out our OC Attractions article for all the things you can enjoy there. On the south side of the inlet is Corona Del Mar State Beach – not great for the typical beach activities, but the Inspiration Point park is a lovely place to enjoy the sunset or a picnic.
The last beaches to explore in the Newport area are at Crystal Cove State Park, a massive 3,936-acre park where you'll find a historic district of beach cottages, three miles of beaches and tide pools as well as a 1,400-acre marine underwater park. There are four entrances, each with its own parking area where you can also find restrooms, picnic tables and outdoor showers. If you're visiting at low tide, you may want to do some tide pool exploration at Reef Point, Rocky Bight, Pelican Point or North End Treasure Cove. This section of our OC Vacation Ideas article shares some good information about that.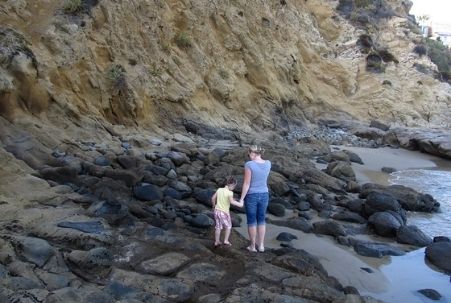 As you leave Crystal Cove, you've entered the Laguna Beach area. Check out Irvine Cove Beach, Crescent Bay and Emerald Bay before you head to the city's main beach (conveniently called Main Beach). The latter two are small bays located between rocky points. They're a bit hard to find, but truly pristine and worth the effort. Crescent Bay is a popular snorkeling and bodysurfing location, and you'll also find tide pool exploration opportunities at the south end of the beach during low tide.
The little bay at Laguna's Main Beach and its surrounding hills make this area picture-postcard beautiful. There are tide pools to explore here, too, and the surf is perfect year-round. The nearby Heisler Park has gardens, picnic tables, walking paths and an amazing collection of public art. The city's amenities — shopping, nightlife, hotels, etc. — should please just about everyone.
As you work your way south from Main Beach, the beach is often blocked by bluffs and some private seaside homes, but you can find beach access paths every few hundred yards. All California beaches, up to the high-water mark, are public property and you're free to walk them. Local and county governments have been aggressive in conditioning development on grants of "public access" easements — so you can at least walk down to the beach, often on a public path between two private properties.
The beaches to check out along this stretch include Victoria Beach, Treasure Island Beach, Aliso Beach County Park and Table Rock Beach. Victoria Beach offers a fun little adventure to La Tour, and we give pointers for that here.
Our personal favorite in this bunch is Aliso, located at Laguna's southern boundary. The Pacific Coast Highway runs right next to it, and there's ample parking, dining and lodging on the beach side of the highway.
Between Laguna and Dana Point you'll find some quaint, small beaches which some consider exquisite "local secrets." The nearby Salt Creek Beach Park is as pristine a beach as exists anywhere, and it's next door to world-class golf and five-star resorts. A favorite in the Dana Point area is Doheny State Beach and its nearby Baby Beach. We're not alone, either. It attracts nearly a million visitors each year.
Capistrano Beach, the next beach south, is tucked into an area behind Dana Point, shielded from rough surf. This is another one that's perfect for smaller children, but consequently not so great for surfing. Some seaside resorts are within walking distance and superb resorts are up the hill in Dana Point proper.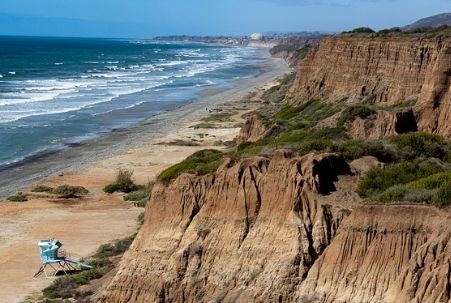 Continuing south down the highway, San Clemente State Beach and its neighbor, Calafia Beach County Park, are accessible by the San Clemente Pedestrian Beach Trail, which runs the entire San Clemente coastline.
This not only gives great beach access, but connects with the wonderful array of beachfront hotels, resorts, restaurants and other amenities supporting your visit to the area. Lower Trestles here is a favorite of body surfers.
San Onofre State Beach, located at the county's southern tip, is deliciously undeveloped as well as a bit tricky to get to by car. If you're a fan or secluded beaches, though, you'll want to make the effort. That's a wrap for Orange County beaches, but there are plenty more about a 30-minute drive away in our San Diego area.
Photo of Breaching Whale sculpture at Heisler Park, Laguna Beach by Bennilover via flickr (Creative Commons); Photo of Sunset Beach Eclipse by Jim Nista via flickr (Creative Commons); Photo of Huntington Beach Pier by Anthony G. Reyes via flickr (Creative Commons); Photo of Corona del Mar Sunset by Tony Nungaray via flickr (Creative Commons); Photo of Crescent Bay, Laguna Beach by Ken Lund via flickr (Creative Commons); Photo of Keyhole at Treasure Island Beach by Bennilover via flickr (Creative Commons); and Photo of San Onofre State Beach by Cameron Photo (account deleted 06/22) via flickr (Creative Commons).