Orange County Amusement / Theme Parks
Orange County is where Americans love of amusement and theme parks began, although reasonable minds may differ on exactly which "Walter" fathered the industry – Walter Knott or Walter Elias Disney.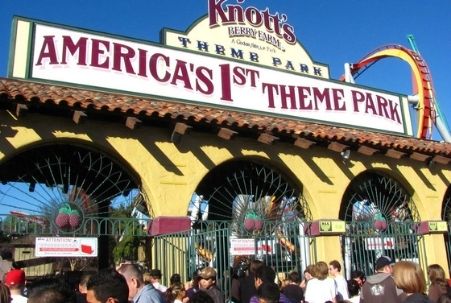 In the 1920s, the Knott family sold berries and pies along State Highway 39. The highway was to become the main connection between Los Angeles and the beaches, and the restaurant the Knotts opened to help make ends meet became quite popular and often had a long waiting line. Walter Knott needed a way to entertain those waiting visitors, and his solution was to recreate a "ghost town" on the property using buildings he relocated from real Old West towns such as Calico, California.
The Knotts didn't actually begin charging admission to their park until 1968, so when Walt Disney opened his park — Disneyland — in 1955 (now part of the Disney Parks complex), they were not considered to be competing with one another. The two Walters had a cordial relationship, in fact, and even collaborated on community service projects from time to time. Their legacy is the many Orange County theme parks that visitors enjoy today, which even includes a couple of additions to their own properties.
The amusement park list below is set out in roughly geographical order, traveling north to south through the county.
Knott's Berry Farm, Buena Park – This large theme park offers more than 165 rides and attractions and an adjacent shopping district that you can visit for free. While the park does feature some thrill rides, there are several slower rides and an Old West and Peanuts characters theme that's a winning combination for young children. (knotts.com/knotts-berry-farm)
Knott's Soak City U.S.A., Buena Park – Open May through September, this water wonder world features rides, a family funhouse, a wave pool, an inner tube ride experience and much more. (knotts.com/soak-city)
Adventure City, Stanton – This park, about midway between Buena Park and Anaheim, offers fun for all ages. It features a petting farm, a children's theater and even a family-friendly roller coaster. (adventurecity.com)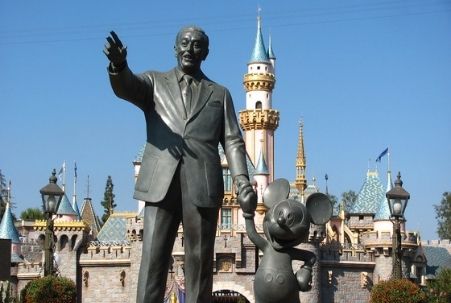 Disneyland Park, Anaheim – For most southern California tourists, this is the definite "must see" of all the large theme parks. You can easily spend a whole day (or longer, if possible) at "the happiest place on Earth" and Downtown Disney, the adjacent 20-acre pedestrian promenade (non-gated, free admission) that offers visitors indoor dining, shopping, a multiplex cinema and several nightlife venues, including the House of Blues. (disneyland.disney.go.com/destinations/disneyland/)
Disney's California Adventure, Anaheim – Adjacent to Disneyland Park but requiring a separate admission, this California theme park celebrates the Golden State's natural and manmade treasures. (disneyland.disney.go.com/destinations/disney-california-adventure/)
Camelot Golfland, Anaheim – Featured on the Travel Channel as "the world's largest mini golf course" a few years back, visitors can also enjoy its video game arcade, pizza parlor, lazer tag, bumper cars and boats. Also, in addition to the park's five uniquely themed miniature golf courses, there's a Fastcar Raceway attraction available to licensed drivers. (golfland.com/anaheim)
Great Wolf Lodge Water Park, Garden Grove – Located about a mile from Disneyland, this resort offers "a full vacation experience for the family" and consists of various levels of accommodation, a water park and a handful of "dry land" activities designed to keep kids entertained. Day passes for the facility are now available to visitors, as well. (greatwolf.com/southern-california)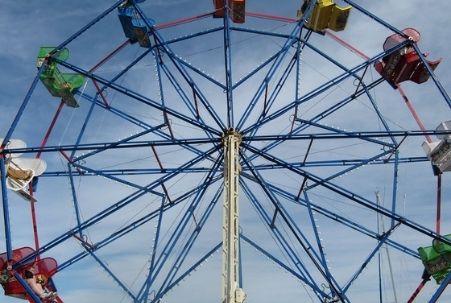 Balboa Fun Zone, Balboa Peninsula – Convenient to both Newport Beach and Huntington Beach, this park's Ferris wheel ride offers breathtaking harbor and Pacific Ocean views.
Wild Rivers Water Park, Irvine – Coming to The Great Park in 2022! While the original location for this water park was forced to close in 2011 when Irvine Company decided not to renew its lease, its comeback was announced in 2021. The newly designed water park is envisioned to include over 20 acres — which is 50 percent more than the original park — as well as 15 ride offerings and 6 restaurants. There's even a possibility that the park will expand to include another three acres as demand increases. (wildrivers.com)
Zoomars at River Street Ranch, San Juan Capistrano – This beloved petting zoo and bird park is home to friendly photogenic animals to pet, feed, love and learn from. The ranch is open every day (except Thanksgiving and Christmas) from 10am-4pm, rain or shine. (riverstreetranch.com/attractions)
There's no such thing as too much fun in California! If these Orange County theme parks aren't enough to keep you busy, you might want to check out Los Angeles' and San Diego's offerings. You can access those articles by using the Southern California tab in our top-navigation bar.
Photo of Knott's Berry Farm Entrance by Jeremy Thompson via flickr (Creative Commons); Photo of Disneyland "Partners" Statue by Jeremy Thompson via flickr (Creative Commons); and Photo of Balboa Fun Zone Ferris Wheel by Mr. Littlehand via flickr (Creative Commons).