Orange County Tourist Attractions
The attractions list below sets out some of the area's entertaining man-made attractions, organized by area for your convenience. A separate type of man-made attractions — those more geared toward education — are covered in our Orange County Museums article. Be sure to check that out, too, as you explore all the fun things to do and see here.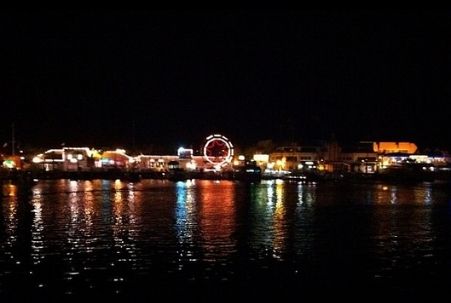 Any discussion of Orange County tourist attractions should probably begin with a section about the area's amusement and water parks. All the Disneyland thrill rides are here, of course, but there's also Knott's Berry Farm for younger thrill-seekers and Soak City for folks who prefer a giant slide over a sandy beach. There are a lot more, too — even a few that aren't so crazy-expensive, like the Balboa Fun Zone in Newport Beach == and we discuss them all for you in our separate Orange County Theme Park article.
While the word "attractions" usually refers to man-made venues designed to entertain or educate, much of what people find attractive about this area is its natural attributes and the activities those attributes make possible. The Pacific Ocean jumps to mind, of course, along with the beautiful beaches that dot the Pacific Coast Highway here — some of the best beaches on the West Coast, for sure! — but this proximity makes activities like sportfishing, whale watching and exploring tide pools available to you and yours, as well. Those are covered in our Best Orange County Beaches article.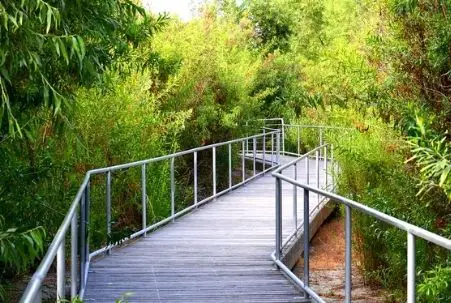 And, in addition to all of the beach activities available here, there's also some incredible hiking opportunities. The park-and-trail system is excellent — one of the best in California, in our opinion. We don't cover that topic separately because the local government does such a good job of detailing the Orange County park scene for its residents and visitors, but we may mention a few of our favorites here and there.
So then, let's get going with that entertaining man-made attractions list. We'll start in the north and work our way south down the Pacific Coast Highway, hopping inland here and there to cover attractions that aren't in the area's lovely beach cities. Here are some jump links in case you'd like to skip to a particular city's discussion; the up-arrow in our site's lower, right-hand corner will always deliver you to the top of the page quickly.
Brea, Fullerton, Buena Park, Anaheim, Garden Grove, Orange and Santa Ana Attractions
Huntington Beach Attractions
Newport Beach and Corona del Mar Attractions
Costa Mesa and Irvine Attractions
Laguna Beach Attractions
Dana Point and San Juan Capistrano Attractions
San Clemente Attractions
Our Los Angeles area ends with Long Beach, and this area begins about seven miles away from there in Seal Beach. This beach town has an inviting pier, a family-friendly beach and a large wilderness area, but not too much in the way of tourist attractions. Moving inland from there it's another story, however, because that's where you'll find…
That may seem like quite a long list of cities, but a drive that encompassed all of them could be completed in less than 90 minutes (if traffic cooperated, of course). Orange County is pleasantly compact. And, as you can see from this list, it's an excellent route for travelers looking for entertaining man-made attractions.
Art in Public Places Collection, Brea – A collection of 185+ outdoor sculptures, bass reliefs and other artwork — in a wide range of mediums, styles and approaches by nationally and internationally renowned artists — spread across this city's 12 square miles. One of the first California cities to develop a program to integrate public art with private development, Brea takes great pride in its "City of Art" identity. An interactive map of the various pieces is available here. (ci.brea.ca.us/196/Art-in-Public-Places)
Muckenthaler Cultural Center, Fullerton – This Spanish Colonial Revival-style residence built in 1924 by the Muckenthaler family — now listed on the National Register of Historic Places and affectionately called "The Muck" — features free public Sculpture and Sunset Gardens on its nine-acre grounds.
The 18-room mansion is now used to host exhibitions, performances and educational programs. In 2021, The Muck became home to a resident theatre company, The Electric Company, which will present plays on weeknights in the venue's outdoor amphitheater. In addition, the venue's Italian Garden and Adella Lawn are available to rent for weddings and events. (themuck.org)
Fullerton Arboretum – Located on California State University's Fullerton campus, this 26-acre botanical garden features an ecologically arranged collection of plants from around the world. (fullertonarboretum.org)
Fullerton Art Walk – If you're in the area for the first Friday night of the month, come on out to the Art Walk. It begins at 6pm. (fullertonartwalk.com)
Medieval Times, Buena Park – Feast on a four-course dinner while enjoying a night of romantic excitement in a unique, two-hour show of pageantry, horsemanship and swordplay, including an authentic jousting tournament. This company knows how to do interactive dinner theater, that's for sure! (medievaltimes.com/buena-park)
Pirate's Dinner Adventure, Buena Park – This dinner-and-show experience is set aboard a fully-rigged 18th century Spanish galleon adrift in a 200,000-gallon lagoon. Since 2006, the attraction has delighted guests with its delicious four-course feast, aerial artistry, swordplay and special effects. (piratesdinneradventureca.com)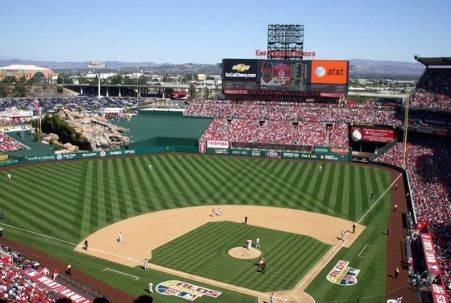 Angel Stadium of Anaheim – This is the at-home ballpark of MLB's Los Angeles Angels, where you can catch a game or take a 75-minute public tour during the June-through-September season. Private tours can also be arranged. (mlb.com/angels/ballpark)
The Honda Center, Anaheim – Opened in 1993, this is the home of the NHL Anaheim Ducks and a popular venue for concerts, shows and events. (hondacenter.com)
Anaheim Ice (formerly Disney Ice) – What began with a Disney movie (1992's The Mighty Ducks) took further form in 1995 with this Frank Gehry-designed ice rink facility and has now grown into a chain of ice rinks throughout the entire county. We would've never guessed that ice skating and hockey would become so popular on the West Coast! (anaheimice.therinks.com)
Flightdeck, Anaheim – Located in the Anaheim Garden Walk shopping center, this flight simulator not only replicates the feeling of being in a cockpit and flying an airplane, you can also choose between a fighter jet or commercial airliner experience. No experience necessary; advance reservations are required; for ages 10 and up and with a minimum height of 4'10". (flightdeck1.com)
Stanley Ranch Museum Historical Village, Garden Grove – This collection of historical buildings feels more like an attraction than a museum. It includes Garden Grove's first post office, an old barbershop, a general store and a fire station. Of particular interest is a garage, moved to the village from North Hollywood, which served as Walt Disney's first studio in 1923. (gardengrovehistoricalsociety.org)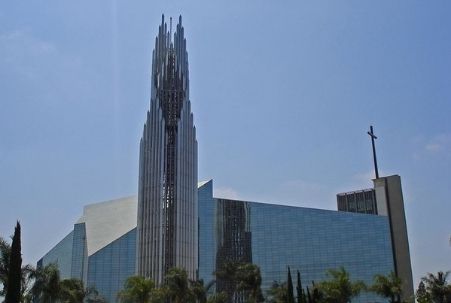 Christ Cathedral (formerly Crystal Cathedral), Garden Grove – Designed by Philip Johnson and resembling a four-pointed star, there are 10,000 panes of glass covering the translucent walls and ceiling of this stunning architectural gem. Once the home of Dr. Robert Schuller's "Hour of Power" television ministry, this is now a Catholic church and the headquarters of the Roman Catholic Diocese of Orange. (christcathedralcalifornia.org)
Orange County Zoo, Orange – Nestled within Irvine Regional Park's majestic grove of heritage Oak and Sycamore trees, this charming zoo specializes in animals and plants from the southwestern United States. Click here for a handy map to help plan your visit. (ocparks.com/oc-zoo)
Old Towne Orange – Our favorite downtown in the whole county, it contains the largest Nationally Registered Historic District in California, a lovely central Plaza Park gathering area, restaurants and lots of specialty and antique shops. Chapman University is also located here, and you'll find the wonderful Hilbert Museum of California Art (see our Museums article) on its grounds. (cityoforange.org/our-city/visitor-information/old-towne-orange)
Santa Ana Zoo – Located at Prentice Park, this 20-acre zoo focuses on Central and South American plants and animals, and its Zoofari Express and Ferris wheel are enjoyed by kids of all ages. (santaanazoo.org)
Santa Ana Art Walk, Downtown Santa Ana – This historical downtown area — a very close-second for our favorite in the county — has developed into an entertainment and culinary hub, and its artist community holds an art walk on the first Saturday of the month from 6-10pm. There's a handy map of participating galleries and restaurants on the website, and you can also use this map to take a self-guided walking tour of the downtown area's historic buildings any day you want. Don't miss the Second Street Promenade between Broadway and Main Streets. (dtsaartwalk.org)
Heading back to the coast now, next up…
Chip Foose Automotive Design Shop, Huntington Beach – An automobile designer/artist and star of the reality television series, Overhaulin', Chip Foose got his start in Santa Barbara before relocating here to open Foose Design. Tours of the design shop are offered Monday through Friday, during the lunch hour, 12-1pm ONLY. The website also advises to "check social media first." (chipfoose.com/contact)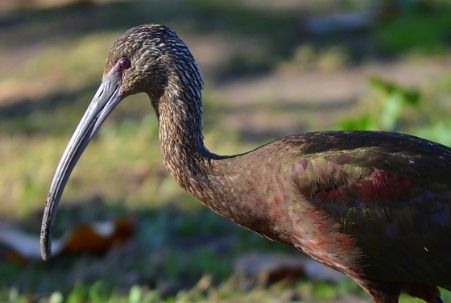 Huntington Beach Central Park – Stretching over 350+ acres, this park includes paved walking paths, open areas for picnics, three playgrounds, an exercise course and more. It's also a beloved bird-watching location.
The excellent Shipley Nature Center and architecturally significant Central Library (designed by Dion Neutra and opened in 1975) are located in the park, and both are worth a visit. (huntingtonbeachca.gov/residents/parks_facilities/parks/huntington-beach-central-park.cfm)
Huntington Beach Art-A-Faire – This event, held every Friday from 11am-6pm at Pier Plaza, features surf-related art and paintings as well as jewelry, gifts and home decor. The event stretches into the weekend at various times thought the year. (hbartafaire.com)
And, continuing south 5.5 miles down the Pacific Coast Highway takes us to…
In addition to the attractions set out below, avid golfers may want to check out the two Tom Fazio-designed, 18-hole courses at Pelican Hill Golf Club. But, be warned: the stunning Pacific Ocean and Catalina Island views may make it hard to keep your eye on the ball!
Balboa Peninsula, Balboa Fun Zone and Balboa Island – Your trip to Newport will not be complete unless you visit the Balboa Peninsula. With the harbor on one side and beach on the other, there's so much to see and do! Visit the Balboa Fun Zone to enjoy the rides and arcade. Partake in the range of delicious dining and cocktail establishments. Rent a bike, catch a ferry for a short ride to Balboa Island (or a different, longer ferry ride to Catalina Island) or schedule a whale-watching or sport-fishing excursion. The world is your oyster!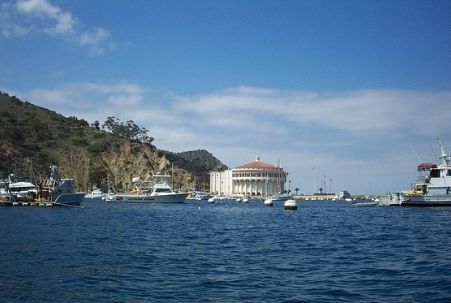 Santa Catalina Island – Twenty-six miles off the Southern California coast — an hour by ferry or about 15 minutes by helicopter — this island is often a destination in and of itself. Most of the island is controlled by the Catalina Island Conservancy, a private nonprofit organization whose mission is "to be a responsible steward of its lands through a balance of conservation, education and recreation." Catch the ferry at either Newport Harbor or Dana Point Harbor, discussed below. (catalinaconservancy.org)
Sculpture in Civic Center Park Exhibition, Newport Beach – Installation of Phase VI of this popular "museum without walls" program was completed in June 2021 and will be on loan through June 2023. (newportbeachca.gov/government/departments/library-services/cultural-arts/sculpture-in-civic-center-park-exhibition)
Fashion Island Shopping Center – Iconic, open-air shopping, dining and entertainment complex with a range of tenants — from world-class department stores to small, specialty shops. (fashionisland.com)
Newport Beach Vineyards & Winery, Newport Beach – You may be surprised to learn that Orange County's first agricultural foray was wine grapes. Anaheim was a thriving grape and wine producer — one of the biggest in the state, actually — before Pierce's Disease killed all the vines in 1883-1885. Instead of replanting grapes, they switched to oranges… and the rest, as they say, is history. This vineyard, founded in 1998, hopes to revitalize that long-ago tradition and features the county's only underground wine cave. (nbwine.com)
Sherman Library & Gardens, Corona del Mar – A 2.2-acre collection of themed botanical gardens — Sun, Tea, Formal, Sensory, Palm and Mediterranean Climates — that are linked together by beautifully landscaped brick pathways. The library portion features impressive art and photograph collections, and the on-site Cultivar Restaurant serves a garden-to-table lunch, Wednesday through Saturday, as well as brunch on Sunday. (thesherman.org)
Now, let's head back inland a bit to…
Orange County Fair & Exposition Center, Costa Mesa – In addition to the annual fair (during the end of July and the beginning of August), this property hosts a variety of festivals, car races and performances. (ocfair.com)
South Coast Plaza Shopping Center, Costa Mesa – The largest shopping center on the West Coast, renowned for its luxury boutiques and restaurants, also includes unique experiences like the nostalgic Carousel Court and Isamu Noguchi's California Scenario, one of the artist's most important public sculpture gardens. The center is privately owned by C. J. Segerstrom & Sons, and the sculpture garden's centerpiece, The Spirit of the Lima Bean, honors the Segerstrom family's Orange County agricultural heritage and its earlier legacy as the nation's largest producers of dried lima beans. The center's impressive stats include 2.8 million square feet of leasable space, 24 million annual visitors and sales around $1.5 billion. (southcoastplaza.com)
Segerstrom Center for the Arts, Costa Mesa – Located just east of South Coast Plaza, this arts complex includes various venues joined together by an outdoor plaza and dramatic pieces of public art. (scfta.org) The Center includes:
Segerstrom Hall – The original venue was one of the most innovative and technically advanced opera house-style music venues when it opened in 1986.
Renee and Henry Segerstrom Concert Hall – With its sweeping glass façade, its asymmetrical architecture and excellent acoustics, this venue became the new home of the Pacific Symphony Orchestra, the Pacific Chorale and the Philharmonic Society when it opened in 2006.
Julianne and George Argyros Plaza – A 46,000 square foot outdoor plaza that offers a host of free events and performances. Among the annual events are Summer Movie Mondays, Summer Jazz Series, Dia de los Muertos and Salute to Our Veterans, plus festivals, concerts and community celebrations throughout the year.
South Coast Repertory – This Tony Award-winning live theater complex was founded by David Emmes and Martin Benson in 1964 and has expanded significantly throughout the years. (scr.org)
Orange County Museum of Art (expected to open in October 2022) – See our Orange County Museums article.
Irvine Spectrum Shopping Center – In addition to a comedy theater and escape room experience, this shopping, dining and entertainment complex includes a large Ferris wheel, a carousel and a climbing sculpture. And, obviously, lots of fun for the whole family! (irvinespectrumcenter.com)
The Great Park, Irvine – This park, which reuses part of the property once occupied by the decommissioned El Toro Marine Corps Air Station, was originally called Orange County Great Park. In July 2021, however, city leaders decided to drop the first part of the name. Designed by a team of landscape architects, it has a variety of attractions and activities centering around fitness, agriculture and the arts. The first-of-its-kind, tethered, helium Balloon experience and the Carousel may be of particular interest to tourists. Additionally, the Great Park Ice rink here is the Anaheim Ducks' current training facility, and a Wild Rivers Water Park is slated to join the offerings line up in 2022. (cityofirvine.org/great-park/great-park-balloon-carousel)
If you read our Orange County Vacation Ideas article, you're well aware of our fondness for this charming city. That article shares information about the city's impressive collection of public art, all the festivals it hosts each year, a link to information about the Laguna Beach Art Walk (it's held on the first Thursday of every month) — and more — even how to find the "La Tour" structure at Victoria Beach. Rather than repeating it all, why not just check out the earlier article?
Ocean Institute, Dana Point – Open to the public on weekends (11am-3pm), you can enjoy ocean science-themed exhibits, see hundreds of marine animals, participate in animal feedings and more. Sadly, the tall ship that was once moored here, a full-sized replica of the square-rigged vessel on which Richard Henry Dana sailed called Pilgrim, sank in March 2020. (ocean-institute.org)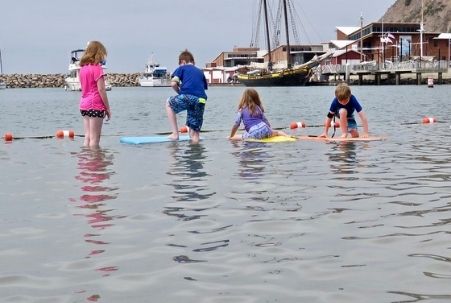 Dana Point Harbor, Dana Point – With its two marinas, the harbor prides itself as the Dolphin & Whale Watching Capital of the World®. You can arrange excursions here or just hang out and enjoy the salt air and the wharf's shops and outstanding restaurants. This is also one of the two Orange County harbors offering ferry service to Santa Catalina Island. (danaharbor.com)
Mission San Juan Capistrano – Commonly referred to as "the jewel of the California missions" and open daily from 8:30am to 5pm (closed Thanksgiving, Christmas and Good Friday), the Mission often hosts special events like concerts, garden shows, fashion shows and living history reenactments. (missionsjc.com/)
Los Rios District, San Juan Capistrano – Directly across the track from the historic Capistrano Train Depot, this is California's oldest neighborhood. Closely tied to the establishment of the city's lovely Mission, Los Rios Street was originally called Calle Occidental ("West Street" in Spanish, indicating its orientation to the Mission), and several adobes from the 18th century remain today. The Historical Society gives tours every Saturday at 1pm that begin at the train depot and continue on to Los Rios Street, including the four buildings on the Historical Society's grounds. Tours last about 45 minutes, and private tours are available by appointment for groups of five or more. (sjchistoricalsociety.com)
Casa Romantica, San Clemente – Once the home of the city's founder, Ole Hanson, this renovated 1928 estate offers diverse educational and cultural opportunities, including historic exhibitions and musical performances. (casaromantica.org)
Outlets at San Clemente – This charming Spanish-style outlet shopping center overlooks the Pacific Ocean and has 60+ stores. The area's California Tourist Information Center is also located here. (outletsatsanclemente.com)
San Clemente Village Art Faire – It's a first Saturday of every month event here and runs from 9am to 3pm. (scdba.org/Village-Art-Faire)
If this list of Orange County tourist attractions didn't have anything that strikes your fancy, you may also want to check out the attractions in nearby Los Angeles and San Diego. If you go to our top-of-page navigation bar, you'll find all three of these areas under the Southern California tab.
Photo of Balboa Fun Zone at Night from The Bay by AngryJulieMonday via flickr (Creative Commons); Photo of San Joaquin Wildlife Sanctuary, Irvine by Tracie Hall via flickr (Creative Commons); Photo of 1914 Cadillac Roadster at a Muckenthaler Car Show by Rex Gray via flickr (Creative Commons); Photo of Angel Stadium of Anaheim by lostintheredwoods via flickr (Creative Commons); Photo of Christ Cathedral (formerly the Crystal Cathedral) in Garden Grove by radiobread via flickr (Creative Commons); Photo of White-Faced Ibis at Central Park, Huntington Beach by Tracie Hall via flickr (Creative Commons); Photo of Casino Building at Santa Catalina Island by Nogwater via flickr (Creative Commons); Photo of Segerstrom Concert Hall by NPDOC via flickr (Creative Commons); Photo of Kids with body boards at Dana Point (and the now-demised Pilgrim tall ship) by Bennilover via flickr (Creative Commons); and Photo of Casa Romantica Story Circle with San Clemente Pier by K M via flickr (Creative Commons).