California Tourist Information Welcome Centers
There are 21 California Tourist Information Centers available to assist the state's visitors and travelers. They're staffed with friendly people who are happy to provide suggestions for local attractions and accommodations. In support of California tourism, the centers are stocked with copies of the 2023 California Visitors Guide, as well as maps, coupons, and more.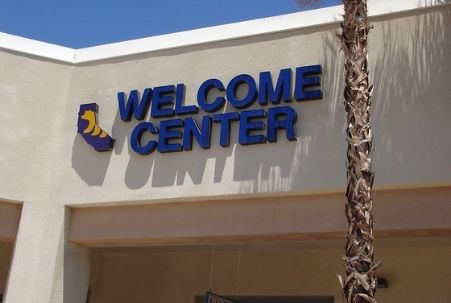 In addition to these state-run resources, most large (and some small) California cities have an independently run Convention and Visitor's Bureau.  You can check out this list for additional California tourist information resources, including email addresses and phone numbers for your research purposes. They're a wonderful resource for making the most of your California vacation, getaway or holiday.
Also, if you're planning to visit a specific California city but are unsure what's located in the same vicinity, this California cities list can help your research.  Just locate the city you're visiting on the alphabetical list, and then find other cities that are in the same area. 
You can also learn about the different California areas and what they have to offer by clicking on a navigation button at the top of this page.  Plus, there's a handy California tourist map on the home page that sets out the state's various areas for your trip inspiration and planning purposes.
Locations for the 21 brick-and-mortar centers are set out on this California Tourist Information Welcome Centers map, where from north to south you'll find:
Anderson Welcome Center
1699 Hwy. 273
Anderson, CA 96007
(530) 365-1180
[email protected]
Truckee Welcome Center
10065 Donner Pass Road
Truckee, CA 96161
(530) 587-8808
[email protected]
Auburn Welcome Center
1103 High Street, Suite 150
Auburn, CA 95603
(530) 887-2111
[email protected]
El Dorado Hills Welcome Center
2085 Vine Street, Suite 105
El Dorado Hills, CA 95762
(916) 358-3700
[email protected]
Santa Rosa Welcome Center
9 Fourth Street
Santa Rosa, CA 95401
(800) 404-7673
[email protected]
Fairfield Welcome Center
1 Jelly Belly Lane
Fairfield, CA 94533
(877) 793-7386
[email protected]
San Francisco Welcome Center
PIER 39, Building "B" 2nd Level
San Francisco, CA 94133
(415) 716-5897
[email protected]
Mammoth Lakes Welcome Center
2510 Highway 203
Mammoth Lakes, CA 93546
(760) 924-5500
[email protected]
Gilroy Welcome Center
(in Gilroy Premium Outlets shopping center)
8155-6 Arroyo Circle
Gilroy, CA 95020
(408) 842-6436
[email protected]
Salinas Welcome Center
1213 North Davis Road
Salinas, CA 93907
(831) 757-8687
[email protected]
Pismo Beach Welcome Center
333 Five Cities Drive, #100
Pismo Beach, CA 93449
(805) 668-7354
[email protected]
Ridgecrest Welcome Center
880 N. China Lake Blvd.
Ridgecrest, CA 93555
(760) 375-8202
[email protected]
Barstow Welcome Center
2796 Tanger Way, Suite 106
Barstow, CA 92311
(760) 253-4782
[email protected]
Yucca Valley Welcome Center
56711 Twentynine Palms Highway
Yucca Valley, CA 92284
(760) 365-5464
[email protected]
Ontario Welcome Center
(in Ontario Mills Mall)
One Mills Circle, Suite 1054
Ontario, CA 91764
(909) 980-2019
[email protected]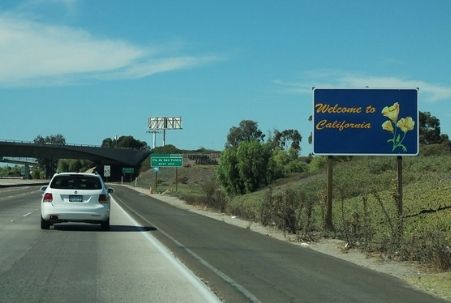 Cabazon Welcome Center
48750 Seminole Drive, #100
Cabazon, CA 92230
(951) 922-3000
[email protected]
Los Angeles Welcome Center
(in Citadel Outlets shopping center)
100 Citadel Drive, Suite 480
Los Angeles, CA 90040
(323) 888-1724
[email protected]
Torrance Welcome Center
(in Del Amo Fashion Center – Main Level, Entrance #1)
3525 Carson Street
Torrance, CA 90503
(424) 392-7495
[email protected]
San Clemente Welcome Center
(in Outlets at San Clemente shopping center)
101 W Avenida Vista Hermosa #190
San Clemente, CA 92672
(949) 535-2323
[email protected]
Oceanside Welcome Center
928 North Coast Highway
Oceanside, CA 92054
(760) 721-1101
[email protected]
San Diego Cross Border Express Welcome Center
2745 Ortay Pacific Drive
San Diego, CA 92154
(619) 940-8101
[email protected]
Photo of California Welcome Center Sign by Shoshanah via flickr (Creative Commons); and Photo of Welcome to California Road Sign by formulaone via flickr (Creative Commons).