California's viticulture history dates back to the 18th century, when Spanish missionaries planted the first vineyards to produce wine for religious sacraments. Nearly 300 grape varieties were grown in the state in the early 1900s, and there were nearly 800 California wineries scattered around the state at that point in time.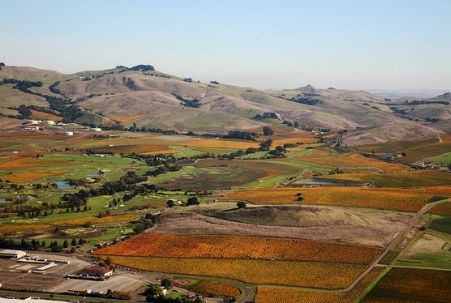 Growth of the state's wine industry was severely stunted on January 16, 1919, however, when the 18th Amendment brought Prohibition to the U.S. With this new law, many California vineyards were ordered to be uprooted and winery cellars were destroyed. Although some of the vineyards converted to table grape and/or grape juice production — and a few were allowed to produce sacramental wine — most went out of business. By the time Prohibition was repealed in 1933, only 140 wineries remained in the state.
A wine renaissance occurred in the state in the mid-20th century, and it entered the international stage of wine production at the "Judgment of Paris" wine competition in 1976. It was there that Californian wines beat out French wines in both red and white wine categories, and the state's wine industry has exploded in the nearly 50 years since. Today, ranked by volume, California is the fourth largest wine producer in the world, behind Italy, France and Spain.
The California Wine Institute divides the state into six major wine producing regions:
Far North – which includes wineries in Humboldt and Trinity Counties.
North Coast – which includes wineries in Napa Valley, the Los Carneros AVA and Solano, Sonoma, Lake and Mendocino Counties.
Sierra Foothills – which includes wineries in El Dorado, Amador, Nevada, Placer, Yuba and Calaveras Counties. (We are quite fond of the outstanding Gold Country wineries, by the way, as well as that area's stunning scenery and friendly vibe. You should check it out!)
Inland Valleys – which includes wineries and wine grape growers in Lodi and The Delta, Madera County and the Sacramento and San Joaquin Valleys.
Central Coast – which includes wineries in the Livermore and Santa Clara Valleys, the San Francisco Bay, the Santa Cruz Mountains, Paso Robles, as well as in Monterey, San Benito, San Luis Obispo and Santa Barbara Counties.
Southern California – which includes wineries in the Cucamonga and Temacula Valleys, the Los Angeles Area and San Diego County.
Visitors are often surprised to learn that out of the state's nearly 4,700 total wineries (as of 2020, per statista.com) only around 375 of them are in Napa County. Sonoma County — the other half of the state's famous Napa-Sonoma Wine County — actually has more wineries than Napa, with its total presently hovering around 425. (Those figures come from the two counties' respective Convention and Visitors Bureaus, by the way.)
You should assume that wineries will accommodate you by appointment only, and be aware that during the summer months it can be necessary to make those appointments six to eight weeks in advance. While larger wineries often offer the most interesting tours, we strongly encourage you to include some smaller ones in your tastings itinerary. You should also be aware that the "tasting fee" of old has evolved into "the price of an extraordinary experience" at some wineries. Generally speaking, it's imperative to research the area that you're exploring and set an itinerary based on your preferred varietals and budget before hitting the road for your California wine tasting adventures.
And, speaking of the road, as California law criminalizes driving with a blood alcohol concentration at or above .08 percent, one of the best ways to enjoy wine tasting is to contract with a driver or tour provider so that you can leave the driving to someone else. Legal drinking age in the state is 21, by the way, and you should also be advised that state law makes it illegal to have any open container of alcohol in the passenger compartment of a vehicle.
Stay safe out there, and have fun!
Photo of Aerial view of Napa Valley vineyards in the fall by Jitze Couperus via flickr (Creative Commons).