In 1836, when George Yount established the first homestead in Napa Valley and planted vineyards in what is now Yountville, Napa Valley was mostly a wilderness inhabited by salmon, birds, bears and wildlife of all sorts. Charles Krug developed the first winery in 1861 and now there are over 500 Napa Valley wineries, many of them open to the public and worth a visit. Given the unique architecture of many Napa wineries and that others are adorned with fabulous furnishings and art and/or look out upon idyllic vistas, you truly don't even have to like wine to enjoy a tour.
Why are there so many wineries in Napa Valley? Basically: the weather, the soil and the people. Take a wet winter-spring, add some hot, dry and very sunny summer days with cool evenings and nurture a soil that forces the vine to struggle a bit for its nourishment and you have a perfect combination for producing the richest sort of grape! Very few places on earth have this unique combination of natural resources.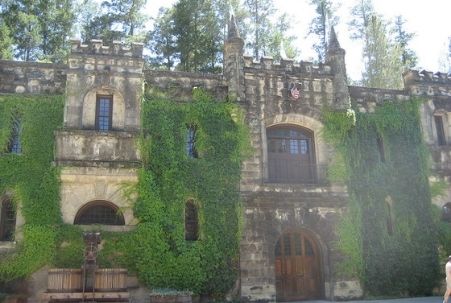 As importantly, the people here really care — and they cared enough to rally to fight the phylloxera insects than nearly killed off the grapes of Napa.
They cared enough to mobilize the scientists at the University of California (Davis) to create root stocks that match the attributes of the soil and add to disease resistance and the resilience of the vine itself. They cared enough during Prohibition to keep the wineries alive by making sacramental wines, which were exempt from the law.
And after World War II, they formed an effective and civic-minded Vintners' Association, which coordinated marketing programs, established quality controls, raised money for local charities and, in 1976, surprised the European wine world by beating the best French wines in a contest made famous in the 2008 movie Bottle Shock. (This is a fun movie to watch in conjunction with your Napa vacation — either before or after!)
You can visit many wineries in Napa Valley without an appointment along the Rt. 29 corridor, starting in downtown Napa and going north through Yountville to Calistoga and beyond. Don't overlook the Silverado Trail, which runs parallel to and east of Rt. 29, and also passes many fine wineries. A wonderful loop can be created by going out on Rt. 29 and back on Silverado. You can find a link to a pdf Napa Valley wineries map here to help you plan your visit.
Our favorite part of winery-crawling is the tours of the vineyards — the crushing area, the bottling plant, the cool wine cellar where wine is stored and, of course, the tasting room. As you enjoy the tours, be sure to absorb the family stories, the unique blends of each wine, the business issues involved in running the winery, and the pride and heritage still represented in each glass you enjoy.
Last, don't overlook the non-wine parts of some of these vineyard tours:
several house wonderful antique collections;
other Napa wineries offer fabulous art and sculpture on their grounds;
one has replicated an Italian castle on the site (Castello di Amorosa);
another is fashioned to evoke the design of the ancient Persian city Persepolis (Darioush); and
many wineries combine their experiences with a culinary component.
Napa Valley wineries truly offer something for everybody!
Photo of Napa Valley winery Chateau Montelena by Julie David Smith via flickr (Creative Commons) and Photo of Napa Valley winery Clos Pegase sculpture by lyng883 via flickr (Creative Commons).