Western and Sonoma Coast Tourist Attractions
People are often surprised by the size of this area and by the abundance of Western and Sonoma Coast tourist attractions to enjoy. Some of these attractions may seem a tad quirky, but that's part of the charm! Whether you go for quirky or lean more toward the area's natural or historical tourist attractions, Western Sonoma is fun for the whole family. Check it out!
Santa Rosa is the biggest town between San Francisco and Portland, and it definitely has a lot to offer. And, just like those two larger cities, there is a focus in the area on walking, biking and enjoying the great outdoors.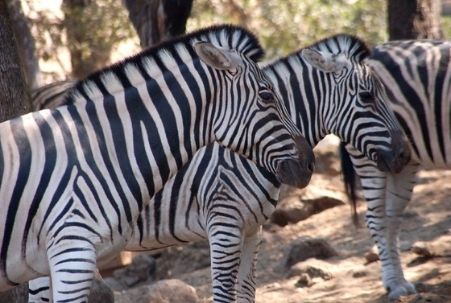 Safari West, Santa Rosa – Called "the Serengeti of Sonoma" by some, this 400-acre wildlife preserve offers an intimate experience with hundreds of African mammals, including zebras (three babies were born in January 2010), giraffes, cheetahs, rhinos, buffalos, wildebeests, monkeys and lemurs. The habitat is designed to give the animals the ability to interact and roam about freely, so you never really know for sure what you might see. Safari West's expeditions are by appointment only and last about three hours. Overnight accommodations in tent cabins with hardwood floors, private baths, plush beds and a view of "the savanna" are also available. (safariwest.com)
The Charles M. Schulz Museum, Santa Rosa – The Peanuts gang is celebrated and immortalized at the Charles M. Schulz Museum in permanent displays and a variety of changing exhibits. It is a must-visit for budding cartoonists, and they can access a library of instruction books, drawing tables, writing and art supplies should inspiration strike. There is a gift shop, of course, and the Redwood Empire Ice Arena, still owned by the Schulz family, is located directly across from the museum. (charlesmschulzmuseum.org)
Howarth Park, Santa Rosa – This large city park is seamlessly joined with Spring Lake Park (a county park) and Annadel State Park. Howarth Park offers canoe and paddle boat rentals, pony rides, a merry-go-round, a miniature train ride and a large, well-developed playground with a climbing net, bridges and a play town. There are also picnic areas and campsites. There are lakes in the parks, and Spring Lake has a swimming lagoon, too. Lake Ilsanjo in Annadel State Park, considered a "local secret" natural swimming location, can be accessed by a short hike (about two miles) on the Vietnam Vets trail (off Annadel Heights Road) which leads to the Spring Creek Trail. The parks' abundant hike and bike trails vary from paved paths to open trails and connect to the Bay Area Ridge Trails.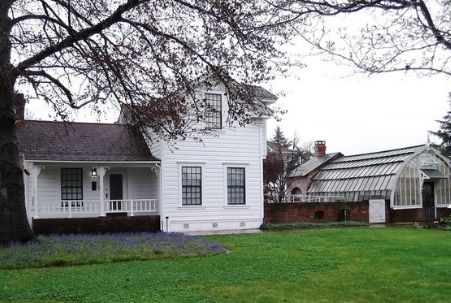 Luther Burbank Home & Gardens, Santa Rosa – As a world-renowned horticulturist and botanist, Luther Burbank developed more than 800 new varieties of plants — including over 200 varieties of fruits, vegetables, nuts and grains and hundreds of ornamental flowers (including the Shasta Daisy, which he named after California's spectacular Mt. Shasta) — and he also made Santa Rosa his home. In 1875, he declared, "I firmly believe, from what I have seen that this is the chosen spot of all this earth as far as Nature is concerned." The home and surrounding one-acre garden, a registered National, State and City Historical Landmark, is now a Santa Rosa city park and is open to the public. (lutherburbank.org)
Railroad Square, Santa Rosa – Not far from the Schultz Museum, this historic town square's early-20th century stone and brick buildings presently house cafes, shops and nightspots, and a California Tourist Information Center is located here in the 1904 landmark Northwestern Pacific Railroad Depot. You can pick up a self-guided walking tour map of the area at the center, or you can also access a Railroad Square walking tour map here. Don't miss the bronze statues of Charlie Brown and Woodstock in nearby Depot Park or the First Friday art walks during the summer months. (railroadsquare.net)
Joe Rodota Bike and Pedestrian Trail, Santa Rosa to Sebastopol – This multi-use trail extends from downtown Santa Rosa (where it connects to the Prince Memorial Greenway near the Courtyard Marriott in Railroad Square) all the way to downtown Sebastopol, several miles to the west. Except for small portions near those city centers (especially in Santa Rosa, where the path traverses a few streets), it's a completely off-road experience and a great alternative to driving between the two cities. This area is blessed with an abundance of open spaces to enjoy, and you can find a map here that will help you explore them.
The Hand Fan Museum, Healdsburg – This exquisite and unique one-room museum is devoted entirely to hand fans, and it is the only one of its kind in the country. The general collection of over 3,000 fans covers a wide variety of periods and places, and they are artfully arranged in exhibits that change every three to four months. (handfanmuseum.org)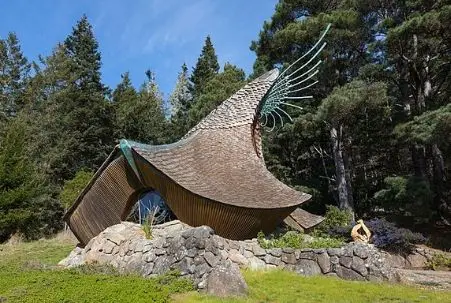 The Sea Ranch, near Gualala – This bucolic community was created in the 1960s when a Hawaii-based land developer turned a 5,200-acre sheep ranch into a development noted for its distinctive architecture. Although Sea Ranch Lodge is currently closed, several of the development's homes are available as vacation rentals. A highlight is The Sea Ranch Chapel, designed in 1984 by San Diego-based artist James T. Hubbell, which is open from sunrise to sunset, 365 days/year. (thesearanchchapel.org)
Fort Ross State Park, near Jenner – An ADA-accessible walking path leads you to the well-preserved fort complex which includes California's first windmill. This historical site was the former hub of the southernmost Imperial Russian settlements in North America from 1812 to 1841. Thereafter, from 1842-1972, the property was used for ranching. The Visitor Center is an excellent place to become acquainted with the area's rich natural and cultural history, including the native Californian Kashia Pomo people, whose presence predated the Russian's arrival. The 3,400 acre park offers pristine natural landscapes, and there are picnic tables for guests' use although no food is available onsite. (fortross.org)
Saint Teresa of Avila Church, Bodega – Located directly behind Potter Schoolhouse described below, locals say that Alfred Hitchcock attended services here when filming "The Birds" in 1961-62. Designated a State Historic Landmark in 1968, Ansel Adams had also used it as the subject of his "Church and Road" black-and-white photograph in 1953. (stphilipstteresa.org)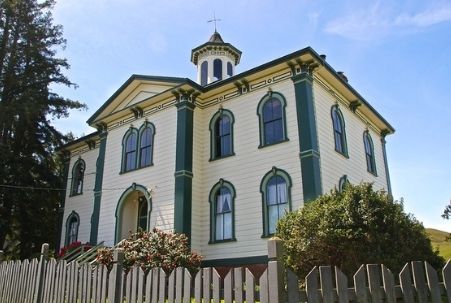 The Old Potter Schoolhouse, Bodega – Used as a filming location in Alfred Hitchcock's "The Birds," this building was slated for demolition when Hitchcock discovered it. He had it shored up and rebuilt for the filming, and it is the only original building used in the film that still exists.
The public is welcome to view the outside of the schoolhouse, but it is a privately-owned residence.
The Tides Wharf Restaurant, Bodega Bay – This restaurant and parking lot also appeared in "The Birds" in the gas station, cafe and boat dock scene (although the gas station was blown up on the studio lot). The Tides complex has since been expanded and remodeled, and it is a great place to enjoy Cioppino or a fresh salmon dinner. (innatthetides.com/tides-wharf-restaurant)
Bodega Bay Kayak – Let's end on a creative note and think of the sunbathing and surfing seals as a tourist attraction. One- and two-person kayaks can be rented for a self-guided tour, and they also offer guided kayak tours along the Russian River where it empties into the ocean. In the spring, the seals give birth to their pups here, away from deep-sea predators.
Chansolor Guest Ranch, Bodega Bay – Again, not technically a Wine Country tourist attraction, but if horseback riding or fishing are of interest, you would be hard-pressed to find a better place to enjoy them than this 373-acre historic working ranch that is surrounded by some of the finest beaches in California and over 10,000 acres of parks and protected land. (chanslorranch.com)
Did you find any Western and Sonoma Coast tourist attractions that interest you?
There are a lot of things to do in Wine Country, and these Wine Country maps will help you find and enjoy them.
You may also want to check out our Sonoma Valley attractions and Napa Valley attractions articles for additional ideas.
Photo of Safari West Zebras by Donna Sutton via flickr (Creative Commons); Photo of Luther Burbank Home and Gardens by J Brew via flickr (Creative Commons); Photo of The Sea Ranch Chapel by Frank Schulenburg via wikipedia (Creative Commons);and Photo of Potter Schoolhouse from Hitchcock's "The Birds" in Bodega by traveljunction via flickr (Creative Commons).