Wine Country Vacation Ideas
This Wine Country vacation and travel guide will discuss two very special counties in the Golden State – Napa and Sonoma – home of America's most established wine region and where you can enjoy some one-of-a-kind foodie festivals. Many of them focus on wine, of course, but rest assured that grapes aren't the only things that grow well here!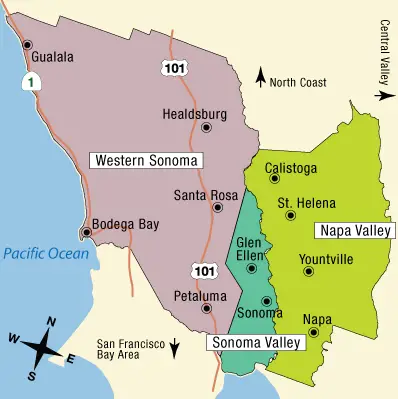 For your consideration, we'll offer the Wine Country vacation ideas you can find in the cities of Napa and Sonoma, of course, but we'll also introduce some other wonderful cities that you may want to include in your itinerary, for example:
Gualala, Sea Ranch, Fort Ross and Bodega Bay (found where Sonoma County meets the Pacific Ocean coastline);
Healdsburg, Santa Rosa, Glen Ellen and Petaluma (in and near the Sonoma Valley); and,
Calistoga, St. Helena and Yountville (in the Napa Valley).
While the map above provides a general overview of the area, you may also want to review our California Wine Country maps article where you'll find links to other handy resources for visiting each of these specific area's wineries and tourist attractions.
The Napa-Sonoma Wine Country is one of northern California's most popular tourist destinations, and its appeal extends beyond wine lovers.  This is because not only does the region produce delicious wine, it offers superb culinary and spa offerings and absolutely stunning natural environs.  It's surprising, really, that Wine Country's beautiful rolling hills are just a little over an hour's drive north from the hustle and bustle of San Francisco.
The scenery you'll find depends upon the season of your visit, but a vineyard view is lovely year-round – teeming with yellow mustard flowers in the spring or vines laden ripe, awaiting harvest in the fall. Many Wine Country visitors prefer to come during the off-season.  The area slows down a bit after the summer and harvest have passed, and for many people the winter and spring climates are more enjoyable, as well.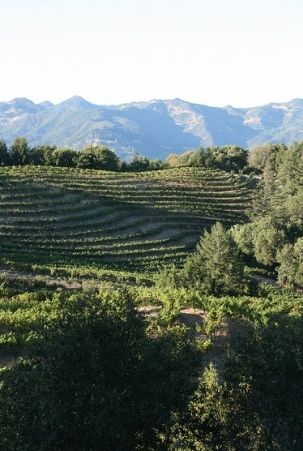 As one would expect, the summer and fall high seasons are quite crowded.  If this is when you plan to visit, advance planning can significantly improve your overall experience.  Some quick suggestions:
visit mid-week, if possible, reserving your accommodations as far in advance as possible;
plan your itinerary in advance, securing reservations at the wineries you've decided to visit. Also, keep in mind that visiting wineries early in the day will allow you to swim, shop or visit a spa when everyone else is crowding the wineries in the afternoon;
avoid Highway 29 as much as possible (Silverado Trail can be a useful alternative, and a good map — DO NOT rely on having online access in your car — can guide you through some lovely back roads); and
make your dinner reservations months in advance, especially if the trendiest restaurants are on your "can't miss" list. (And, don't forget about the picnic option because this may very well be the best place on Earth for a picnic!)
So, what kind of Wine Country vacation or getaway appeals to you? Are you all about wine tasting? And, what about your preferred grape varieties? Are you a Cabernet Sauvignon wine enthusiast? If yes, you're going to want to head to Napa, where the slightly warmer climate is a boon to this varietal.
On the other hand, if your tastes lean more toward Pinot Noir or Chardonnay, be sure your wine tour includes a Sonoma winery or two. Some Sonoma County AVAs you'll want to research are Alexander Valley (located slightly north of Healdsburg), Dry Creek Valley (northwest of Healdsburg) and the Russian River Valley (south of Healdsburg). You can find excellent Sauvignon Blanc in both counties' AVAs, and the same holds true for sparkling wine (although we'd personally give Napa a slight edge).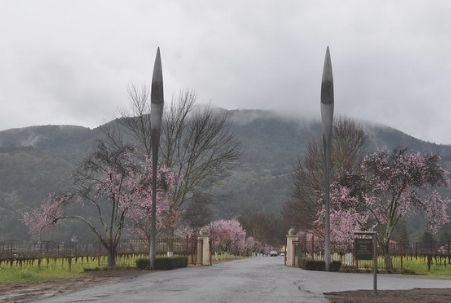 Are you interested in mixing in a bit of culture with your tasting room experience? If art or architecture are of interest, you'll want to head toward Napa Valley. This is definitely a sweet spot for us, and we've assembled a list of suggestions for both — check out our Napa Valley Wineries with Art and Napa Valley Wineries with Interesting Architecture articles.
And, how important are food experiences to you? While there are amazing places to eat in every Wine Country city and for any budget, maybe you'd also enjoy a cooking class or going on a guided walking food tour? If so, check out the offerings in downtown Healdsburg if you plan to stay in Sonoma County, and downtown Napa is also a good choice for intriguing culinary experiences.
How about enjoying nature? While this can certainly be accomplished with a picnic at a boutique winery, there are also some amazing state parks in California's Wine Country. In Napa County, our favorite is Bothe-Napa Valley (near Calistoga), and we're also especially fond of Sonoma County's Jack London State Park (near Glen Ellen). If beaches are your thing (and, we should warn, if you're open to beaches that are usually on the chilly side), then set your sights on Sonoma Coast State Park. (This string of beaches which begins in Bodega Bay and stretches to just past Jenner is discussed in our North Coast Beaches article.)
While there are extraordinary wines and wineries to enjoy, Napa-Sonoma really is a whole lot more than simply a wine destination, and if you're looking for even more California Wine Country vacation ideas, you may want to check out these articles:
Western and Sonoma Coast Tourist Attractions
Sonoma Valley Tourist Attractions
Napa Valley Tourist Attractions
California Wine Country Map © CaliforniaTouristGuide.com; Photo of the Wine Country Napa Valley scenery by someToast via flickr (Creative Commons); and Photo of the Neibaum-Coppola Winery entrance by Sarah Lou via flickr (Creative Commons)