While some might think using a Napa vacation to explore and enjoy art is akin to buying Playboy to read the articles, several wineries in the valley pair wine and art in a rich and fruitful complement. What's more, by focusing your planning process on enjoying these artistic offerings, you can create a Napa Valley tour that even designated drivers can enjoy!
What follows are some recommendations for enjoying art at Napa Valley wineries, arranged from north to south, and you may find the Napa-Sonoma Wine Country map in this article provides a helpful orientation to the area's various cities. (For an exhaustive map of Napa wineries – a great resource albeit somewhat overwhelming – click here.)
Clos Pegase Winery (Calistoga) – Designed by Michael Graves, this striking post-modern winery at one time housed nearly 1000 pieces of modern art, a collection assembled by founder and Jan Shrem with his late wife Mitsuko. Mr. Shrem sold the winery to Vintage Wine Estates in 2013, and it is unclear which, if any, of the art pieces remain. Guided tours of the winery and the caves are offered daily at 11:00 a.m. and 3:00 p.m. for a fee. While there is no food for sale on the grounds, there's a lovely picnic area (first-come, first-served) where you can enjoy Clos Pegase wine with items you bring.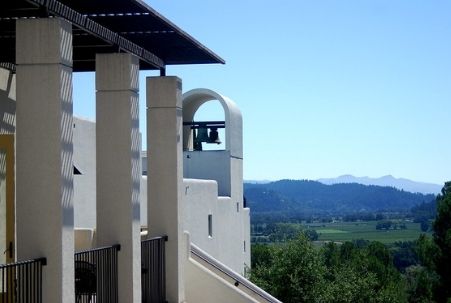 Sterling Vineyards (Calistoga) – Even though the Sterling Vineyards Visitors Center boasts one of the largest collections of wine-related art ever assembled, for most Napa visitors the draw here is the aerial tram that shuttles them 300 feet up the hill to the winery and tasting room. As you might imagine, the scenery from this vantage is fantastic, and with Castello Di Amorosa off in the distance it's almost like time traveling.
The winery is designed to evoke memories of the white buildings found on the Greek island of Mykonos, and the bells you will see there are from London's St. Dunstan's church (destroyed in World War II). While Sterling Vineyards may not be the best choice for visitors who want to sample Napa's superior wine offerings, folks looking for a "unique experience" that's not too hard on the pocketbook are rarely disappointed.
Rombauer Winery (between Calistoga and St. Helena) – We'd be the first to admit that most Napa Valley visitors come to this winery to sample its famous Chardonnay, but we're a fan of its gardens and quirky sculptures, too. Koerner Rombauer started the winery in 1982 with his now-deceased first wife Joan, who was an avid gardener, and her mark on the property remains. (By the way, if the Rombauer name sounds familiar to you that may be because Koerner's great aunt Irma Rombauer was author of the internationally renowned cookbook "The Joy of Cooking.")
It's not the easiest winery to find (the driveway is marked by a rather small sign) so you might want to consider making it an early-in-the-day stop, but if you enjoy sampling stellar wines coupled with beautiful scenery, a casual vibe and a friendly staff, this is a must-include winery for your planning list.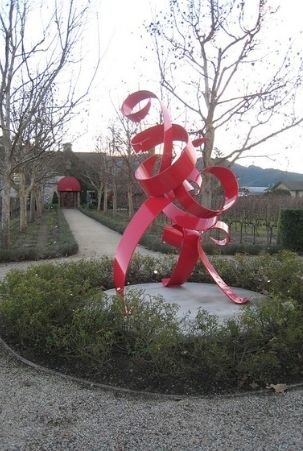 HALL Wines (St. Helena and Rutherford) – Kathryn Walt Hall – winemaker and co-owner of HALL Wines (with her husband Craig Hall) – is said to enjoy sharing a "Here's to life and to special joys that come without warning" toast, and the whimsical, red, swirling metal ("Moebius") sculpture at their St. Helena property's entrance echoes that sentiment.
The historic 33-acre St. Helena property, where a winery was built in 1885 and which once served as the Napa Valley Co-op Winery, was purchased by the Halls in 2003. The couple, who share a deep appreciation for art and architecture (in addition to their passion for wine, sustainability concerns and business success), have spent the last ten years turning it into one of Napa Valley's most unique wineries. When the property's new visitor's center (for which famed architect Frank Gehry's plans were eventually abandoned) opens in Spring 2014, it will join the property's sculpture garden in showcasing original contemporary art acquired/commissioned by the Halls.
The Halls' Rutherford winery, which they had already begun to develop before acquiring the St. Helena property, is the perfect place for art lovers to enjoy an intimate wine-tasting experience (reservations required). The wines are extraordinary (they regularly garner Wine Spectator ratings in the 92-97 points range), and so is the facility. Its 14,000 square feet of wine caves – designed and built by Friedrich "Fritz" Gruber of Austrian brick recovered from sites in and around Vienna – pay homage to Kathryn Hall's past service as ambassador to Austria under Presidents Clinton and George W. Bush. While various world-class contemporary art pieces are displayed in niches throughout the caves, a spectacular chandelier designed by Donald Lipski and Jonquil LeMaster – an upside-down tree dressed in hundreds of Swarovski crystals – is the winery's artistic pièce de résistance. We hope you find room in your itinerary and budget for this tour, which we strongly encourage you book in advance of your arrival in the Napa Valley.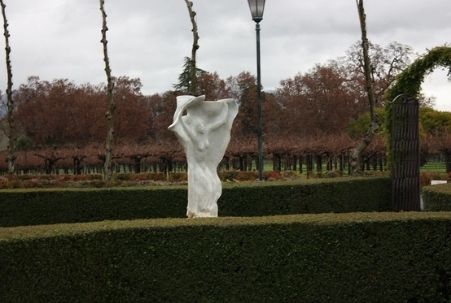 Peju Province Winery (Rutherford) – Iranian-born owner Tony Peju, along with his Austrian-born wife, Herta, founded this winery in the mid-1980s with an eye toward harmonizing the land's bounty and beauty via wine and art. As you experience the stunning grounds, it should come as no surprise that Peju ran a successful, high-end landscaping business in Southern California before purchasing the vineyard.
Although the grounds are dotted with unique sculptures the couple has collected and commissioned over the years, the property's centerpiece is a 50-foot tall tower that sports a weathered copper roof crowned with a unicorn weather vane. Surrounded by a reflective pool and fountains, it is breathtakingly beautiful, but prepare yourself as you open the hard-carved front door and step inside. From the exquisite floor tiles imported from Turkey, to the Brazilian cherry woodwork, to the artisan-made stair rails and all the way up to the 22′ x 10′ chandelier that illuminates the space, The Tower is a wonder and testament to the couple's commitment and devotion to their vision. The tasting room's pièce de résistance is a 10′ x 20′ stained glass window created in 1906 that depicts the three Greek graces in a garden. It's truly a sight to behold! There is also an upstairs Art Gallery that houses several sculptures by Bay Area artist Phillip Dizick and often hosts showings of other artists' work. As if that wasn't enough, the tasting room stays open until 6:00pm — a Napa Valley rarity!
Mumm Napa (Rutherford) – Mumm Napa is known for its sparkling wines, but it's also home to an outstanding photography gallery that houses a famed Ansel Adams collection as well as temporary exhibits that rotate throughout the year.
If you're a sparkling wine fan, tastings here are not to be missed. You even get a little "souvenir art" in the form of the coasters they use for presentation purposes; on one side of the coaster they provide the name of the sparkling wine you're sampling (to help you remember what you've tasted) and the other side shares a funny champagne quotation. What fun marketing! Oh, and if you have someone who isn't tasting, be sure to tell them because Mumm provides designated drivers with an awesome juice (known as "wine soda") that's a tasty, non-alcoholic version of a glass of sparkling wine.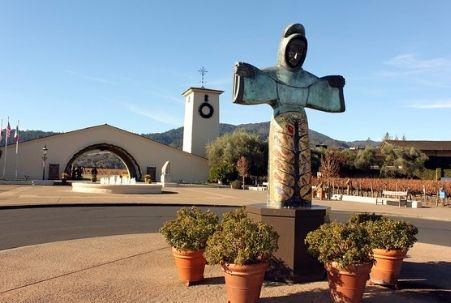 Robert Mondavi Winery (Oakville) – Hailed as an architectural masterpiece when it was built in 1966, this mission-style winery and its namesake founder must be given significant credit for Napa Valley's present-day popularity and the American wine industry's renaissance. Mondavi, who died in 2008 at the age of 94, shared in his "Harvests of Joy" autobiography that he sought "to do whatever it took to make great wines and to put the Napa Valley on the map right alongside the great winemaking centers of Europe," and this winery is a testament to the his success.
Set against the mountain range that separates Napa Valley from its Sonoma Valley neighbor, the picturesque Mondavi winery grounds include a demonstration vineyard, gardens, a restaurant and an extensive art collection. The entry's welcoming St. Francis of Assisi – created by 20th century sculptor Beniamino Bufano – is in itself worthy of a visit, but the winery offers many other statues, artifacts and paintings to enjoy.
Please be advised the Robert Mondavi Winery is quite popular, and some people complain about the crowds and its "touristy vibe." While there is some truth to those complaints, we recommend you simply adapt to the reality by planning an early-in-the-day visit. The tours here are quite educational and, we think, well worth your time and money. Again, advance reservations are recommended.
Cliff Lede Vineyards (Yountville) – In addition to some lovely pieces in a permanent collection, The Gallery at Cliff Lede (pronounced "LAY-dee") Vineyards features four exhibits per year, and the grounds are lovely, as well. Relax and enjoy yourself on this state-of-the-art winery's welcoming terrace or warm yourself by its beckoning fireplace during cooler months. The winery is revered for its Poetry Cabernet Sauvignon.
Travel & Leisure magazine called the winery's affiliated accommodations – Poetry Inn – "one of the most tranquil spaces in the buzzing Napa Valley," and the Cliff Lede Vineyards and Winery evoke a similar vibe.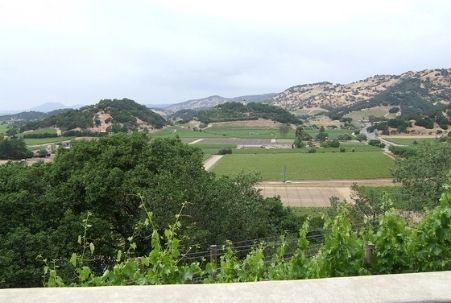 Silverado Winery (east of Yountville) – Founded by Diane Disney Miller (oldest daughter of Walt and Lillian Disney) and her husband Ron in the 1980s, this winery's off-the-beaten-path location affords some absolutely spectacular vistas. They are truly some of the best views in the entire Napa Valley (and there's quite a bit of competition for that title!), so don't forget to bring your camera.
The upper hallways of the California mission-style building also offer a rare treat: Walt Disney's collection of La Belle Époque vintage (1880-1920) posters, including four original posters by Leonetto Cappiello. In addition to the posters, the winery also owns some incredible plein air paintings. Oh, and if you go, don't miss Silverado's merlot-filled chocolates!
The Hess Collection (Napa) – This winery is about seven (long) miles from downtown Napa and sits atop Mount Vedeer, at the end of a (long) winding road. Once the home of Christian Brothers Winery – Hess actually has a 99-year lease on the property with Christian Brothers as its lessor – the original stone structures were built in 1903. After two years of extensive renovations, the remodeled facility opened to the public in 1989 and includes a tasting room, an audio-visual room, a 13,000-square-foot art gallery and an upscale store.
The grounds are lovely, with some of Mother Nature's finest enhanced by dramatic bronze sculptures from an eclectic mix of Dutch, Danish, German and American artists. Once inside the building, visitors are only a short glass elevator ride away from one of the country's largest private collections of contemporary art open to the public, compliments of Swiss millionaire-entrepreneur Donald Hess. (Interestingly, Hess made his fortune bottling and distributing mineral water – an offshoot of a family business that began in 1844 in Switzerland with a beer brewery owned by Johann Heinrich Hess – before moving on to wine production.)
Donald Hess began collecting modern art in the 1960s, and you will be treated to creations of well-known American and European artists (like Andy Goldsworthy, Frank Stella, Robert Rauschenberg, Magdelena Abakanowicz, and Francis Bacon – installations change from time to time), including large, striking canvases and provocative mixed-media pieces.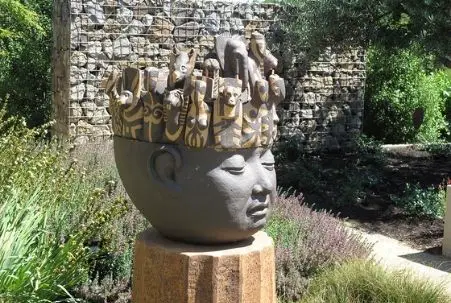 di Rosa Preserve (Napa) – While the di Rosa Preserve is not a winery – it's a contemporary art museum and natural habitat – any list of Napa Valley's wonderful art offerings would be incomplete without mentioning it.
The Preserve includes three large galleries and a sculpture meadow open for tours ($10-15) Wednesday through Saturday, 10:00-3:00 p.m. Visitors will enjoy the resident peacocks, migratory birds, ancient olive trees, a 35-acre lake, a 130-year old stone winery, vineyards and an amazing art collection – more than 2,000 pieces representing the work of more than 750 contemporary Bay Area artists – amassed over the last 50 years by Rene di Rosa and his wife, Veronica (both now deceased). The di Rosas made their money selling some of Napa Valley's most prized grapes, and what an extraordinary way they chose to express their gratitude! Click the link for details about the di Rosa Preserve tour (reservations are required). Please also be aware some pieces in the collection depict nudity and may be considered by some to be unsuitable for children.
The Preserve's art is displayed without identification (although references are available should you want to know details about a piece), as the di Rosas felt you should enjoy the art rather than read about it. This makes the experience even more unique.
Photo of Sterling Vineyards by ClatieK via flickr (Creative Commons); Photo of sculpture at the entry to HALL Wines by Johnn via flickr (Creative Commons); Photo of sculpture at Peju Province Winery by Helder Ribeiro via flickr (Creative Commons); Photo of St. Francis statue at Robert Mondavi Winery entrance by Thank You via flickr (Creative Commons); Photo of Napa Valley from the Silverado Winery by Joe Hall via flickr (Creative Commons); and Photo of outdoor art at the di Rosa Preserve by Affinity via flickr (Creative Commons).