California Wine Country Maps
Compared with other California areas, Napa and Sonoma Counties may be a bit light on typical tourist attractions like amusement parks or museums, but they definitely offer oenological, culinary, artistic and natural delights to stimulate your senses and soothe your soul.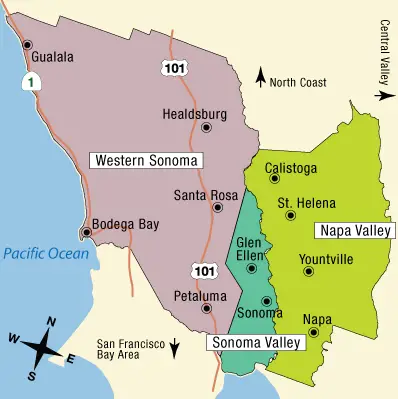 This simple California Wine Country map will introduce and orient you to the area and, it's hoped, help you make the most of your Wine Country visit.
Front and center on most visitors' to do list are the area's wineries, but we encourage you to also think of the entire countryside — the roads in between the various towns and their local wineries — as one gigantic attraction.
Consider picking up a picnic or renting a bike and drinking in the surrounding beauty — along with drinking some delicious wine. It's true, you know, that the simplest pleasures are sometimes the most rewarding.
That said, though, there are definitely some not-so-simple things to enjoy here, like wineries with incredible, multi-million-dollar architecture and art collections. Keep in mind, too, that even the sky's not the limit in Wine Country because you can also take a hot air balloon ride to soak in the beauty from above!
Getting To and Around Wine Country
Many Napa-Sonoma Wine Country visitors either combine their visit to the area with a trip to San Francisco, while others fly into a Bay Area airport (SFO, OAK, SJC — San Francisco, Oakland or San Jose) for the express purpose of continuing on with ground travel to a final destination in Wine Country. Sacramento International Airport (SMF) is yet another option for flight cost comparisons, but drive time to Wine Country from either the Sacramento or San Jose airport is roughly double that from San Francisco or Oakland.  A much-better airfare might make that worth your while, however.
Alternatively, travelers whose final destination is Wine Country may want to look into flying into the Charles M. Schultz Sonoma County airport in Santa Rosa (STS). At the time of this writing, STS offers nonstop flights on Alaska Airlines to Seattle (SEA), Portland (PDX), Los Angeles (LAX), Orange County (SNA), and San Diego (SAN) and on American Airlines to Phoenix (PHX), Dallas (DFW) and Los Angeles (LAX).
Additionally, as of April 2021, a brand-new airline, Avelo, will begin to serve Los Angeles area travelers with a flight to STS from Burbank airport (BUR), and Alaska Airlines recently announced a competing BUR-to-STS flight beginning June 1, 2021.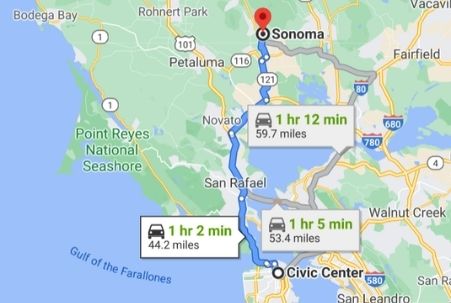 It's (usually) not an arduous drive from San Francisco, though. As you can see from the Google map renderings included here, in slightly more than an hour you can be in either the Napa or Sonoma.
Do be advised, though, that weekend traffic can easily double that drive time.  Many wineries open early (around 10am), and you may want to plan on an early start.
If you'd prefer to avoid the expense of renting a car and the hassle of driving, there are other options for visiting Napa from San Francisco. First, there's an Amtrak train that runs from Emeryville, which is easily reached from San Francisco via BART or bus. (We recommend you look into Wanderu for researching/booking that travel.) Once Amtrak delivers you to Napa's Soscol Gateway Transit Center, you can either rely on Uber/Lyft to transport you to and from the wineries you want to visit.  If you're looking for something really unique, though, how about these Napa winery tours options — in a tuk-tuk (an auto rickshaw) or a luxurious classic 1947 Packard convertible limousine? (Click on the link for info!)
You could also choose to just visit tasting rooms in downtown Napa. There are quite a few options available (see the Info Chart linked in the Napa County Resources section below), and along with eating, shopping and general sightseeing there's probably more than enough to fill a weekend.
You can also cobble together a car-free Sonoma County option with the help of the new-ish Sonoma-Marin Area Rail Transit (SMART) passenger rail system.  It currently serves stations in the Sonoma County Airport area, Santa Rosa, Rohnert Park, Cotati, Petaluma, Novato, San Rafael, and Larkspur, and an extension to Windsor is expected to open sometime in 2021.  To connect to SMART from San Francisco, you would take a ferry to the Larkspur Ferry Terminal.  We've linked to the SMART stations map in the Sonoma County Resources section below.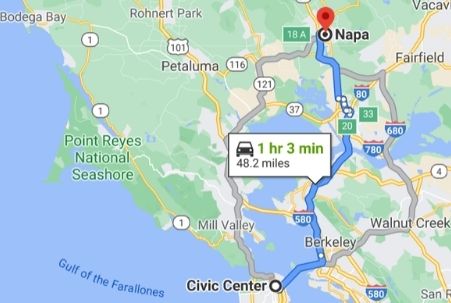 Your other options are tour-oriented, and there's no shortage of companies or individuals to hire for transportation from several Bay Area locations to your chosen destination.
There are guided tours, of course, but you can also to hire a town car or limo to transport you to wineries of your choosing.  This option is especially attractive if you're traveling in a group and/or if you want to make the visit especially romantic and memorable.
At this point, you might be asking the common "which is better, Sonoma or Napa?" question, wondering where you should focus your Wine Country exploration. Ideally, we'd recommend both!  Sometimes you may have to choose, though, and we can only offer that we appreciate both areas — equally, really — but for profoundly different reasons. Napa tends to feel more "luxe" and seem "dressed to impress," while Sonoma feels more authentic, more real, at least to us. Basically, though, both are farming communities at heart, where good people grow wonderful grapes and prepare amazing foodstuffs. The two do employ somewhat different marketing techniques, however, and this may be why a trip to Sonoma can be less expensive than to Napa.
Wherever you choose to go, you'll want to do some research and advance planning. We've personally used the resources listed below to plan several fun trips, and we'll keep adding to it as we make new discoveries. Where available, we've linked to a map's pdf file so that you can easily print it, if desired.
Sonoma County Travel Planning Resources
Sonoma Appellations Map & Info
Alexander Valley Wineries Map (automatic pdf download available)
Russian River Valley Wineries Map (automatic pdf download available)
Dry Creek Valley Wineries Map (automatic pdf download available)
Healdsburg Wineries Map (automatic pdf download available)
The above Sonoma County Wineries maps come courtesy of WineRoad.com. They have an app available, as well, and will even mail you a map upon request!
It's always fun to explore the wineries on Highway 128, too…
The first maps here will help you utilize the area's SMART transit system, and the second will introduce you to and help you explore its wonderful open spaces…
SMART Train Stations Map
Sonoma County Open Space Map
Finally, here are maps to help you explore the downtown areas of various Sonoma County cities, namely Sonoma, Santa Rosa, Healdsburg and Petaluma…
Sonoma Plaza Wineries & Restaurants Map
Sonoma Plaza Historical Sites Map
Santa Rosa Railroad Square Map
Downtown Healdsburg Map
Downtown Healdsburg Wine Walker Tour
Petaluma Area Map
Downtown Petaluma Walking Tour Map
Petaluma Historic Places Map
Petaluma Interactive Map
Napa County Travel Planning Resources
Napa Valley Wineries Map
Napa Valley Vine Trail for walking/biking
Napa Bike Tours & Rentals Map
Downtown Napa ARTWalk Map
Interactive Downtown Napa Map
Downtown Napa Tasting Rooms Info Chart
California Wine Country Map © CaliforniaTouristGuide.com; driving maps via Google Maps screenshots.