Sonoma Valley Tourist Attractions
The surrounding beauty makes Sonoma Valley tourist attractions some of our favorites in the state. It's no wonder the area earned the nickname "Slow-noma" as it invites you to breathe in — deeply — and just enjoy the good life. Then again, should you have "a need for speed," there's always the Sonoma Raceway to get you going!
The Sonoma Valley is a bit more laid-back than its Napa Valley neighbor to the east, and that difference is also apparent in the list below. While there are certainly places to shop, a good number of the things to do in Sonoma Valley revolve around just being outdoors — whether you sit on the historic plaza to eat some cheese and drink some wine (it's legal) or just walk around an area garden or park. What sounds good to you?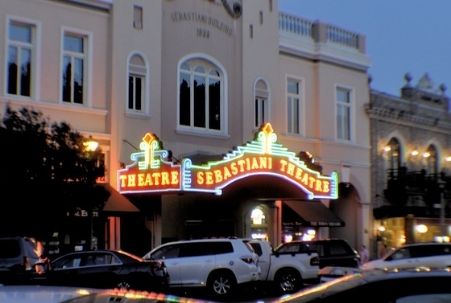 Sebastiani Theatre, Sonoma – Originally built by winemaker August Sebastiani in 1933, present-day owner-operator Roger Rhoten transformed the once-aging facility into a first-class movie house well known in the community for quality blockbuster movies, foreign films and fine live entertainment.
The theatre enjoys a starring role every Spring when the five-day Sonoma International Film Festival comes to town. It's a fun time to visit Sonoma – all the film presentation venues are within walking distance of the Plaza – and the event was named "One of the 25 Coolest Festivals" by Movie Maker magazine. (sebastianitheatre.com)
Sonoma Plaza and Mission – Sonoma's central plaza, the largest of its kind in California, is steeped in the history of its surrounding 19th century adobe and Victorian houses. It is the site of the state's northernmost Franciscan mission (Mission San Francisco Solano) and the birthplace of the California State Bear Flag. The plaza has restaurants, shops and a Sonoma County tourist information center. (parks.ca.gov/default.asp?page_id=479)
Train Town, Sonoma – Train Town's 47-foot clock tower and station is modeled after Oakland's 16th Street Depot and is where you can board the steam train for a 20-minute tour through 10 wooded acres to the miniature town of Lakeville, with buildings (chapel, school, jail, firehouse, saloon, etc.) scaled at one-half size. Vintage amusement rides, an arcade and various "track snacks" make for a family-friendly outing. (traintown.com)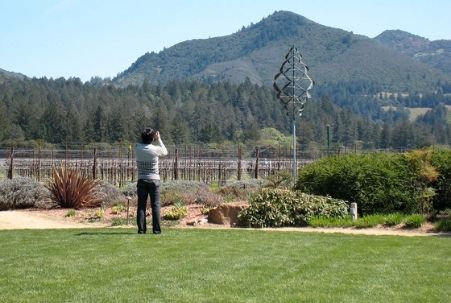 Cornerstone Gardens, Sonoma – This eclectic collection of shops, wineries and a gourmet cafe set amidst nine acres of garden installations is conveniently located at the southern gateway to Wine Country. The gardens, created by many of the world's leading landscape architects, are definitely worth a stop. Most photography enthusiasts quite enjoy their visit here. There used to be a fun Big Blue Chair here that provided a fun photo opportunity — which later morphed into a Big Orange Chair — but it's now closed. (cornerstonegardens.com)
Sonoma Raceway, near Sonoma – Formerly known as Sears Point Raceway and then Infineon Raceway, this is a great place to enjoy NASCAR, IndyCar and superbike races. (sonomaraceway.com)  There is also a high-performance driving experience available at the nearby Simraceway which might appeal to car enthusiasts; however, given the recent rash of *very negative* Yelp reviews that they've acquired, we cannot recommend it.
Bouverie Preserve, near Sonoma – While it is probably still more difficult to snag a French Laundry dinner reservation, you will likewise want to plan in advance if you want to partake in a guided tour (on Saturdays during the fall and spring) of this 535-acre woodland preserve in the hills above Sonoma Valley. You can enjoy 100+ species of birds and 350+ species of flowering plants here. (egret.org/visit_bouverie)
Robert Ferguson Observatory, Sugarloaf Ridge State Park, near Kenwood – The secluded park location makes this an ideal site for stargazing. This Sonoma Valley treasure, the largest observatory in the Western United States wholly committed to public viewing and astronomical education, hosts a variety of astronomical events/experiences, including "Star Parties" for which the Observatory's three main telescopes are open for guests' sky viewing pleasure. Check the website for the event calendar. (rfo.org)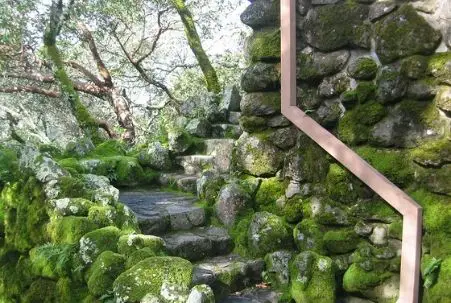 Jack London State Historic Park, Glen Ellen – Author Jack London lived on this 150-acre property from 1911 until his death in 1916, and its scenic beauty now celebrates his life and preserves his memory in "The House of Happy Walls" museum, the ruins of the "Wolf House" he had built and which burned down the day before he and his wife Charmian were to move in and the couple's gravesites. Volunteer docents lead scheduled weekend hikes, or you can explore on your own. (parks.sonoma.net/JLPark.html)
Morton's Warm Springs, near Glen Ellen – The popularity of this beautiful 22-acre resort's healthy geothermal mineral pools dates back to the Wappo Indians. In addition to the three natural pools, the resort's gently winding creek, unique picnic areas, meadows, woods and rock formations provide a perfect place unwind and connect with Mother Nature. (mortonswarmsprings.com)
Quarry Hill Botanical Garden, Glen Ellen – This a 21-acre garden offers ponds, waterfalls and stunning Sonoma Valley vistas surrounded by flowering Asian trees, magnolias, dogwoods, maples, birches, roses, lilies and rhododendrons artfully woven along paths with hidden places to sit and relax. (quarryhillbg.org)
Did you find any Sonoma Valley tourist attractions that interest you?
There are a lot of things to do in Wine Country, and these Wine Country maps will help you find and enjoy them.
You may also want to check out our Napa Valley tourist attractions and Western and Sonoma Coast tourist attractions articles for additional ideas.
Photo of Sebastiani Theatre by Edward Kimmel via flickr (Creative Commons); Photo of Cornerstone Gardens near Sonoma by Maggie M. via flickr (Creative Commons); and Photo of Charmian's Escape, Jack London State Park by Debi via flickr.