Chocolate Factory Tour in San Francisco
If you were disappointed to learn there is no longer a San Francisco Ghirardelli chocolate factory tour (you can click that link to learn all about San Francisco's chocolate-making history, in which Ghirardelli played an important role), we have some very good news for you.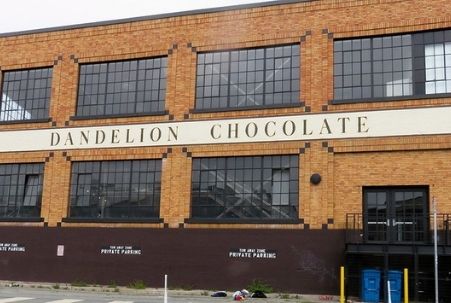 There's really no reason to be disappointed that Ghirardelli chocolate factory tours are not available in San Francisco because now you can take part in a very up-to-date, 21st century chocolate factory tour — a tour of Dandelion Chocolate, located in the Mission District neighborhood.
In fact, tours are not all you'll find at the new Dandelion Chocolate Factory. In addition to tours and tastings, there are now classes and even weekend teas offered in the Bloom Chocolate Salon. (Please note that Covid precautions have temporarily moved Dandelion's customer experiences to online-only; click the link to see the current offerings.)
Dandelion Chocolate has another retail sales facility in the Mission District (their original location) as well as a kiosk at the Ferry Building — one of our recommendations for a self-guided San Francisco food tour. The Ferry Building kiosk is in good company, located across from ever-popular Blue Bottle Coffee and next to the always delicious Humphry Slocombe ice cream shop.
We enjoyed the TCHO chocolate factory tour years ago when the facility was located in San Francisco at Pier 17 (and wrote about the tour here), but TCHO moved its operation to West Berkeley not long after our visit. While getting tours up and running at the new facility has been alluded to, thus far they've not materialized. You can click here to determine the current status.
Other San Francisco Chocolate Tours and Tastings
While Ghirardelli no longer offers tours of their factory, some of the company's chocolate-making equipment still remains at Ghirardelli Square. Here's a short video that shows it in action:
There are also tour companies and individuals that offer an organized introduction to some of San Francisco's chocolatiers and various establishments that put the beloved substance to good use. However, it's quite easy to construct a DIY, self-guided tour, working in "chocolate fortification" stops along the way while you enjoy and explore other San Francisco attractions and activities. It's really just a matter of what suits you. If you decide to go the self-guided route, our San Francisco Chocolates article will help you locate some of The City's best chocolatiers.
It should also be noted here that one of those chocolatiers, Fog City News, has announced that they may begin to offer chocolate classes covering topics like the origin of chocolate, how it is made and how to get the most from a tasting, and you may want to click their link before your San Francisco visit for a status update on that.
Photo of Dandelion Chocolate Factory by rulenumberone2 via flickr (Creative Commons).