U.S consumers spent about $17 billion on chocolate in 2016, and as is true for all artisan foodstuffs California received a nice piece of that. San Francisco is definitely the state's chocolate hub, and the delectable sweet appears in many forms in The City and neighboring Bay Area communities.
Several chocolatiers selling hand-crafted confections, as well as a handful of artisan chocolate makers, call the area home. It all started with Ghirardelli, of course, and while it no longer has a factory to tour here (the company moved to closed manufacturing in San Leandro years ago), Dandelion Chocolate has assumed The City's chocolate innovator mantle and offers an array of experiences at its Mission District chocolate factory, including tours, tastings and classes.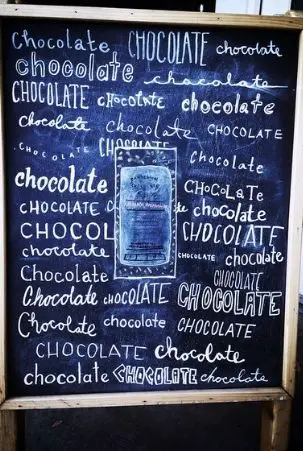 There's a lot to love about chocolate in San Francisco; and, consequently, a plethora of information about the topic is organized and set out for you in this article. Read it all or click below if you're interested in something specific:
San Francisco Chocolate Makers
San Francisco Gourmet and Artisan Chocolate Shops
Other Bay Area Chocolate Shops
Best Hot Chocolate in San Francisco
San Francisco's Best Hot Fudge Sundae
Chocolate Gifts from San Francisco
The Bay Area's chocolate history dates back to the California Gold Rush, when Domingo Ghirardelli opened the city's first chocolate factory in 1852. Following a recommendation from his neighbor in Lima, Peru, a piano maker named James Lick, Domingo traveled to the Bay Area to try his hand at gold mining. People familiar with San Francisco history may remember that Mr. Lick had also come to San Francisco around that time — arriving with 600 pounds of chocolate from Ghirardelli's Lima operation, by the way — and that Lick went on to become one of the era's wealthiest California landowners.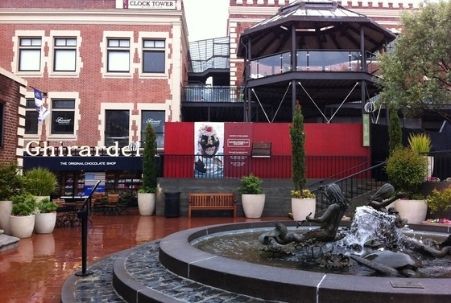 Ghirardelli Chocolate is now a nationally recognized brand, and the company's continuing presence in The City can be enjoyed at Ghirardelli Square, a popular San Francisco landmark and tourist attraction that's often included in Fisherman's Wharf guided walking tours. Even if you visit unaccompanied, though, you can view the original manufacturing equipment and sample some Ghirardelli goodness at the shop in the building's iconic clock tower. (ghirardellisq.com/)
Around the same time that Ghirardelli traveled to San Francisco, an adventurous Frenchman named Etienne Guittard also arrived, and he brought artisan French chocolate from his uncle's Tournus factory. It was Guittard's intention to trade this chocolate for mining supplies with which he would find his fortune. Upon learning that quality chocolate could be sold for a premium to San Francisco's newly wealthy, however, he returned to France and worked for his uncle long enough to save enough money to open his own chocolate factory in San Francisco. That occurred in 1868, and Guittard Chocolate Company is still the chocolate maker of choice for many Bay Area chocolatiers. While its Burlingame facility is not open to the public, the family-owned operation does offer online ordering. (guittard.com)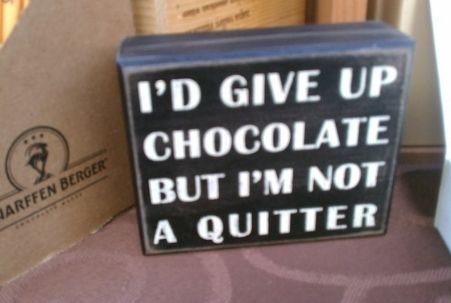 Guittard remains to represent "old school" chocolate making in San Francisco, but a "new school" arrived in the mid-1990's when Scharffen Berger Chocolate Maker opened a factory in South San Francisco. America's first bean-to-bar manufacturer in 50 years, the brand became quite popular and the company moved to a larger facility in Berkeley about four years later. About four years after that, in 2005, Scharffen Berger was acquired by The Hershey Company, which closed the San Francisco factory and moved production to the Midwest in 2009.
Around the same time, in 2008, a descendant of that "new school" of artisan chocolate making, TCHO, arrived on the scene. Founded by a space-shuttle technologist turned chocolate maker, TCHO was, in essence, a technology firm that made chocolate. It's a fascinating company, and you can learn more about it in our Another Chocolate Maker in San Francisco article. Like its successful predecessors, TCHO moved to a new facility in West Berkeley when demand took off, and in 2008 it was acquired by Japanese confectioner, Ezaki Glico.
In late-2012, Dandelion Chocolate, helmed by Stanford alumni-friends Todd Masonis and Cameron Ring, opened its first location in The Mission District. The two had begun making chocolate a few years earlier as a hobby after selling a Silicon Valley start-up to Comcast. Although not begun with an entrepreneurial intention, they basically fell head over heels with all things chocolate making. Techies and businessmen at heart, they became enamored with the challenges they encountered, like bean sourcing and refining the necessary equipment and processes.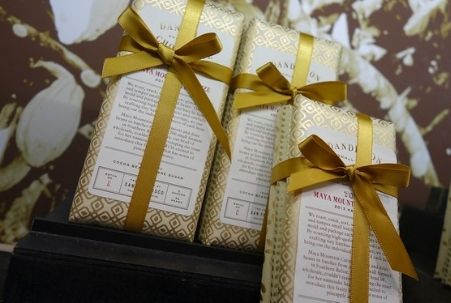 The company was a resounding success from the get-go, and the next challenge became how to keep up with demand. In 2019, the new Dandelion Chocolate factory, also in the Mission District, opened for that purpose. It's a truly epic facility (and should be on any self-respecting chocoholic's travel bucket list!), offering tastings, tours, classes and even a chocolate-pairing afternoon tea service in the lovely Bloom Chocolate Salon.
We highly recommend that you sample the brownie flight, consisting of three bite-sized brownies each made with chocolate crafted from a different region's beans (e.g., Ecuador, Papua New Guinea and Madagascar). And, if you're a baker, you may also want to check out the chocolate chips. Crafted by a Tesla designer who once attended a Dandelion class, the chips are specifically engineered to create a perfect snap-vs-melt harmony in your cookies. (And, yes, Dandelion is as good at marketing as it is at making chocolate!)
While this may not be an exhaustive list of San Francisco's fabulous chocolate offerings, it will certainly provide some sound recommendations for places chocolate lovers may want to visit. The San Francisco Ferry Building is a good place to start if you want to enjoy San Francisco food of any sort — chocolate included! You'll find a Dandelion Chocolate kiosk there, as well as our wonderful first recommendation…
Recchiuti Confections (Ferry Building) – A local fave chocolatier, you can sample Michael Recchiuti's outstanding creations at this Ferry Plaza shop or just pick up a bar (or two) at the company's many retail partners throughout the Bay Area. (recchiuti.com)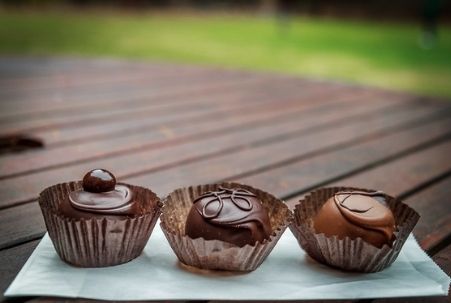 XOX Truffles (North Beach) – Chef Jean-Marc Gorce offers 26 flavors of authentic, hand-made French truffles, some "liquored" and even a few vegan selections in his quaint North Beach shop. While the most popular flavor is caramel, there's sure to be something for everyone. North Beach and its typically Italian culinary goodness is one of a few favorite San Francisco neighborhoods for foodies, but the decidedly French XOX fits in perfectly. It's easy to see why Chocolatier magazine named XOX one of the ten best artisanal chocolates. (xoxtruffles.com)
Jade Chocolates Teahouse Café (Chinatown) – We've not been to San Francisco since this shop and café opened in March 2022, but its Kahlua Brownie Sundae is definitely on the list for our next visit. While reservations are required for afternoon tea service, you can just walk in to shop for their small-batch, artisan chocolates crafted with teas, spices and tropical fruits from the Pacific Islands and Asia. Everything looks FAB; check out these Yelp photos!
Christopher Elbow (Hayes Valley) – If you are vacationing in San Francisco from your home in Kansas City, this will be a familiar name. Elbow's original shop remains in Kansas City (and this shop's chocolates are made there, as well), and his creations are some of the most innovative and artful chocolates available in The City. The shop has the feel of a pricey boutique (some do complain about the cost; and, yes, there's sometimes a fine line between "too expensive" and "worth it"), and there's an attached lounge area seemingly made for enjoying Elbow's "liquid chocolate" non-alcoholic libations. His signature Venezuelan Spiced Hot Chocolate with nine spices, two kinds of chiles, homemade whipped cream and marshmallows is divine. (elbowchocolates.com)
Fog City News (Financial District/Embarcadero) – While this is not a "chocolatier," any discussion of chocolate in San Francisco would be incomplete without mentioning Fog City News. This news stand carries over 150 chocolates from throughout the world and is the exclusive retailer for several select chocolate brands. What's more, they compile tasting notes for all the brands they carry and keep a computer database which allows for detailed discussions with their customers. It's definitely worth putting on your chocoholic radar and worth a stop — it's one of those unique places that makes San Francisco such a special place! (fogcitynews.com/chocolate.html)
Socola Chocolatier & Barista (SoMa) – About a 10-minute walk from the San Francisco Museum of Modern Art, this innovative chocolatier — two Vietnamese sisters' partnership — is known for their unique truffle flavorings (e.g., guava, spicy sriracha, Vietnamese coffee) and artistic product presentations. The shop also serves tea and Four Barrel Coffee, the latter of which can be utilized to create a "truffogato" where one of their amazing truffles is melted into a cup of espresso. (socolachocolates.com)
Feve Artisan Chocolatier (Bayview-Hunters Point) – Using highest-quality, locally-sourced ingredients, Feve crafts traditional and modern truffles, chocolate-covered nuts, handmade pralines, uniquely-flavored milk and dark chocolate bars and other artistic treats for wholesale, retail and online distribution. The packaged creations can be found at their factory-store, as well as at many specialty grocery stores in the Bay Area and at other locations in California and across the U.S. (fevechocolates.com)
The Good Chocolate (Visitacion Valley) – The first bean-to-bar chocolate made without sugar, instead using Stevia to sweeten. While this chocolate maker is away from the typical tourist beat, you can often find their 100% organic, KETO and Paleo-friendly products at various locations throughout The City (Bi-Rite stores, Rainbow Grocery, the Ferry Building). Look for Mint, Himalayan Salt, Ginger as well as the "Detox Bar" featuring a unique Coconut-Turmeric flavoring. (thegoodchocolate.com)
See's Candies was started in Los Angeles in 1921, but it's now owned by Warren Buffett's Berkshire-Hathaway and headquartered in South San Francisco. The company has over 250 retail locations in the U.S., including several in the Bay Area where you will find long lines and crowded parking lots around any of the chocolate-loving holidays. (sees.com)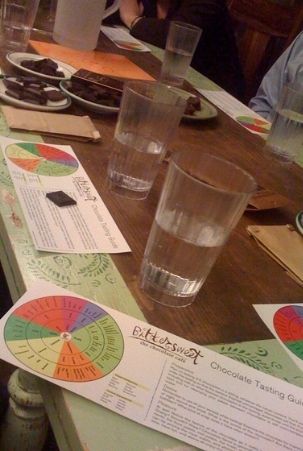 There are several excellent chocolatiers in the East Bay, but our favorites are Chocolate Dragon Bittersweet Café & Bakery (chocolatedragoncafe.com) in Oakland and Chocolaterie on University Avenue in Berkeley (shopchocolaterie.com).
In the South Bay, Schurra's Fine Confections was "San Jose's hometown candy store since 1912" until its closing in 2018. Fortunately, Willow Glen Sweet Shoppe stepped up to keep the brand alive, and it's definitely worth a stop if you find yourself in the area. (willowglensweetshoppe.com/schurras)
In 2022, another South Bay offering, SWEET55, expanded with a new shop in Palo Alto's Town & Country Village shopping center. Its owner, Ursula Schnyder, a Swiss born and trained Pastry Chef and Chocolatier, also has a shop in Half Moon Bay. (sweet55.com)
In Santa Cruz, check out Donnelly Chocolates, winner of the "Best Artisan" award at the 1998 EuroChocolate Festival in Perugia, Italy, and named one of the "10 Best Chocolatiers in the World" by National Geographic in 2012. Richard Donnelly lovingly crafts small batches of unique chocolates at this off-the-beaten-path, hole-in-the-wall Santa Cruz shop by combining Belgian and French chocolate with innovative flavors like lavender, chipotle, saffron and cardamom. The chocolate is also utilized to create yummy ice cream treats. (donnellychocolates.com)
And, if your Bay Area travels include a visit to the Napa-Sonoma Wine Country, you should check out that area's wonderful chocolate offerings. Wine Country Chocolates (winecountrychocolates.com) has two Sonoma County tasting rooms, one on the Sonoma Plaza and the other in Glen Ellen. And in the city of Napa, La Foret (laforetchocolate.com) run by a former The French Laundry pastry chef, is superb. Anette's (anettes.com), whose main location has been open for around 30 years, now has another, smaller shop in the Oxbow Market — a Napa attraction that warrants a stop from anyone who enjoys food. And at Vintage Sweet Shoppe on Main Street (vintagesweetshoppe.com), be sure to try a Cabernet wine truffle. Finally, if your travels take you to St. Helena, you'll want to visit Woodhouse Chocolate (woodhousechocolate.com).
Hot Chocolate — aka "drinking chocolate" or "liquid chocolate" — is a favorite summertime treat in San Francisco. (That's not a typo. You heard what Mark Twain reportedly said, right? "The coldest winter I ever saw was the summer I spent in San Francisco." While the quotation can't be verified, the chill in San Francisco's foggy summer air is absolutely real. Bring gloves.)
"Best" is really a matter of taste, though, so what follows is more recommendation than definitive pronouncement. Chances are you won't be terribly disappointed by any place you choose, especially if it's chilly outside! For our money, it's hard to top Christopher Elbow's four flavors of drinking chocolate (Peppermint, Mocha, Cocoa Noir Dark and Venezuelan Spiced, with the latter as our fave), but the shop's Hayes Valley location is not always ideal for tourists.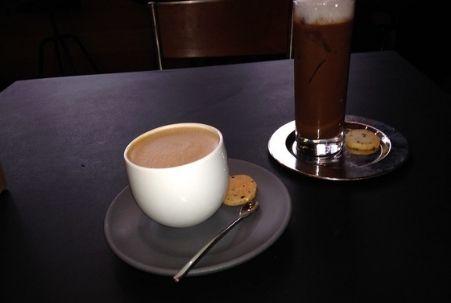 That may be why most discussions of San Francisco's best hot chocolate tend to revolve around the Ferry Building. There you will find a varied selection — perhaps more choices for hot chocolate per square foot than anywhere else in the world! First, there's Blue Bottle Coffee where they use chocolate from confectioner Michael Recchiuti. Personally, while we think Blue Bottle is a great choice for coffee, we'd pass on the hot chocolate, especially when you can go straight to Recchiuti's for a cup — named on Food & Wine's "Best Hot Chocolate in the U.S." list, by the way, as was Christopher Elbow's — and it comes with a tasty little handmade vanilla marshmallow.
Dandelion also offers amazing liquid chocolate at all their locations, including a "hot chocolate stand" at the Ferry Building. On the other hand, if you'd rather sit down while a perfect cup of thick hot chocolate is prepared for you, then you simply must check out Boulette's Larder. (Actually, it's a great place to check out even if you're not drinking hot chocolate!) Lastly, if you're in a hurry, hit Peet's, where they use Scharffen Berger dark chocolate.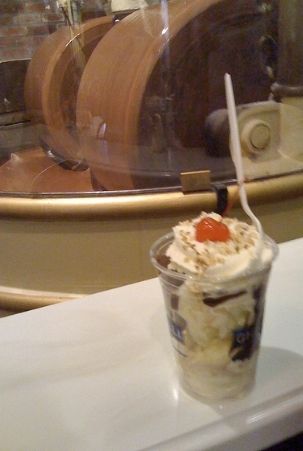 While Ghirardelli serves what is likely the most well-known hot fudge sundae in San Francisco, many would argue that the Mission neighborhood's Bi-Rite Creamery (biritecreamery.com/icecream) offers the best hot fudge sundae. (You can find the Ghirardelli hot fudge recipe here, by the way, in case you want to attempt an at-home version.)
If you are particularly fond of this chocolate and ice cream combination, perhaps you'll want to sample both in the name of scientific research? You may also want to read our Mission food tour discussion for another unique San Francisco ice cream suggestion, Humphry Slocombe, where they sometimes offer a Hot Mess Sundae and/or a tasty Mexican Chocolate ice cream or sorbet.
While we love San Francisco chocolate, we really can't in good conscience recommend that you pick up a bunch of it to lug home as souvenirs or gifts. The truth is, you can buy Ghirardelli chocolates at Amazon (not a bad idea, actually, if there's someone you need to thank for watching a pet or watering your lawn while you're traveling), and most of the chocolatiers discussed above have online ordering options, as well.
If you're looking for a fun gift for a fellow chocoholic, check out Dandelion Chocolate's cookbook, Making Chocolate: From Bean to Bar to S'more. Another idea: put together a collection of favorite Ghirardelli recipes for free and pair them with some of the Ghirardelli selections packages available at Amazon.
Photo of Dandelion Chocolate-Chocolate-Chocolate Sign by Global X via flickr (Creative Commons; Photo of Ghirardelli Square in San Francisco by Casey Fiesler via flickr (Creative Commons); Photo of Scharffen Berger Box with funny chocolate sign by Global X via flickr (Creative Commons); Photo of Dandelion Chocolate Bars by Adam Dachis via flickr (Creative Commons); Photo of Truffles from San Francisco by Dhinal Chheda via flickr (Creative Commons); Photo of Chocolate Tasting at Bittersweet Café in Oakland by EileenRose via flickr (Creative Commons); Photo of Mocha and Iced Chocolate Drink at Dandelion Chocolate by TheMarcusChance via flickr (Creative Commons); and Photo of Ghirardelli Hot Fudge Sundae by r0wb0t via flickr (Creative Commons).