[ad name="320×100″]
Consumers spend about $7 billion annually on chocolate worldwide, and San Francisco gets in on a nice slice of that action. There is definitely no shortage of chocolate shops in San Francisco and neighboring Bay Area communities! The City is home to several chocolatiers selling fine, hand-crafted confections – as well as a couple of artisan chocolate makers – and San Francisco should be at the top any respectable chocoholic's "must-visit" U.S. vacation destinations.
While there is no longer a Ghirardelli chocolate factory tour available in San Francisco (or, for that matter, a Ghirardelli chocolate factory; read on for more information), there is no shortage of places for chocolate-loving tourists to visit in San Francisco, and a plethora of ideas and locations are all organized and set out for you in this article. There is even a San Francisco Chocolate Festival you might want to plan a whole trip around!
We'll cover the following topics below; just click the link if you want to skip ahead to a particular discussion:
San Francisco Chocolate Makers
San Francisco Gourmet and Artisan Chocolate Shops
Other Bay Area Chocolate Shops
Best Hot Chocolate in San Francisco
San Francisco's Best Hot Fudge Sundae
Chocolate Gifts from San Francisco
The Bay Area's history with chocolate dates back to the California Gold Rush, when Domingo Ghirardelli opened the city's first chocolate factory in 1852. Ghirardelli (whose father was a chocolatier in Italy) had come to the Bay Area (by way of Uruguay and Peru) to try his hand at gold mining upon a recommendation from a neighbor of his in Lima, a piano maker named James Lick. People familiar with San Francisco history will be familiar with Mr. Lick, who arrived in San Francisco a couple of years before the Gold Rush began – with 600 pounds of chocolate from Ghirardelli's Lima operation, by the way – and went on to become one of the era's wealthiest California landowners. (Sometimes true stories are even more interesting as fiction!)
Ghirardelli Chocolate is now a nationally recognized brand, of course, and the company's continuing presence in The City can be enjoyed at Ghirardelli Square, one of the most popular San Francisco landmarks and/or tourist attractions. While the company no longer makes its chocolate at this location (thus, there isn't a Ghirardelli chocolate "factory tour" available), a free guided Ghirardelli Square walking history tour is offered on Wednesday and Thursday mornings at 9:30 a.m. Even if you just choose to visit on your own, though, you can view the original manufacturing equipment (we've included a video of this in our Chocolate Factory Tour in San Francisco article) and sample some Ghirardelli goodness at the shop in the building's iconic clock tower. (ghirardellisq.com/visitor-info/tours/tours)
[ad name="728C"]
At about the same time as Ghirardelli traveled to San Francisco, an adventurous Frenchman named Etienne Guittard also arrived, and he was bearing artisan French chocolate from his uncle's Tournus factory. It was Guittard's intention to trade his chocolate stash for mining supplies and to make his fortune with this new career. Upon learning quality chocolate could be sold for a premium to San Francisco's newly wealthy, however, he returned to France and worked for his uncle long enough to save and open his own chocolate factory in San Francisco. That occurred in 1868, and Guittard Chocolate Company still graces the Bay Area with its presence, the chocolate maker of choice for a host of local chocolatiers. It even remains a family-owned operation! While its facility is not open to the public, they do have online ordering available. (guittard-online.stores.yahoo.net)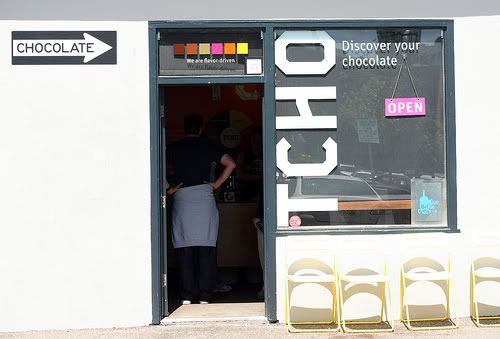 Where Guittard remains to represent "old school" chocolate making in San Francisco, a "new school" arrived in the mid-1990's when Scharffen Berger Chocolate Maker opened a factory in South San Francisco. The brand became quite popular, and the company moved to a larger facility in Berkeley about four years later. About four years after that, in 2005, Scharffen Berger was acquired by The Hershey Company. Sadly, in 2009, Hershey closed the San Francisco factory and moved production to the Midwest.
In 2008, a new breed of new school chocolate maker arrived in San Francisco, and it goes by the name of TCHO. Founded by a space-shuttle technologist turned chocolate maker, TCHO is, in essence, a technology firm that makes chocolate. Don't let that idea turn you off, though. It's a fascinating company, and you can learn more about in our Chocolate Factory Tour in San Francisco article.
What follows may not be an exhaustive list of San Francisco's best chocolate offerings, but you can trust it to provide some very sound recommendations for places chocolate lovers will want to visit in San Francisco. The San Francisco Ferry Building is a good place to start if you want to enjoy San Francisco food tours of any sort – chocolate included! – and you should definitely plan to stop at the first two shops on the list below.
Scharffen Berger (Ferry Building) – As discussed above, until 2009 Scharffen Berger was a local company with a chocolate factory in Berkeley, but then Hershey's made them an offer they couldn't refuse and eventually the chocolate making facility was relocated. Happily, however, the company retains a presence in San Francisco at this popular food emporium.
Recchiuti Confections (Ferry Building) – Another local fave chocolatier, you can sample Michael Recchiuti's outstanding creations at this Ferry Plaza shop or just pick up a bar (or two) at the company's many retail partners throughout the Bay Area. In Fall 2012, Recchiuti will open a café called Chocolate Lab in San Francisco's Dogpatch neighborhood which, in addition to chocolate baked goods, ice cream and sweets, will also serve savory cheese and charcuterie plates along with beer and wine. (recchiuti.com)
XOX Truffles (North Beach) – Chef Jean-Marc Gorce offers 26 flavors of authentic, hand-made French truffles, some "liquored" and even a few vegan selections in his quaint North Beach shop. While the most popular flavor is caramel, there's sure to be something for everyone. North Beach and its typically Italian culinary goodness is one of a few favorite San Francisco neighborhoods for foodies, but the decidedly French XOX fits in perfectly. Be advised, though: if you put a stop at XOX on your San Francisco vacation ideas list, you'll be relieved to learn the treats are also available online. They are truly magical, and it's easy to see why Chocolatier magazine named XOX one of the ten best artisanal chocolates. (xoxtruffles.com)
Poco Dolce (Dogpatch) – While you can buy this chocolatier's creations at several grocers, wineries and retailers in San Francisco and across the country, for that matter – and you should, especially the bittersweet chocolate tiles – there are some flavors only available at this storefront location. (pocodolce.com)
[ad name="728C"]
Christopher Elbow (Hayes Valley) – If you are vacationing in San Francisco from your home in Kansas City, this will be a familiar name. Elbow's original shop remains in Kansas City (and this shop's chocolates are made there, as well), and his creations are some of the most innovative and artful chocolates available in The City. The shop has the feel of a pricey boutique (some do complain about the cost, but there can be a fine line between "expensive" and "worth it" sometimes), and there's an attached lounge area seemingly made for enjoying Elbow's "liquid chocolate" non-alcoholic libations. (elbowchocolates.com)
Fog City News (Financial District/Embarcadero) – While this is not a "chocolatier," any discussion of chocolate in San Francisco would be incomplete without mentioning Fog City News. This news stand carries over 150 chocolates from throughout the world and is the exclusive retailer for several select chocolate brands. What's more, they compile tasting notes for all the brands they carry and keep a computer database which allows for detailed discussions with their customers. It's definitely worth putting on your chocoholic radar and worth a stop – it's one of those unique places that makes San Francisco such a special place!
See's Candies was started in Los Angeles in 1921, but it's now headquartered in South San Francisco. The company has over 200 retail locations in various West Coast cities, including several in the Bay Area that usually sport long lines and crowded parking lots around any of the chocolate-loving holidays. (sees.com)
Oakland is home to Bittersweet, a chocolate café and shop combined, and it showcases some wonderful chocolate products – both bars and "drinking chocolates" – as well as coffee hand-picked by the company's travel-savvy owners. It's definitely worth a stop if you're in the East Bay! (bittersweetcafe.com)
In the South Bay, Schurra's Fine Confections has been "San José's hometown candy store since 1912" and has recently added a satellite store at Gate 10 of San José airport's brand new Terminal A. Check out their very interesting "chocolate pairing kits" – one for red wine and another for whiskey. You can also make purchases at their online store, should your San Francisco vacation planning not allow time for a trip to San José. (schurrasfineconfections.com)
And, if your San Francisco travels will also include a Napa-Sonoma Wine Country trip, you might also want to check out that area's ample chocolate offerings.
Wine Country Chocolates (winecountrychocolates.com) has two Sonoma County tasting rooms, one on the Sonoma Plaza and the other in Glen Ellen. In Western Sonoma, check out the offerings at Sebastopol's Infusion Tea Shop (infusionsteashop.com).
In Napa County, don't miss Woodhouse Chocolate in St. Helena (woodhousechocolate.com), and in the city of Napa, La Foret, run by Wendy Sherwood, a former The French Laundry pastry chef (laforetchocolate.com), Anette's, whose main location has been open for 30+ years and who now has another, smaller shop in the Oxbow Market – a Napa Valley tourist attraction you won't want to miss (anettes.com) – and Vintage Sweet Shoppe, where you can even enjoy a wine/port and chocolate pairing at their recently opened wine bar (vintagesweetshoppe.com).
Hot Chocolate – aka "drinking chocolate" or "liquid chocolate" – is a favorite summertime treat in San Francisco. (You think we're kidding? You heard what Mark Twain reportedly said, right? "The coldest winter I ever saw was the summer I spent in San Francisco." While the quotation can't be verified, the chill in San Francisco's foggy summer air is absolutely real.)
"Best" is really a matter of taste, though, so what follows is more recommendation than definitive pronouncement. Chances are you won't be terribly disappointed by any place you choose to enjoy some hot chocolate, especially if it's chilly outside!
For our money, it's hard to top Christopher Elbow's four flavors of drinking chocolate (Peppermint, Mocha, Cocoa Noir Dark and Venezuelan Spiced, with the latter as our fave) or their fine chocolate coffee, but the shop's Hayes Valley location may not be ideal for San Francisco tourists. Bittersweet Café's offering is hard to beat, too, but its Oakland location may be similarly flawed for visitors with time constraints.
[ad name="728C"]
That may be why most discussions of San Francisco's best hot chocolate tend to revolve around the Ferry Building. Here you will find a varied selection – perhaps more choices for hot chocolate per square foot than anywhere else in the world! First, there's Blue Bottle Coffee where they use chocolate from confectioner Michael Recchiuti. For coffee, we think Blue Bottle is a great choice, but no so much for hot chocolate. Why not go straight to Recchiuti's Ferry Building location and snag a cup of liquid chocolate – named on Food & Wine's "Best Hot Chocolate in the U.S." list, by the way – and also enjoy that tasty little handmade vanilla marshmallow? On the other hand, if you'd rather sit down while a perfect cup of thick hot chocolate is prepared for you, then you simply must check out Boulette's Larder. (Actually, it's a place you should check out even if you're not drinking hot chocolate!) Lastly, if you're in a hurry, hit Peet's, where they use Scharffen Berger dark chocolate to concoct a delicious cup and they do it on the double!
While Ghirardelli serves what is likely the most well-known hot fudge sundae in San Francisco, many would argue that the Mission neighborhood's Bi-Rite Creamery offers the best hot fudge sundae. (You can find the Ghirardelli hot fudge recipe here, by the way, in case you want to attempt an at-home version.)
If you are particularly fond of this chocolate and ice cream combination, we suggest you make a point to sample both in the name of scientific research. (biritecreamery.com/icecream) You may also want to read our Mission food tour discussion for another unique San Francisco ice cream experience suggestion.
While we love San Francisco chocolate, we really can't in good conscience recommend that you pick up a bunch of it to lug home as souvenirs or gifts. The truth is, you can buy Ghirardelli chocolates at Amazon (not a bad idea, actually, if there's someone you need to thank for watching a pet or watering your lawn while you're traveling), and most of the chocolatiers discussed above have online ordering options, as well.
If you're looking for a fun gift for a fellow chocoholic, you might want to check out The Chocolate Guide. Another idea: put together a collection of favorite Ghirardelli recipes for free and pair them with some of the Ghirardelli selections packages available at Amazon.
Photo of Ghirardelli Square in San Francisco by pag2525 via flickr (Creative Commons); Photo of TCHO chocolate shop and factory by NiallKennedy via flickr (Creative Commons Photo of XOX Truffles in North Beach by towse via flickr (Creative Commons); Photo of Chocolate Tasting at Bittersweet Café in Oakland by EileenRose via flickr (Creative Commons); and Photo of World famous Ghirardelli hot fudge sundae by yuichi.sakuraba via flickr (Creative Commons).
[ad name="300x250R"]
Related posts:
San Francisco Chocolate Factory Tour
SF International Chocolate Salon
San Francisco Bay Area Museums
Note: Information in this article was accurate
when it was published, but hours, prices, etc.
change constantly. Please confirm details
with local contacts before traveling.
Was this article useful and/or interesting?
Would you please consider bookmarking or sharing it?
We appreciate it!

PLEASE NOTE: Hours of operation, driving times, etc., can vary with then-current conditions. While every effort is made to provide accurate information,we cannot be responsible for errors or for changes that may have occurred since publication. Please confirm all information with actual service providers.The information provided on this website is done so without warranty of any kind, either expressed or implied.