Hitchcock's 'Vertigo' — San Francisco Locations
When Alfred Hitchcock's 'Vertigo' opened in May 1958 at San Francisco's Stage Door Theatre (a Tenderloin venue that later became the now-closed nightclub, Ruby Skye), the majority of the reviews were, to put it kindly, less than enthusiastic. In 1996, when a restored version of the film was re-released to theaters — premiering at San Francisco's famed Castro Theatre — it scored the weekend's highest U.S. box office earnings. Let's just say that it's "aged well," presently sittting at #1 on the prestigious Sight & Sound's "100 Greatest Films of All Time" list.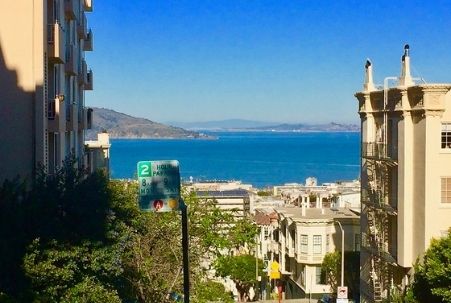 Starring James Stewart ("Scottie") and Kim Novak ("Madeleine" and "Judy"), 'Vertigo' was filmed on location in the San Francisco Bay Area (Monterey and San Juan Bautista also appear in the film) for 16 days in September of 1957 before filming most of the action on a Hollywood lot. 
Hitchcock was known for incorporating a location-as-character component into his films, and San Francisco's ups and downs — both its hills and its class structure — definitely play a role in this movie.
While watching 'Vertigo' is a fun way to prepare for a San Francisco vacation, once you arrive and travel around The City's distinctive neighborhoods, you may want to pay attention and keep a look out for these 'Vertigo' filming locations:
Legion of Honor – This is where Madeleine is mesmerized by a painting of Carlotta Valdes. The painting was a movie prop, painted by Hitchcock's friend, artist John Ferren, and is not actually on display at the museum.  (Don't let that stop you from visiting, though.  The Legion of Honor offers an incredible experience.)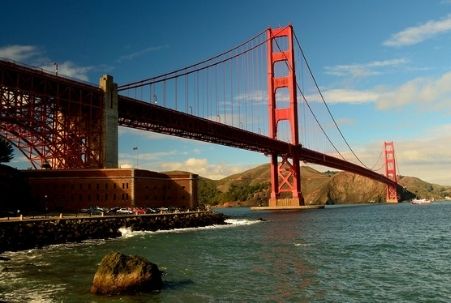 Fort Point – This is where Madeleine jumps into the San Francisco Bay in a supposed suicide attempt.  The steps you see in the movie – by which Scottie carries her to safety – were constructed for the movie and removed after the scene was filmed.
Scottie's Residence – Located at 900 Lombard Street, at the foot of San Francisco's curviest landmark, this is where Scottie brings Madeleine after rescuing her.  Here's a fun video that brings you up to date with this 'Vertigo' filming location.
Mission Dolores – The oldest surviving building in San Francisco, located at 3321 16th Street in what is now known as the Mission District, this is the site of the cemetery where Madeleine visits Carlotta Valdes' grave in the film. This fictitious gravestone was, of course, another studio prop; reportedly, it remained in place for several years but was eventually removed due to conflicted feelings about housing a "tourist attraction" in a real-life graveyard. The engraved marker and distinctive railing appearing behind Carlotta's gravestone in the film remain. If your travels take you to the Mission District, be sure to check out the area's murals and its nothing-short-of-amazing culinary offerings.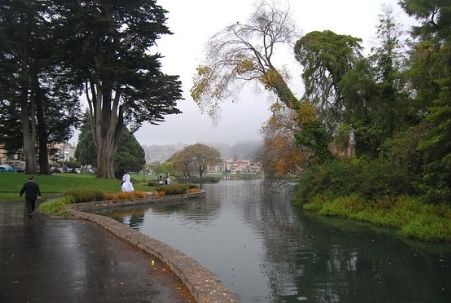 Palace of Fine Arts – This scenic area is where Scottie and Madeleine take a stroll while getting to know one another.  It looks much the same today — and is still a popular destination for a romantic stroll — but the pathways were changed somewhat when the Palace was rebuilt in 1965 and appear slightly different now.
Ernie's Restaurant – When 'Vertigo' was filmed, this was an actual San Francisco fine dining establishment (located at 847 Montgomery, in the historic Jackson Square neighborhood) and was frequented by Mr. Hitchcock. While four scenes from the film take place at Ernie's, space limitations required the director to recreate its interior on a Hollywood set for movie-making purposes. Hitchcock flew the owners of the restaurant, brothers Roland and Victor Gotti, down for filming the scenes, and they appear in the movie's credits as Ernie's maître d' and bartender.  Ernie's closed in 1995, and the building in which it was housed is now a condominium complex.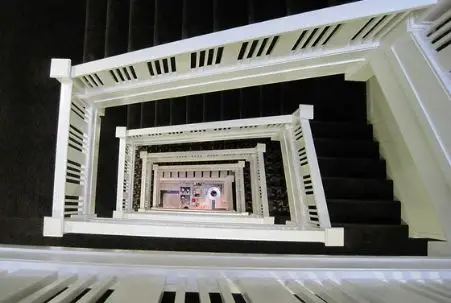 Empire Hotel – Judy had a room here, and at the time the location was, in reality, San Francisco's York Hotel. The Nob Hill building, located at 940 Sutter Street, now honors its close-up and bills itself as Hotel Vertigo. It's a fun place to stay — for anyone, really, but especially for Hitchcock fans.
Brocklebank Apartments – Located in San Francisco's ritzy Nob Hill neighborhood, this is where Galvin and Madeleine Elster lived. The interesting and imposing structure sits at 1000 Mason Street, near the Fairmont Hotel, and it's definitely worth a look and a photo or two.  A bit of trivia:  San Francisco's infamous real-life curmudgeonly reporter Herb Caen lived in this building and, like Madeleine, he drove a Jaguar.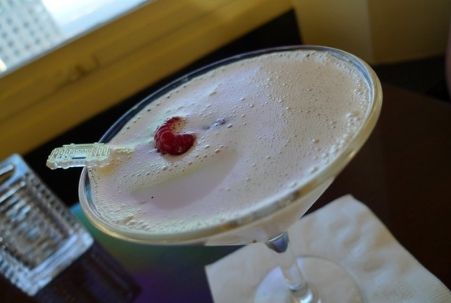 Mark Hopkins Top of the Mark – Although this is not an actual 'Vertigo' filming location, Scottie alludes to his acrophobia early in the film saying, "I can't go to the bar at the Top of the Mark, but there are plenty of street level bars in this town." 
Should you need an excuse to imbibe at the Top of the Mark, feel free to toast Scottie and Madeleine — and, of course, Mr. Hitchcock — at the end of your 'Vertigo' movie location tour.
Photo of View from Nob Hill by Peter Handke via flickr (Creative Commons); Photo of Golden Gate Bridge from Fort Point by Tom Hilton via flickr (Creative Commons); Photo of Staircase at Hotel Vertigo by Jennifer Scott via flickr (Creative Commons); Photo of Palace of Fine Arts Walking Path by Kevin Krejci via flickr (Creative Commons); and Photo of Cocktail at Top of the Mark by Ewan Munro via flickr (Creative Commons).