San Francisco Chocolate Festival and Salon Guide
San Francisco is known for hosting amazing food and wine festivals. And, since chocolate has had a leading role in its rich culinary history since way back to the Gold Rush days, it seems only natural that the Bay Area would still enjoy and celebrate the confection in many forms and at a variety of festivals.
San Francisco International Chocolate Salon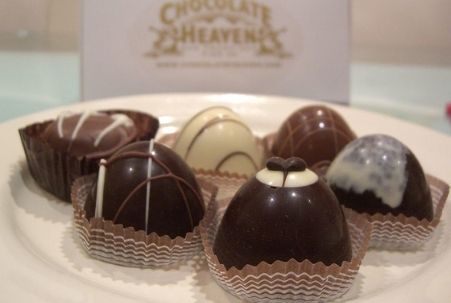 On April 2, 2022, the San Francisco County Fair Building will be transformed into the San Francisco International Chocolate Salon, now in its 14th year. This fab event bills itself as "the original and premiere event for artisan chocolates and confections on the West Coast," and it does not disappoint. The organizers select and feature nothing but the best of the best, and participants include master chocolatiers, confectioners, wineries and other extraordinary culinary artisans. (sfchocolatesalon.com)
A pared-down version of the San Francisco International Chocolate Salon is typically held in November — just in time for the holiday shopping season! At the time of this writing, a date for the Fall 2022 event has not yet been set. (fallchocolatesalon.com)
Belmont Chocolate Fest
Belmont is a Bay Area community not far from the SFO airport, and you can enjoy a chocolate festival there on October 9, 2021. The participating vendors might not be quite as "artisan" as the ones at other Bay Area chocolate events, but you know it will still be tasty and fun! (chocolatefestofbelmont.org)
Craft Chocolate Experience
During the March 6-8, 2020 weekend, Craft Chocolate Experience debuted at San Francisco's Palace of Fine Arts, co-founded by Dandelion Chocolate and Emily Mantooth, director of the Dallas Chocolate Festival. The three-day event combined education with a healthy dose of tasting and shopping. It featured more than 90 ">artisanal chocolatiers from San Francisco as well as 24 other countries. Sadly, the event didn't happen in 2021, but we're hopeful that it will return in 2022! In the meantime, you can always visit Dandelion Chocolate Factory in San Francisco's Mission District to create your very own fun experience! (craftchocolateexperience.com)
Dandelion Chocolate's 12 Nights of Chocolate
In 2013, Dandelion Chocolate began hosting an annual fundraiser called "12 Nights of Chocolate" that combined a variety of Bay Area chefs' expertise with their wonderful products. The event, a benefit for the SF-Marin Food Bank, was scheduled in December. There's not yet a date set for 2021.
San Francisco Chocolate Festival at Ghirardelli Square
From 1996 through 2018, typically in September, Ghirardelli hosted a Chocolate Festival and over the years raised more than a million dollars to benefit Project Open Hand. In 2019, the company posted on its website that it would be taking "a hiatus from producing the Ghirardelli Chocolate Festival to reimagine the chocolate experience and fine-tune the philanthropic event." We applaud those past contributions and hope the festival will return someday. (ghirardelli.com/events/chocolate-festival)
Photo of Chocolates from Chocolate Heaven, San Francisco Pier 39, by Julia Julia via flickr (Creative Commons).