You can't talk about The City's landmarks without first talking about the geography that gives rise to them — figuratively and literally, in some cases — namely, its hills and its islands.
Although some people put the number of San Francisco hills as high as 73, most people only talk about seven of them, namely Nob Hill, Rincon Hill, Russian Hill, Telegraph Hill, Mount Davidson, Mount Sutro and Twin Peaks. The first four in that list are discussed in our San Francisco Neighborhoods article, and the last three are covered in the "The Icons" section below.
Similarly there are a number of islands in the San Francisco Bay, with one book, The Islands of San Francisco Bay, putting the tally at 48. The "The Islands" section below will introduce you to the five most prominent ones.
Alcatraz – This island has served as a military fort (1850s), the site of the first west coast lighthouse (since replaced by the current lighthouse) and the birthplace of the Native American "Red Power" movement (1969-71), but "The Rock" is best remembered as the former federal prison that once incarcerated gangster Al Capone. The island also features gardens, tide pools, bird colonies and spectacular bay views. It's accessible by ferry and open every day of the year except Christmas and New Year's Day. (parksconservancy.org/visit/alcatraz/)
Angel Island – This San Francisco Bay state park is a 740-acre mountainous island offering a variety of activities (hiking, biking, camping, picnicking and tram tours) along with panoramic vistas of The City skyline and the entire Bay (Golden Gate Bridge, Marin and Mt. Tamalpais). A clear day on the island is referred to as a "five bridge day," when from the top of Mt. Livermore hikers can view the Golden Gate, Bay, Richmond/San Rafael, San Mateo and Dumbarton bridges. The island is open to the public from 8:00am to sunset all year round, and the Immigration Station Detention Barracks Museum is open during the summer season, April-November. Year-round, daily ferry service is available from Tiberon and San Francisco; ferry service from Oakland is available during the summer season. (angelisland.org)
The Farallon Islands – This pristine biological treasure-trove archipelago is about 27 miles away from The City and is a National Wildlife Refuge. Its 211 acres of rocks, towering to 350 feet on the southern island, are sometimes referred to as "California Galapagos" because of their ecological significance. While the islands are not open to public access, wildlife can be observed, studied and photographed at a distance from boats, and whale watching and saltwater fishing is offered in nearby waters. (farallones.org)
Treasure Island – Constructed as a late-1930s WPA project of quarried rock and bay-dredged landfill, this 400-acre man-made island was the site of the 1939-40 Golden Gate International Exposition, a world's fair that celebrated the area's two new bridges — the Bay Bridge (opened in 1936) and the Golden Gate Bridge (opened in 1937). Someone has assembled a delightful collection of old postcards from the fair here.
Thereafter, the U.S. Navy, deeming it an ideal location for Pacific theater access, established Treasure Island Naval Station (which also included a portion of Yerba Buena Island) in 1941. In 1996, the naval base was decommissioned and opened to public control. A short bus ride from San Francisco, Treasure Island is now a residential neighborhood as well as an excellent place for tourists to go on weekends for brunch and some urban wine tasting. There's the Treasure Island Museum to visit, as well, and Treecraft Distillery is also a fun stop, especially if tasting Chocolate Bourbon sounds enticing to you!
Yerba Buena Island – Known by many different names throughout the years (including Seabird Island, Wood Island and Goat Island), this island is presently best known as the location of the Yerba Buena Tunnel which runs through its center and connects the western and eastern spans of the San Francisco-Oakland Bay Bridge.
The Bay Bridge – When constructed in 1936, this was the most expensive man-made structure ever built and the longest steel high-level bridge in the world. The bridge connects San Francisco to Oakland by way of Yerba Buena Island, and the portion that spans the 1.78 miles between San Francisco and the island is really two suspension bridges with a concrete pier in the middle supporting one end of each. The Yerba Buena Tunnel remains in the Guinness book of World Records as the largest diameter bore tunnel in the world, measuring 76 feet wide by 56 feet high. You will want to avoid the bridge between 3 and 7:00pm unless sitting in traffic is your idea of a good time.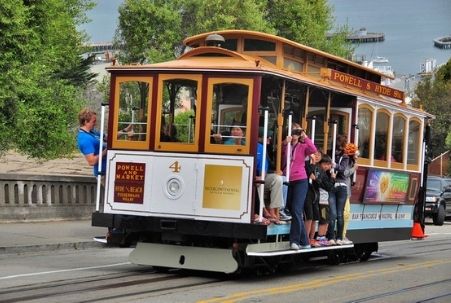 Cable Cars – San Francisco is home to the world's last permanently-operational, manually-operated cable car system, and no visit to San Francisco is complete without taking a ride. Operating as part of The City's "Muni" (San Francisco Municipal Railway) system, there are three cable car lines: (1) Powell-Hyde is the most scenic, offering magnificent panoramic views of The City and bay; it begins at Aquatic Park and ends up a bit past Union Square at Powell & Market; (2) Powell-Mason runs over Nob Hill and turns around in Fisherman's Wharf; this is the line you want if you're headed for North Beach, Chinatown or the Cable Car Museum; and (3) the California line runs from California & Market in the Financial District to Van Ness Avenue. (sfcablecar.com)
Coit Tower, North Beach – Atop Telegraph Hill, this curious 210-foot structure offers magnificent views of The City (especially at sunset) and includes a mural created as part of Roosevelt's Federal Art Project that wraps around the ground floor's circular walls and depicts the effects of the Depression on the Bay Area. You can sample some of the Coit Tower artwork here — as well as many others in other areas of The City — and even download an iPhone app to help you learn about these unique San Francisco public art installations.
Crissy Field, The Presidio – In case you're wondering how this vast waterfront park escaped development over the years, it was once an airfield that served The Presidio's former army base. Now, though, it's part of the Golden Gate National Recreation Area and the perfect place to picnic, jog, ride a bike or fly a kite. If you're feeling particularly adventuresome and/or it's not a perfect-weather day, check out the House of Air's amazing trampoline center in The Presidio nearby.
Ferry Building Marketplace, The Embarcadero – This is a terminal for ferries that travel across the San Francisco Bay and a shopping center, and we share several tips for enjoying it in our articles about San Francisco food tours and the wonderful chocolate treats you can enjoy there.
It was built in 1898 and survived both the 1906 and the 1989 earthquakes with minimal damage. Until the completion of the Bay Bridge and Golden Gate Bridge in the 1930s, it was the second busiest transit terminal in the world, second only to London's Charing Cross Station. In 2004, the building was renovated and now serves as an upscale gourmet marketplace and office building in addition to its ferry terminal duties. San Francisco's largest farmer's market is held there on Tuesdays and Thursdays from 10:00am to 2:00pm and on Saturdays from 8:00am to 2:00pm.
Fisherman's Wharf and Aquatic Park Historic Landmark District – While this area might now be more aptly described as "a San Francisco tourist attraction" rather than a landmark, its history dates back to the Gold Rush when Italian immigrant fishermen based their fishing fleets here. In addition to housing a couple of the more "light-hearted" entries on this list of San Francisco museums (specifically, Musée Mécanique and Ripley's Believe It or Not), the area still celebrates its nautical history at the nearby San Francisco Maritime National Historical Park, where you'll find the Maritime Museum (a late-Art Deco building with incredible WPA Project murals that were recently restored — click here for Maritime Museum photos and hours of operation) and the Hyde Street Pier (where an impressive fleet of historic vessels are moored).
Fort Baker – The gateway to the Marin Headlands and other Bay Area national parklands, Fort Baker is surrounded by more than 75,500 acres of open space and offers easy access to beaches, mountains, trails, and historic sites. In 2008, Fort Baker became a first-class destination for renewal and discovery, thanks to a unique partnership of private, public and nonprofit organizations (the National Park Service, the Golden Gate National Parks Conservancy and Fort Baker Retreat Group LLC). The property features a hands-on children's museum and learning center (the Bay Area Discovery Museum), a first-class lodge (Cavallo Point), an institution dedicated to dialog and action on global environmental issues (the Institute at the Golden Gate) as well as a very active U.S. Coast Guard station and a small yacht harbor. (fortbaker.net)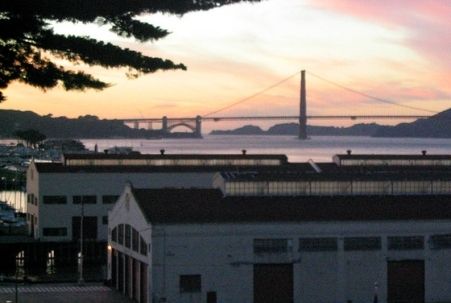 Fort Mason – Situated on 13 waterfront acres with a stunning view of San Francisco's Golden Gate Bridge, this former military installation and historic landmark has been converted to public use as part of the Golden Gate National Recreation Area. Two dozen nonprofit organizations call the center home, including theaters, museums, a music school, a maritime library, a radio station, a gourmet vegetarian restaurant, several environmental groups and a bookstore.
Fort Point – Located at the south anchorage of the Golden Gate Bridge, the fort dates back to the Gold Rush days and was declared a National Historic Site in 1970. (You may remember the area from Alfred Hitchcock's film 'Vertigo' as this is where Madeleine supposedly makes a suicide attempt.) The site today is quite popular with photographers trying to capture the perfect shot of San Francisco's most popular landmark. (The light is typically best in the morning, by the way.) On Saturday evenings during the winter months (November through February), a special evening candlelight tour is offered by reservation, which the National Park Service begins taking on September 1.
Ghirardelli Square – Located on the west side of Fisherman's Wharf (one block west of the Beach and Hyde Streets cable car turnaround), Ghirardelli Square became the home of Ghirardelli Chocolate in 1895. It was declared an official San Francisco landmark in 1965 and has been granted National Historic Register status. Today, Ghirardelli Square is a dining and retail destination, popular with both residents and visitors. (ghirardellisq.com)
Golden Gate Bridge – Opened in 1937, this is perhaps the best-loved symbol of San Francisco and is visible from almost every high point in The City. It is widely considered one of the most beautiful examples of bridge engineering, both as a structural design challenge and for its aesthetic appeal, and was declared one of the modern Wonders of the World by the American Society of Civil Engineers. You can drive (click here to read about the various toll payment options), bike or walk across the bridge. On a nice day, the half-hour walk is an outstanding experience as it allows you to take in the enormity of the bridge and its spectacular views; for a guided and more informative walking experience, consider the free San Francisco Guides tours offered on Thursdays and Sundays. (goldengatebridge.org)
Golden Gate Park – This 1017-acre urban oasis is home to over one million trees, several museums, a lake that allows fly fishing and a herd of bison. (You read that right!) If you're visiting in February-March, be sure to take in the park's tulips and windmills. There's a lot to see and do here, and this map is quite useful for organizing your visit. (goldengatepark.com)
Lombard Street, Russian Hill – Known as "the crookedest street in the world" because of its eight sharp turns (built in the 1920s to allow traffic to descend the steep incline), the street zigzags around beautiful landscaping and offers a nice view of the bay. There are stairways on either side of the street for pedestrians, and the descent begins at Hyde Street.
Mission Delores, Mission District – Located at 3321 16th Street (16th and Delores) in one of San Francisco's earliest neighborhoods, this is the oldest building in San Francisco. Founded in 1776 and the sixth to be built in California's chain of missions, it is still an active church which parishioners from all over The City attend. Visitors are welcome. (missiondolores.org)
Mount Davidson – Since 1934, a 103-foot tall concrete cross has stood atop this 925-foot high hill, San Francisco's highest natural point. The cross is illuminated for the Easter prayer service that's held here. (mtdavidson.org)
Mount Sutro – Once named Mount Parnassus, it was renamed to honor The City's 24th mayor, Adolph Sutro. Covered by a eucalyptus forest planted in the late 19th century, it is mostly private property owned by University of California, San Francisco. Unmarked trails leading up to the forested summit are open to visitors, but there are no views from the top.
Painted Ladies, Alamo Square – The term "painted ladies" is trademarked and describes Victorian buildings and homes which have been painted in three or more colors that embellish or enhance their architectural ruffles and flourishes. These six, perfectly-maintained Victorians, with downtown in full view, offer a popular San Francisco "photo opp" that is also sometimes referred to as "Postcard Row."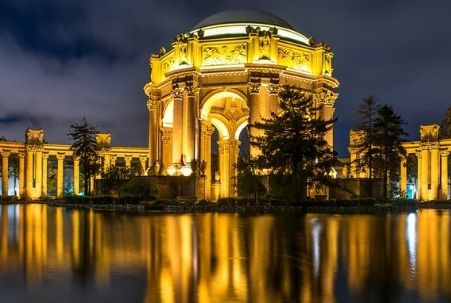 Palace of Fine Arts, Golden Gate National Recreation Area – Originally built for the 1915 Panama-Pacific Exposition of non-durable materials, this beautiful structure was rebuilt using permanent materials in 1964. It is the present home a 1,000-seat, continental-style theater.
Pier 39, Fisherman's Wharf – Opened in 1978, Pier 39 is a dining, shopping and tourist attraction area in San Francisco's Fisherman's Wharf. In addition to touristy museums, kids of all ages go there to enjoy its carousel, sea lions and street performers. Here is a Pier 39 tourist map that details what you will find there.
The Presidio – Situated between the Marina and Richmond Districts and now a national park, this area is distinguished as the U.S. longest-lasting, continuously used military post until it was decommissioned in 1989. Formally established on September 17, 1776, it had been used as a military headquarters by Spain, Mexico and the U.S., and it boasts military buildings in various styles (from Spanish Colonial to Georgian), some of which date from 1848. Now part of the National Park Service with mixed commercial and public use, it's popular with joggers and dog walkers. The Presidio is accessible by car from Arguello or Lombard streets, Marina Boulevard or 25th Avenue, or you can get through on foot or by bike at 14th or 15th Avenues.
Sutro Baths ruins, Seal Rock, Camera Obscura, Point Lobos Beach & Land's End Lookout – Just north of Ocean Beach, this historic landmark and tourist attraction recently delivered a saddening blow to The City when the iconic 157-year-old Cliff House restaurant closed. While the natural beauty and Camera Obscura — a giant camera built based on Leonardo da Vinci's design — remain, it will never be quite the same. Here's a handy map of the area.
Transamerica Pyramid, Financial District – Part of Transamerica Center (a complex that includes Two Transamerica Center and Transamerica Redwood Park) encompassing nearly one city block, its unconventional shape was chosen to provide an openness that allows natural light and fresh air to filter down to the streets below. (shvo.com/transamerica-pyramid-center/)
Twin Peaks – These two hills, located in San Francisco's geographic center, have a 922-foot elevation and offer unobstructed, 360-degree, panoramic city and bay views. The north peak is formally Eureka Peak, and the south peak is named Noe Peak. The best vista point — known locally as "Christmas Tree Point" — can be found about 100 feet down from the top of Eureka Peak.
Yerba Buena Gardens, SoMa – Located above the Moscone Convention Center, this San Francisco treasure is open daily from 6:00am until 10:00pm. Along with the abundant open space, landscaped gardens and public art, it offers residents and visitors an array of entertainment and cultural opportunities. Take a look at our San Francisco Museums article, and you'll see that it truly offers something for every taste, and there's also a restored 1905 carousel (originally located at Playland-at-the-Beach), a bowling alley, an ice skating rink and various restaurants. (yerbabuenagardens.com/map/)
Photo of Alcatraz Island by Bernard Spragg. NZ via flickr (Creative Commons); Photo of Angel Island by Ray Bouknight via flickr (Creative Commons); Photo of Cable Car by faungg's photos via flickr (Creative Commons); Photo of Golden Gate Bridge from Fort Mason by kate mccarthy via flickr (Creative Commons); Photo of Lombard Street by Daniel Cukier via flickr (Creative Commons); Photo of Palace of Fine Arts Rotunda by Leticia Roncero via flickr (Creative Commons); and Photo of Transamerica Pyramid by Bernard Spragg. NZ via flickr (Creative Commons).