Another Chocolate Maker in San Francisco
In 2011, we visited the TCHO (pronounce "Cho" with a long 'o' — sounds like "show") chocolate factory in San Francisco. It was Big Fun, with free samples of tasty chocolate… what's not to love?
2021 Update: Dandelion Chocolate Factory, in San Francisco's Mission District, is the place to go now for all things chocolate — tours, tastings, classes, etc. Click to learn more about the Dandelion Chocolate Factory and all the fun experiences offered there.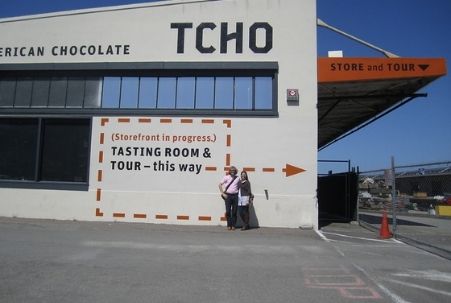 The TCHO facility has since moved to West Berkeley, but at the time of our tour it was located on Pier 17, not far from Pier 39 and Fisherman's Wharf, offering residents and visitors alike yet another San Francisco fun foodie opportunity!
TCHO joins a long lineage of chocolatiers and chocolate makers in San Francisco, the best known one being Ghirardelli. There are others, and there's a difference between chocolate makers (who create the chocolate from the raw cacao beans) and chocolatiers (who use chocolate to make fancy confections and other chocolate-based products).
See's Candies is a chocolatier. TCHO is a chocolate maker.
The TCHO tour began with a short talk by one of the guides, and we were told about how chocolate is made and how the different flavors are created, along with a brief history. Thereafter, you were required to don hairnets and booties to walk through the factory, which was actually quite small — only about 50 feet x 200 feet or so. Industrial kitchen equipment, vats and ovens process all the raw ingredients, which end up as those delicious wrapped bars of chocolate.
Here's a series of three videos that give you the entire background:
Photo of the former TCHO Chocolate Factory on Pier 17 in San Francisco by Jennifer Balaco via flickr (formerly) (Creative Commons).