San Francisco Neighborhoods
San Francisco neighborhoods run the spectrum from stylish (Hayes Valley) to funky (Upper Haight) to posh (Pacific Heights) to historic (Mission District) to industrial-chic (SoMa) to ethnic (Chinatown/Japantown/North Beach) to just about everything in between. This diversity helps make San Francisco one of America's most unique and special cities. The neighborhoods are listed alphabetically below, and here's a map that will help you visualize their locations and learn the lay of the land.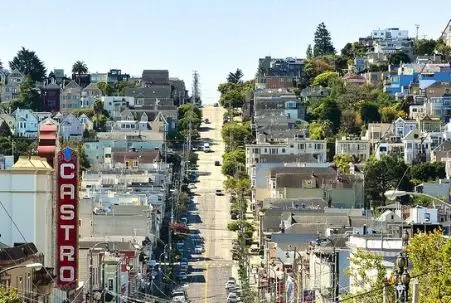 Castro/Upper Market – Sometimes called "Eureka Valley," you can travel to The Castro from Market Street on the Historic F-Line Trolley. After this short trip, you may feel a bit like you've entered a different world. Widely known as the gay capital of the world, this neighborhood offers a fascinating assortment of shops, restaurants, pubs and a spectacular movie palace. At night it really comes alive, with plenty of places people of all persuasions can feel at home.
Chinatown – Once you pass through the Dragon's Gate at Grant Avenue and Bush Street, you are transported into an authentic Chinese community, complete with all the culture's sensory stimulants and delights — from great dim sum to ornate temples to cheap knickknacks. This is the largest urban population of Chinese people outside China, and a good deal of Chinatown's action takes place on Grant Avenue, San Francisco's oldest street.
Did you know that fortune cookies, traditionally offered in Chinese-American restaurants at the end of a meal, are purely a U.S. invention? There's some dispute, but it's widely believed that they were invented in San Francisco… or maybe Los Angeles… but in California, at least, that's for sure! When you're in San Francisco's Chinatown, stop by the Golden Gate Fortune Cookie Factory, a storefront on tiny Ross Alley where some 20,000 fortune cookies a day are produced by hand. Check out the action in this video:
Each February, Chinatown hosts an extravagant Chinese New Year celebration — a week of fascinating festivities that culminate with a parade that includes a block-long Golden Dragon. The neighborhood's food is, of course, one of its most fascinating features, but you can celebrate that any day with
a Chinatown food tour!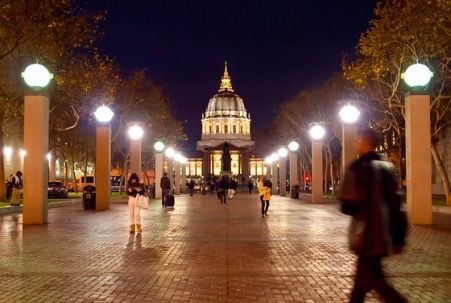 Civic Center – Begun in 1913 and influenced by the City Beautiful movement of the time, this area is home to many important public and civic buildings, including the War Memorial Opera House (widely considered one of the best in the world), the city's main library (at Grove and McAllister streets) and the Beaux Arts-style City Hall, the dome of which is 16 feet higher than the capitol dome in Washington D.C. (and, yes, that's real gold leaf, worth $400,000 in 1999). Mayor George Moscone and Supervisor Harvey Milk were assassinated there in 1978, and Joe DiMaggio and Marilyn Monroe were married there in 1954 (although their widely publicized wedding photos were taken on the steps of Saints Peter and Paul Church, the spires of which are featured in our sunset photo in our North Beach discussion below).
Van Ness Avenue, the city's widest street, runs down the middle. This is a product of the then-mayor's 1906 order to dynamite rows of Victorians to act as a fire break to save what remained of the city after the earthquake and subsequent fire. Here's a .pdf format map that shows what you will find in and around the Civic Center neighborhood.
Financial District / The Embarcadero / Historic Jackson Square – This is San Francisco's major business district (home to Montgomery Street, "the Wall Street of the West"), and where you'll find some of the city's tallest buildings (the Transamerica Pyramid and the Bank of America tower at 555 California Street, although the Salesforce Tower is currently the tallest and is located in SoMa) and several shopping areas (Crocker Galleria, Embarcadero Center, Rincon Center complex and the Ferry Building). A section of the Barbary Coast Trail runs through this area, and the walking tour offers a great way to experience San Francisco and learn about some of its history. You might also want to check out the 17th-floor, roof-top park at 343 Sansome Street which offers inspiring views of the Financial District and is a favorite destination for photographers visiting the city.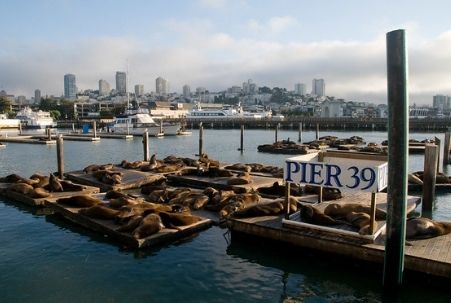 Fisherman's Wharf – Known for its historic waterfront, delicious seafood, intriguing ambiance and unique shopping, this is one of San Francisco's most popular tourist destinations. Although the area feels steeped in history, most of the major attractions – the Cannery, Ghirardelli Square, Pier 39 – were built in the late 1960s.
Here's a handy map of the Fisherman's Wharf area. If you're visiting during the winter months, a "don't miss" is the natural wildlife sanctuary at Pier 39's K-Dock, where hundreds of sea lions have been wintering and enjoying the Bay's plentiful herring supply since 1990. During the summer months, most of the sea lions migrate south to the Channel Islands for breeding, but recently a small group has remained year-round. You can find additional information about Ghirardelli Square in our San Francisco Chocolates article and about Fisherman's Wharf in our San Francisco Landmarks article.
Haight-Ashbury – Famous as the epicenter for the 1960s "hippie movement," today this San Francisco neighborhood is largely commercial. You'll find exclusive boutiques, trendy vintage-clothing shops and hip restaurants along side funky smoke shops, alternative book stores and offbeat gift emporiums. Known for its exceptional Victorian homes, some people like to walk past the former residences of the "Summer of Love" musicians who once lived here (the Grateful Dead at 710 Ashbury, Janis Joplin at 112 Lyon and Jefferson Airplane at 2400 Fulton).
"The Haight," as locals refer to it, stretches 20 blocks from Golden Gate Park to Market Street and is divided into Upper and Lower portions. The Upper Haight is more upscale, while the Lower Haight is more diverse. Between the two portions, you'll find Buena Vista Park, which was established in 1867, the first in the city's park system. It has mature trees and offers sweeping views from downtown San Francisco to the Golden Gate Bridge.
Japantown/Fillmore – Honoring and showcasing Japanese culture, more than 12,000 residents of Japanese descent call this neighborhood home. Its nexus is Japan Center, a five-acre hotel and entertainment complex at Post and Buchanan Streets. The fabulous Sundance Kabuki 8 Theatre is at the westernmost end of the center, and the Kabuki Springs and Spa is at the other end. It is also home to the Peace Pagoda, a five-tiered concrete stupa designed by Japanese architect Yoshiro Taniguchi. This symbol of eternal peace was presented to San Francisco by the people of Osaka, Japan, its oldest sister city. This video will give you a good introduction to the neighborhood:
Marina/The Presidio – One of our favorite San Francisco neighborhoods, it sits on the site of the 1915 Panama-Pacific International Exposition (although the Palace of Fine Arts is the only building that remains from that event). After the exposition, the area developed quickly, and it became one of San Francisco's most desirable places to live, work and visit.
Marina Green is a favorite place to sunbathe, play team sports and fly kites, while Union Street's (just up the hill from the Marina) converted Victorians are a shopper's delight. On Chestnut Street, you'll find an incredible variety of high-quality restaurants. Cow Hollow, Russian Hill and The Presidio bound the Marina District to the south, east, and west, respectively.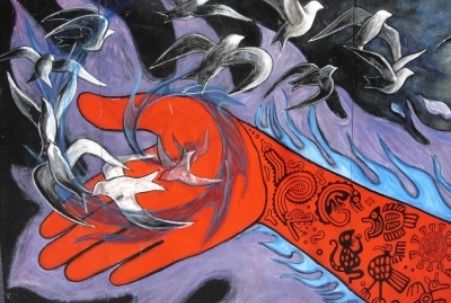 Mission District – This is San Francisco's birthplace and home to its oldest standing building, Mission Dolores. Founded in 1776 by Father Junipero Serrra, you may recognize the mission's cemetery, where many city pioneers are buried, from Alfred Hitchcock's Vertigo.
You'll also find The City's largest concentration of outdoor murals in the Mission District — on buildings, fences and garage walls — and Precita Eyes offers the best way to experience them. If you can't make one of their weekend tours, however, there's a nifty website and iPhone app to help you do a self-guided tour. (Balmy Alley, from 24th Street to 25th Street between Treat and Harrison Streets, features more than 30 murals, and the mural on The Women's Building on 18th Street, between Valencia and Guerrero, is a must-see.) The Mission District is large enough to have its own sub-neighborhoods — culturally rich 24th Street is its heart; 16th and Valencia Street is the place to find nightlife and authentic Mexican food; and the Dolores Street-Valencia Corridor is considered the "hip" younger section. It's a great place to explore, shop and take a food tour!
Nob Hill – Sometimes sarcastically referred to as "Snob Hill," this affluent enclave is home to some of San Francisco's most exclusive hotels: the Fairmont Hotel, the Mark Hopkins Intercontinental Hotel, the Stanford Court and the Huntington Hotel. In addition to these grand dame hotels, Nob Hill's noble tenants include Grace Cathedral (a replica of Notre Dame in Paris), Huntington Park (and it oft-photographed 16th-century Roman fountain replica), the Nob Hill Masonic Center (an architectural gem that hosts various musical events), the Cable Car Museum and the Flood Mansion (built in 1885-86 from sandstone quarried in Connecticut at a cost of $1.5 million, roughly $40 million in today's dollars). The Union Square shopping district is just south of Nob Hill.
Noe Valley – This San Francisco neighborhood was named after José de Jesús Noé, the last Mexican alcalde (mayor) of Yerba Buena (present day San Francisco). The neighborhood is primarily residential, with two bustling commercial strips where you can find lots of upscale restaurants and chic clothing shops.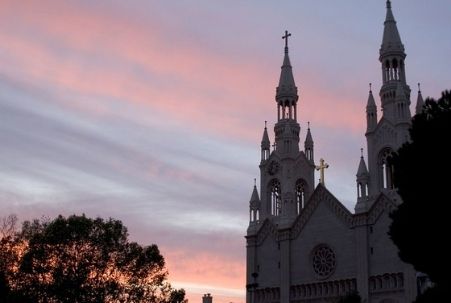 North Beach – This is San Francisco's "Little Italy," situated between Chinatown and Fisherman's Wharf with Telegraph Hill to the east and Russian Hill to the west. Originally settled by Italian immigrants, many other working class immigrants — Irish, Peruvian, Mexican, French, Portuguese and Chinese — later made the area their home, as well. Although the Italian population has decreased over the years, it's still an excellent place to enjoy a meal or to sip an espresso or cappuccino at one of the charming, old world cafés.
In the 1950s and 60s, poets and artists found a home in the area's laid-back atmosphere, and it was the West coast epicenter for the Beat Generation. An alleyway off of Columbus between Kearny and Broadway is named for writer Jack Kerouac, who once lived there and frequented the famous City Lights Bookstore (Columbus and Broadway) and numerous neighborhood bars and restaurants. That's not all of the North Beach nightlife, though. You can find topless/strip/nude clubs, too, as the area harkens back to its Barbary Coast beginnings!
Pacific Heights – One of the most affluent of the San Francisco neighborhoods, you'll find some of its oldest and most beautiful architecture here. It is somewhat "off the beaten path" for other sightseeing activities, but if you have a car you might find it an interesting place to drive through and experience. Be advised that parking can be quite difficult in this neighborhood, however, and is generally limited to two-hour, street parking. If you plan to thoroughly explore the area, you should consider using a taxi, car service or public transportation. You might want to combine a visit with shopping or dining at the area known as "Fillmore" (the section of Fillmore Street south of Jackson Street), where there's an eclectic mix of shops and restaurants.
Also note that SF Heritage has put together a self-guided walking tour of the Eastern Pacific Heights neighborhood (if you are interested in the stories associated with the elegant homes) as well as another that covers about 15 blocks centered around Broadway, and they're available in both Google Maps and pdf versions.
Rincon Hill – Located just south of the Financial District, the top of this hill serves as the anchorage and touch-down for the Bay Bridge. A former industrial district, during the 21st century it has transformed into a high-density residential neighborhood.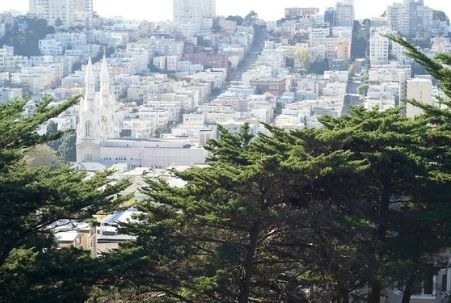 Russian Hill – This hill is directly north (and slightly downhill) from ritzy Nob Hill, south (and uphill) from Fisherman's Wharf and west of the North Beach neighborhood. The views are just as stunning as those of its affluent neighbor, and many people feel it has a more inviting demeanor. You'll find charming restaurants and small businesses on Hyde Street, and Polk Street is crowded with unusual boutiques, antique shops, trendy restaurants and night spots.
There is no significant Russian presence in this neighborhood; The City's Russian community is located primarily in the Richmond District. The name goes back to the Gold Rush-era when settlers discovered a small cemetery at the top of the hill. Although the remains were never officially identified, it was assumed that they were Russian fur-traders and sailors from nearby Fort Ross. The cemetery was removed, but the name remains.
South of Market – Also referred to as SoMa, this is one of The City's hippest neighborhoods and a center for art and nightlife. You'll find a broad selection of museums and galleries, trendy nightclubs, fashionable restaurants, experimental theaters, plus a beloved baseball park — all conveniently packed into its two square miles. In addition, it is home to the Metreon shopping and entertainment center (over 350,000 square feet on four levels, with 15 movie theatres, an IMAX theatre, interactive attractions, nine restaurants and many shops), Yerba Buena Gardens (5.5 acres of gardens, shopping, ice skating, bowling, a historic carousel, a technology center and outdoor performance area), Yerba Buena Center for the Arts (a multidisciplinary art center featuring visual arts, performing arts, film/video and education programs) and the Moscone Convention Center. Here is a handy SoMa area map; although as of 2019, the former AT&T Park (the map's #15 "See and Do" item) is called Oracle Park.
Telegraph Hill – This quiet, residential area adjoins bustling North Beach. In addition to Coit Tower, it is regarded for its gardens that flow down Filbert Street to Levi's Plaza and as the home of a flock of feral parrots (descended from escaped or released pets). The flock was popularized by a book and 2003 documentary, both titled The Wild Parrots of Telegraph Hill.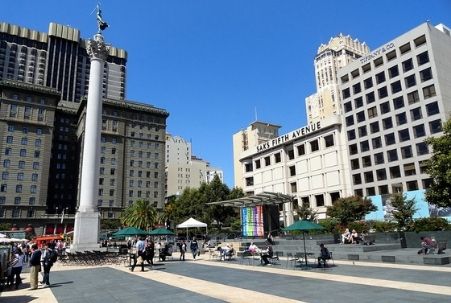 Union Square – This urban hub is justifiably famous as a shopper's paradise. Its flagship stores include Neiman Marcus, Macy's, Saks, Niketown, Tiffany's and the original Levi's store. More shopping opportunities can be found nearby at Market Street (including the massive Westfield San Francisco Centre, across from the cable car turnaround) and at Crocker Galleria (with its stunning block-wide arched skylight). There are a dozen hotels within a three-block walk from the square (including many that qualify as city landmarks — the Westin St. Francis, The Palace, the Sir Francis Drake and the Grand Hyatt come to mind), and the downtown theatre district and many fine arts galleries are also nearby. (Take note that galleries often close on Mondays and some close on Sundays, as well. Some small boutiques are also closed Sundays, though most of the stores are open.)
The square's landmark park received an 18-month, $25 million renovation (reopening in summer 2002), and it's a great "people-watching" location. It occasionally offers music and dance performances, and a TIX Bay Area half-price theater ticketing booth (near the Geary-Powell corner) and a small café can also be found there. The park's towering monument, added in 1903, is topped by the bronze goddess Victory, modeled after Alma de Bretteville Spreckels, considered by many local historians to be "the great grandmother of San Francisco" and known for her enormous influence in the San Francisco art community. (There is a short biography here, if you are interested.)
Hallidie Plaza, off Market Street near the cable car terminus (between Powell and 5th), provides a quiet spot to relax or enjoy a game of chess with the locals. San Francisco's only Frank Lloyd Wright building, built in 1949, is located at 140 Maiden Lane, and its gently curving ramp and luminous ceiling provide a glimpse into the noted architect's future design for New York City's Guggenheim Museum. Here's an excellent, printable (pdf) Union Square map.
Photo of Castro Neighborhood by Mike McBey via flickr (Creative Commons); Photo of San Francisco City Hall at Night by Franco Folini via flickr (Creative Commons); Photo of Pier 39 Sea Lions, Fisherman's Wharf by Art Bromage via flickr (Creative Commons); Photo of Mission District Mural (at 17th & Sanchez) by Nam LaMore via flickr (Creative Commons); Photo of North Beach Sunset by Brad Greenlee via flickr (Creative Commons); Photo of Russian Hill as seen from Coit Tower by Georgio via flickr (Creative Commons); and Photo of Union Square by Fabio Achilli via flickr (Creative Commons).