San Francisco Bay Area Tourist Maps
Northern California's "Bay Area" is quite large — about 100 miles north-to-south and 50 miles east-to-west — and most tourism resources sub-divide the area into smaller regions, as we have on the San Francisco Bay Area tourist map below.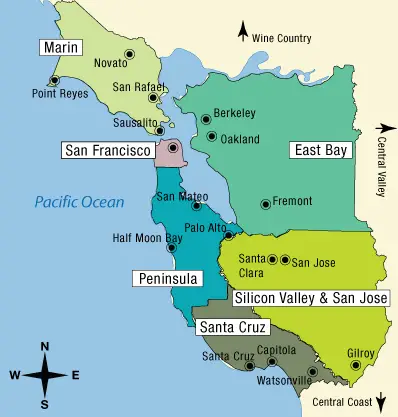 Bay Area tourism revolves around The City of San Francisco, itself, which you will note is its own region on our map — even though it's only about seven miles square. San Francisco is, of course, an oft-cited "Favorite Tourist Destination," and your Northern California vacation wouldn't be complete without taking in at least some of what this great city has to offer. (You'll want to check out the San Francisco landmarks, to be sure, and San Francisco food tours rarely disappoint!)
North of San Francisco's Golden Gate Bridge, you'll find Marin County, and the East Bay is (you guessed it) to the east. The area directly south of San Francisco is known as The Peninsula, while the Silicon Valley/San Jose area stretches inland and further south, all the way to Gilroy, the "Garlic Capital of the World."
The South Bay extension ends at the beach towns of Santa Cruz and nearby Capitola, and then extends a bit to include Watsonville's own little agricultural wonderland (where you can attend a "Strawberry Festival" in August). Each of these smaller Bay Area regions has its own attractions and experiences to enjoy, as well as its own array of tourism resources (hotels, resorts, restaurants, etc.).
Exploring San Francisco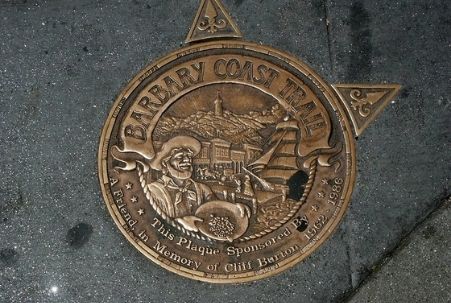 The City of San Francisco is very dense and is best taken in on foot. Our favorite (self-guided) walking tour of the city is the Barbary Coast Trail, which starts at the Old Mint building (on 5th, just south of Market Street) and traverses through Union Square, Chinatown and North Beach before terminating at Fisherman's Wharf.
Below are links to other San Francisco maps that may be useful for planning your visit or for navigating The City once you've arrived:
SFO Airport Map
OAK Airport Map
SJC Airport Map
Here is a simple map of the San Francisco cable car and Market Street streetcar routes that also sets out points of interest along the way — perfect for most tourists' needs; and, alternatively, here's a detailed map of all San Francisco transit options.
Exploring Marin County
Marin is most often taken in by car, going to Mt. Tam(alpias), Muir Woods, Stinson Beach and Point Reyes.  You can also catch a ferry to Sausalito from San Francisco's Fisherman's Wharf or the Ferry Terminal, and this map will guide you on a wonderful walking tour of downtown Sausalito.  Science lovers will want to stop and see the Bay Model (item 7 on the map) — it's unique and very cool!
Exploring the East Bay
Tourist maps for the East Bay tend to focus on Berkeley, especially the downtown area (map) and locations in and around the University of California's Berkeley campus (self-guided tour information). Also, if you're visiting Oakland sometime between May and September, you might want to check out these free walking tours of the area.
Exploring the South Bay
While maps of the Peninsula, Silicon Valley and San Jose may be a bit harder to find, here is a fun tour of Palo Alto — a scavenger hunt of sorts, the focus of which is the city's quirky Greg Brown trompe-l'oeil murals. If you make it to Palo Alto, be sure to check out the building at 165 University Avenue, which served as the original headquarters for several now-giant companies like Google, Logitech and PayPal. (It's easy to see why it's fondly referred to as "the good karma office," eh?)
And, if you're in that area, you may also want to make time to tour the Stanford University campus. The campus has an extensive collection of outdoor sculptures and gardens; don't miss the Rodin sculptures at the Cantor Arts Center.
This map will guide you on a DIY walking tour of the historic sites and buildings in San Jose, California's third largest city (trailing Los Angeles and San Diego), and there's a selection of San Jose sightseeing maps available here.
Moving down to the Bay Area's southern beach towns, you can find resources here for Santa Cruz self-guided walking tours, and the city has put together this map that highlights its wonderful public art. (Be sure to check out these Santa Cruz area beaches when you're there!) And, last but not least, you can explore Capitola with one of these fun walking tours.
San Francisco Bay Area Tourist Map © CaliforniaTouristGuide.com and Photo of Sidewalk marker for the Barbary Coast Trail in San Francisco by Pamla J. Eisenberg via flickr (Creative Commons photo removed in January 2023).