Central Coast Vacation Ideas
This is one of our favorite regions in the state, and we have lots of fun California Central Coast vacation ideas to share with you.  Except for a huge, crowded city with lots of traffic, Central Coast California has it all…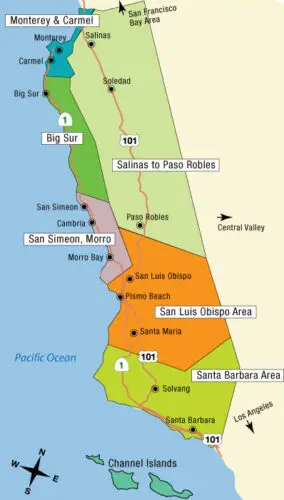 Seriously, how many other places in the world can you enjoy a relaxing morning coffee on the beach and then go wine tasting in the afternoon? Located between the San Francisco Bay Area and Los Angeles, we love this portion of the state because it offers abundant opportunities to enjoy "the good life" — invigorating outdoor adventures, award-winning wines and tasty edibles from land and sea.
In fact, because of the area's access to amazing foodstuffs given its proximity to Central Valley agriculture and the Pacific Ocean, California's Central Coast may be the state's best place to check out a local wine or food festival!
Perhaps best known for the stunning vistas along its portion of the Pacific Coast Highway and for having a beach town to fit nearly every personality, the Central Coast offers the opportunity for what many deem the perfect California road trip.
HEADS UP, though, this stretch of the PCH — aka Highway One, State Route 1/SR1, along with more names for some of its regional-specific portions — is known for landslides that often cause road closures, especially during the rainy season. Be sure to check out current road conditions before you leave.
A trip along the California Central Coast can take you from Monterey and its world-famous aquarium (with Carmel's scenic 17-Mile Drive and the prestigious Pebble Beach golf courses nearby) to Big Sur (for which all existing adjectives seem inadequate), San Simeon's Hearst Castle, fun-and-funky beach communities like Moonstone Beach, Cayucos, Morro Bay, Avila Beach, Pismo Beach (with the surreal Oceano Dunes nearby, where you can drive on Pismo State Beach and feel like you're in a "Mad Max" movie), to Santa Barbara's American Riviera… and then all the way out to the unspoiled wilderness of Channel Islands National Park. There's really nothing that compares to this amazing area on any other portion of the California coast.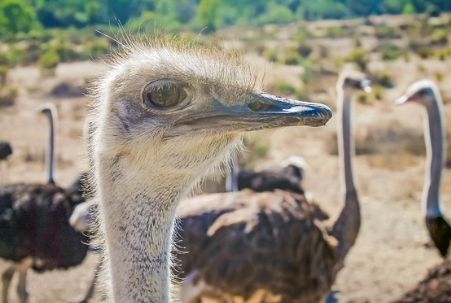 And, that's not even the whole story. About 30 miles inland from Moonstone Beach, you'll find the rolling hills of the Paso Robles wine country (with 200+ wineries — and counting — plus several extraordinary restaurants) and about another 30 miles south of that there's a craft beer Mecca in San Luis Obispo.
As you get closer to Santa Barbara, driving inland let's you discover some amazing wine at Los Olivos and Santa Ynez, as well as a little, kitschy piece of Denmark in Solvang.  And if that's not unusual enough for you, be sure to add the nearby Ostrichland to your itinerary!
The Central Coast also offers insight to an important part of the Golden State's history as about half of the California Missions can be found here. Just north of Paso Robles at Mission San Miguel — the only U.S. mission in which the original interior frescoes are still intact — you'll see exactly what the Spanish padres, soldiers and Salinan Indians saw in the 1800s. The chapel, open daily for mass, has walls that were painted in 1821 under the direction of a talented Spanish artist, Esteban Munras, and there's also a museum and gift shop on the property.
Morro Bay State Park offers the small-but-fascinating Museum of Natural History (from which the famous Morro Rock can be seen), and another bit of history — this time the Central Coast's railroad heritage — is preserved at the Santa Maria Valley Railway History Museum, which is inland and a bit south of Pismo Beach. What's more, visiting the latter provides an excellent excuse to sample a bit of tasty history in the form of some Santa Maria-style barbeque!
A unique Central Coast feature is the virtually year-round whale watching opportunities afforded visitors to the Santa Barbara area. From December through mid-February, Gray Whales traverse these waters as they swim toward southern California on their way to Baja California Sur. After calving in Mexico they head back toward northern California (and, eventually, Alaska), and from mid-February through the end of April they can often be seen swimming quite close to the Santa Barbara coast with their newborns. Finally, during the May-to-November period, large pods of giant Blue and friendly Humpback Whales feed in the nutrient-rich waters between the California coast and the Channel Islands. As you might imagine, there's a varied selection of boat tour operators to assist your viewing and enjoyment of these incredible creatures.
Another much smaller creature that returns again and again to a few different Central Coast locales is the Monarch Butterfly. They gravitate to Pacific Grove (near Monterey Bay), Andrew Molera State Park (about 20 miles south of Carmel) and near downtown Pismo, typically arriving in October/November and leaving the following January/February.
So, then, when are YOU coming to visit the Central California Coast and, perhaps the more important question, how long can you stay?
Central Coast Map © CaliforniaTouristGuide.com; Photo of Ostrichland, near Solvang on the CA Central Coast by Hey Fritters via flickr (Creative Commons) and Photo of Monarch Butterflies at Pismo Beach by Steve Corey via flickr (Creative Commons).