Shasta and Cascades Vacation Ideas
Are you looking for Shasta Cascades vacation ideas? To be upfront from the start, let's just say that you don't have to like hiking, fishing and camping to have a good time here… but it certainly wouldn't hurt!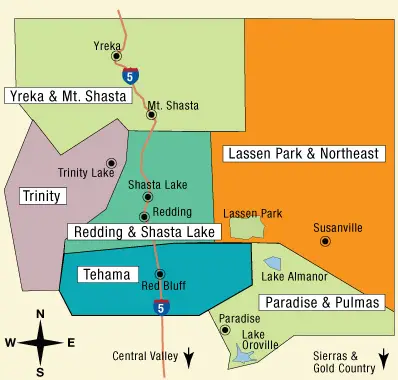 Seriously, though, all you really need to enjoy a visit to the Shasta Cascade area is an appreciation of natural beauty. Upstate California is the epitome of "pristine wilderness," and it's almost hard to fathom this area exists a mere 2.5-hour drive from the state capitol, Sacramento, much less in the same state as densely populated areas like San Francisco and Los Angeles.
This Northern California natural gem is home to seven national forests, several state parks, Lassen Volcanic National Park and a portion of the Cascade Mountain range that includes two glaciated volcanoes: the still-active 10,457-foot Lassen Peak and the dormant-but-majestic Mt Shasta rising 14,162 feet.
We'll try, but it's going to be difficult not to overuse words like "breathtaking" and "awesome" to describe the unspoiled beauty of this region.  Another good word for the area is "tasty," especially if you enjoy olive oil, salmon, fresh fruit (here's a handy Butte County "what's in season?" list) and/or craft beer. And, there's even a handful of fun, foodie-type festivals in the area where you can sample these treats and more!
The grand peaks, the lush forests and a handful of glistening lakes provide visitors an incomparable opportunity to reconnect with wonders of the natural world. In addition to the outdoor adventure activities they support, this "handful of glistening lakes" also offer an excellent way for us to introduce you to the area. We'll use them as a guide, and you'll soon see that whether you enjoy hiking or fishing, whitewater rafting or horseback riding, it's all waiting for you here.
Oroville
Traveling north and leaving the Central Valley area, the first town you'll encounter in this area is Oroville. For a small town (around 24,000 residents), there's a surprising variety of things to see and do here — including five lovely gardens and several museums that preserve the city's history. You can also find some incredible waterfalls here, including the sixth highest in the U.S., Feather Falls.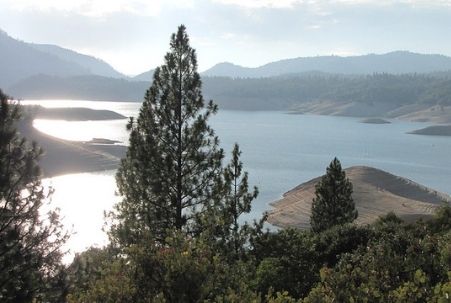 Many recreational activities center around Lake Oroville — hiking, camping, fishing and boating — and you can even stay at a unique "floating campsite" from April through October. There's a Visitor Center that includes a museum, exhibits and a store, and you can look through a high-powered telescope on the property's 47-foot-tall tower for an outstanding view of the lake, valley, foothills, the Sierra Nevada mountain range and the Sutter Buttes (sometimes called "the world's smallest mountain range" although technically they're not even mountains).
Orland
Next up is Black Butte Lake, near Orland, which features 100+ campsites over two locations, boat launches, equestrian trails and a hiking trail for any fitness level. Keep in mind that the summer heat can be stifling in this area, while spring and fall are much more accommodating.
Red Bluff
If you continue traveling north, you'll soon reach Red Bluff, and more historical references can be experienced here and nearby. An outstanding collection of restored Victorian homes remain from the city's Gold Rush transportation hub days, and the Kelly Griggs Museum provides a look at 1880s daily life. Just north of Red Bluff, the restored adobe home of the first and only President of the California Republic, William B. Ide, is open for tours in what is now a state park.
Anderson & Redding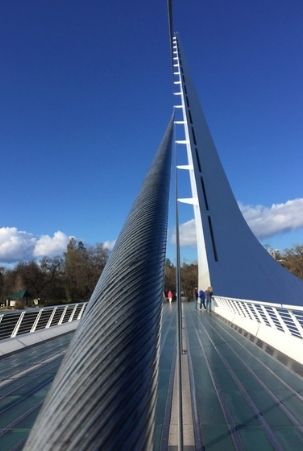 Anderson — where there is a California Welcome Center — sits between Red Bluff and Redding, the largest city in the Shasta Cascade region. Although still small by California population standards (around 100,000 residents), Redding has an up-to-date feel and enhances Mother Nature's already excellent work there with artistic and architectural eye candy.
There's an intriguing City Hall sculpture park and the beautifully restored Cascade Theatre in downtown Redding, as well as the $23M Sundial Bridge and surrounding Turtle Bay Exploration Park. The bridge is definitely more sculpture than sundial — it's an accurate timepiece only one day of the year, the summer solstice — but it's definitely a "can't miss" place to walk, observe wildlife and just generally enjoy nature when you're in the area.
Hiking enthusiasts should put the Sacramento River Trail on the itinerary, and the Lower Sac is the largest trout river in the state.  Forbes magazine even named Redding a "Top 10 Trout Fishing Town" back in 2009; rest assured that while time has passed, the trout remain!
Whiskeytown, Weaverville & Trinity Lake
Whiskeytown Lake and its associated national recreation area, about a 15-minute drive west from Redding, offer some typical outdoor activities (although personal water craft have been banned there). A 40-minute drive northeast from Whiskeytown takes you to Weaverville, where a state park is home to Joss House and California's oldest continuously operating Chinese temple.
However, if you were to head north, instead, and drive another hour or so on some seriously twisty-turny roads you'd reach Trinity Lake. This is yet another artificial lake where fishing, boating and water skiing are the norm, but houseboats are also popular here. It's an ideal hiking and camping location, as well, given the surrounding Shasta Trinity National Forest and Trinity Alps.
Lassen Volcanic National Park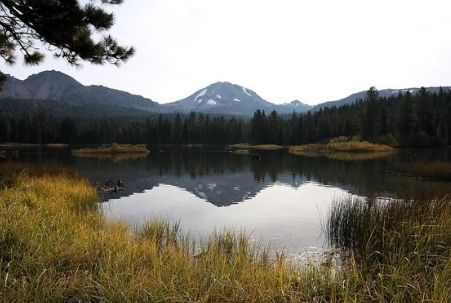 To visit Lassen Volcanic National Park, you will need to travel southeast from Redding. Its Kohm Yah-mah-nee Visitor Center — "snow mountain" in the native Maidu people's tongue — is located on the south side of the park near Mineral, and a stop here is worth your time.
If you're up to a challenging hike, the Cinder Cone volcano trail begins at the Butte Lake parking area and takes you along Fantastic Lava Beds (that's right, "fantastic" is even part of the name!) before opening up with wonderful views of the Painted Dunes, Snag Lake and Lassen Peak. On the other hand, a visit to Manzanita Lake offers a tranquil setting and an easier way to enjoy the park.
Lake Shasta & Shasta Caverns
By far, the most popular Shasta Cascade region lake is Shasta Lake.  This is largely because, at only about a 20-minute drive from Redding, it's much easier to reach than some of the other options, like Trinity Lake. Also, as California's largest reservoir and third largest body of water (behind Lake Tahoe and the Salton Sea) its 30,000 surface acres provide ample room to accommodate everyone and all their floating vessels.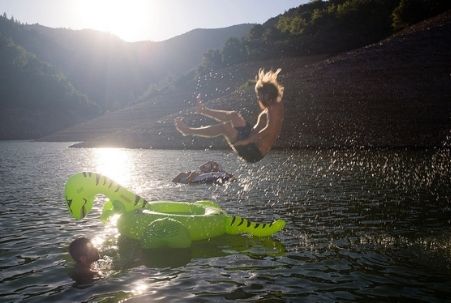 And, just about every type of vessel and water toy is available for rent and/or for sale at Lake Shasta's many marinas and resorts — fishing boats, ski boats, skis, tubes, wakeboards, jet skis/sea doos, etc. — but the emphasis here is on houseboats.
It really is the perfect place to rent a houseboat as your accommodation, and then just relax and soak up the splendor. There are LOTS of vendors to choose from, and you can even find houseboat rentals on VRBO.
Lake Shasta has four major arms: from left to right, the Sacramento River, the McCloud River, Squaw Creek and the Pit River. (Here's an excellent map to give you the lay of the land, but don't bother clicking around on it as the links are frustratingly outdated.)
Shasta Dam (which you can tour for free and definitely should if you can spare a couple of hours) — which joins Lake Shasta and Mount Shasta as the final component of the infamous "Three Shastas" — is on the Sacramento River arm. There's a comprehensive Visitor's Center with exhibits and information about the tour, and the surrounding property offers a wonderful place to enjoy a picnic lunch.
North from the dam, on the McCloud arm and near the small town of O'Brien, you can visit Lake Shasta Caverns, a network of caves that were named a National Natural Landmark in 2012.  It was no small feat to make this tourist attraction safe and accessible (you'll get all the details on the tour), but be advised that there are a lot of stairs involved and that people with mobility issues should skip it.  This video will give you a good feel for it… and with much less exertion!
Dunsmuir, Mount Shasta & McCloud
Continuing north on Interstate 5, you'll come to Dunsmuir. There's an Amtrak station here (a stop between Portland and Sacramento) and some fabulous fishing nearby. There's also a notable gourmet restaurant in Dunsmuir, Café Maddalena, whose chef left San Francisco years ago for these more peaceful environs. (My mouth is watering just remembering the evening we spent there!)
Mount Shasta is about an hour drive from Shasta Dam on Interstate 5 (and is actually in Siskiyou County rather than Shasta County), and Mount Shasta City offers plenty of amenities for travelers, including both summer and winter activities to enjoy at Mount Shasta Ski Park.
Shortly before reaching Mount Shasta City is where you'd turn south to reach three nearby lakes — Lake Siskiyou, Castle Lake and Heart Lake. A popular hike connects the latter two.
If you were to turn north there, instead, you'd be on Highway 89, the Modoc arm of the Volcanic Legacy Scenic Byway which will lead you through McCloud to Medicine Lake, the Lava Beds National Monument and, eventually, Klamath Falls in southern Oregon.
If you made it this far, you're probably not surprised to learn that this area comprises something like 20 percent of California's total land mass. Would you believe there are even more lakes here than the ones we mentioned? Come check it out for yourself, and learn first-hand why a Shasta Cascade vacation has an amazingly rejuvenating effect on most people.
Shasta-Cascades Map © CaliforniaTouristGuide.com; Photo of Lake Oroville (with low water level) by Bob 'n Renee via flickr (Creative Commons); Photo of Sundial Bridge in Redding by Ray Bouknight via flickr (Creative Commons); Photo of Manzanita Lake and Mount Lassen by sodai gomi via flickr (Creative Commons); Photo of Dinosaur Attack at Shasta Lake by Colin and Sarah Northway via flickr (Creative Commons); and Photo of Heart Lake by Tom Hilton via flickr (Creative Commons).