The Los Angeles area is geographically quite large, measuring almost 100 miles from one end to the other. To help with planning a visit to this vast area, most Los Angeles travel guides subdivide it into smaller regions, as shown on the map below, also shared in our Los Angeles vacation ideas article.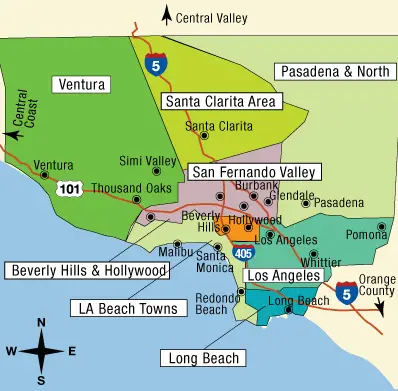 You may notice that our map contains a mere sampling of all the various cities, neighborhoods and communities that make up this gigantic southern California area.
If you're curious to know more about ALL of them, however, check out this map, where you can also learn which of these entities are actually part of the City of Los Angeles (BLACK place names on that map) and which are not (RED place names on that map). For example, while Hollywood is part of Los Angeles City, Beverly Hills and Santa Monica are not; likewise, San Pedro is part of Los Angeles City, but Long Beach is not. Interesting! If you'd like to print or download a pdf version of the map, use the buttons below it.
Our collection of Los Angeles maps for visitors is also organized by city/neighborhood/community because that's the most efficient way to organize your Los Angeles area itinerary. And, speaking of efficiency, if you'd like to skip immediately to any of the specific discussions, just use these jump links:
Los Angeles Transportation Maps
Downtown Los Angeles Maps
Hollywood Maps
Santa Monica Maps
Beverly Hills and West Hollywood Maps
Pasadena Maps
So then, let's start exploring!
If you plan to fly to Los Angeles, it's quite likely that you'll arrive at LAX, aka Los Angeles International Airport. There are nine passenger terminals at LAX, nearly 150 gates as well as loads of shops and dining establishments, and a map can certainly come in handy there! This page sets out a collection of LAX terminal maps, and a bit of pre-travel familiarity with them could serve you well.
(Note that it's certainly worth checking flights to the area's other airports — located in Burbank (BUR), Long Beach (LGB) and Ontario (ONT) — if landing in one of those other destinations will work well for your travel plans. The cities/neighborhoods/communities maps linked above should help you determine that.)
This pictorial map of the Greater Los Angeles Area will give you a sense of how the area is laid out… as well as why you should carefully consider whether or not to rent a car. Have you ever seen so many freeways? Traversing them is definitely not for the faint of heart!
The "nobody drives in LA" adage is a bit outdated, in our opinion, and our favorite LA visits are those for which we didn't rent a car. Please know that between rideshare services like Uber and Lyft and the area's Metro public transit system, you can see and do A LOT without a car. Plus, being car-free means you won't have to look for parking (a MAJOR headache here) or pay for it either, for that matter. Between the rental, gasoline and parking costs, for most travelers the car-free choice will result in significant monetary savings and be a lot less hassle, too.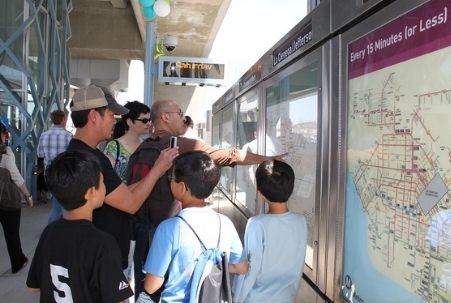 You can check out the LA Metro Bus and Rail System maps here. (The calurbanist website offers another, "cleaner version" of the rail system map, and we think it's really well done and useful. It may not be completely up-to-date, however, so do keep that in mind.)
The TAP (Transit Access Pass) card system simplifies public transit travels immensely, and there's even a TAP app now that allows you to keep everything you need on your phone.
Here's another lovely Carol Mendel pictorial map, this one focusing on DTLA. We should note that the map is a bit dated, though, and that the LA Convention and Visitors Bureau office is no longer at 685 S. Figueroa Street. In fact, there are now several scattered around the area, and here are the addresses for the various visitor bureau offices. At the time of this writing, these offices are closed because of the coronavirus pandemic, and that page will also advise if they're open now. (Note that maps are also available at the LA-area tourist information centers run by the state — see Ontario, Torrance and the Los Angeles Welcome Center in that list — as well as at outposts for conventions and visitors bureaus run by some LA-area cities that offer independent tourist services.)
If you're driving a car, it's a good idea to plan in advance where you'll park it, and this DTLA interactive parking information map can help you do that.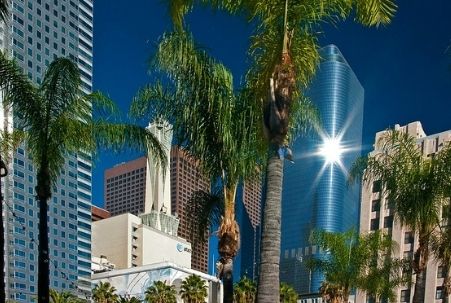 A wonderful organization, the LA Conservancy, works to ensure that the area's historical buildings are preserved and honored. As part of fulfilling that mission over the years, it recruited local volunteers to offer in-person tours, but during the pandemic it assembled a collection of self-guided downtown Los Angeles walking tours to allow people to explore independently.
It looks like the in-person tours are back now, and you can read about them, too, on that website.
Lastly, here are resources for two of DTLA's most popular attractions that may also be useful:
This self-guided walking tour — put together by a food tour company — shares some excellent tips for exploring Grand Central Market. And amazingly, even though it was published in 2016, most of the establishments mentioned are still in business in 2022! (The exceptions we noticed are Belcampo Meat and Craft & Courage Liquor Store.) You may want to check out the market's current vendor list, too, because it's had some fun additions since 2016. In addition, the popular Malibu eatery, Broad Street Oysters, is set to open an outpost here in Summer 2022, and it's definitely worth a visit.
Walt Disney Concert Hall also has a self-guided tour option available on select days, and you can learn all about that here on its website.
Another area close to downtown LA is Exposition Park, where museums are the main draw. It's where you'll find the California Science Center and the Natural History Museum, among others, so be sure to check out that other article if you especially enjoy visiting museums.
Griffith Park, a large park at the eastern end of the Santa Monica Mountains, is technically located in the city of Los Feliz, which abuts Hollywood. The park is home to multiple Los Angeles attractions — including the famous Griffith Observatory, several museums, the 1920s carousel that inspired Walt Disney to create Disneyland and the Hollywood Sign — as well as an assortment of hiking trails. It's considered a must-see for visitors, and you can click here for a pdf map to help you make the most of your Griffith Park visit. This Griffith Park parking map may be helpful, as well.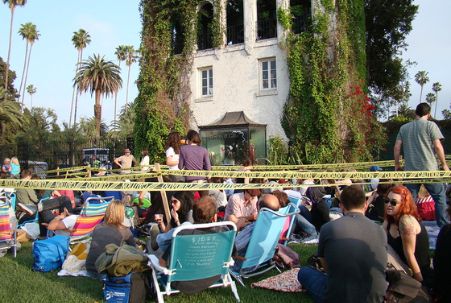 Believe it or not, one of the most happening places in Hollywood is a cemetery — Hollywood Forever Cemetery!
There are frequent "movie nights" here, but if you visit the site during the day you can use this Curbed article to learn about some of the famous people who have chosen this location as their final resting place.
And, of course, you can't go to Hollywood without checking out the famous stars along the Hollywood Walk of Fame, and this LA Times article provides information about the stars' locations as well as biographies of their recipients.
"Maps to the Homes of The Stars" is a very popular genre of maps for Hollywood and Beverly Hills, and they're often sold in shops that cater to tourists. Frankly, though, we can't recommend you spend your money or time on them. (The same advice applies to most guided tours of this ilk.) If there's a particular star you're interested in, this celebrity address lookup page may be of interest to you.
Santa Monica Pier is considered a must-see, and this map will help you explore it.
If you're staying in the area or perhaps enjoying a day trip here, how about combining fun with a bit of exercise? The Marvin Braude Bike Trail is a lovely, 22-mile, paved beachfront bike path that runs from Will Rogers Beach (a bit north of Santa Monica) to Torrance Beach, and there are several bike rental businesses located near the Santa Monica Pier.
The Getty Center is fairly close to Santa Monica, and perusing this well-designed map and guide before your trip can help make the most of your visit there.
The Beverly Hills CVB put together some fun walking tours that cater to particular interests a visitor might have.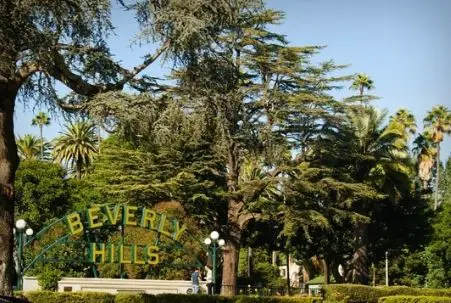 Check them out:
Bravo, Beverly Hills, for this impressive collection!
West Hollywood is near Beverly Hills, and you may also want to check out our Los Angeles sightseeing suggestions, where you'll also find a map with suggestions for things to do in its infamous Melrose Avenue-Robertson Blvd. area.
First up, another gorgeous pictorial map from Carol Mendel to give you the lay of the land. And, as you'll notice on it, there are some wonderful places to explore in Pasadena.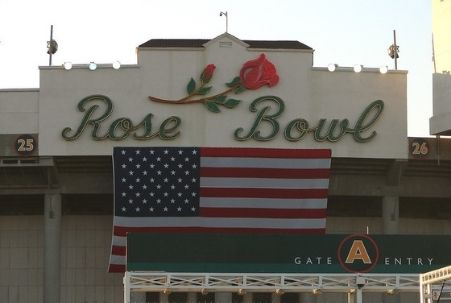 The Rose Bowl offers tours during its non-event hours, but if you're coming for a game, this parking map may be useful.
Our favorite Pasadena attraction is the Huntington Library, Art Museum and Botanical Gardens. You can learn about all it has to offer at this map of the grounds page, which also includes links to additional pages that explain all the different buildings, gardens and points of interest. It's amazing!
Finally, GPSMyCity — a free app you can download to your phone — offers a few self-guided Pasadena walking tours:
That should keep you busy for a while! In the meantime, we'll be adding to this list as we discover new maps that will help visitors explore and enjoy the Los Angeles area.
Los Angeles Tourist Areas Map © CaliforniaTouristGuide.com; Photo of Wall Map at Los Angeles Metro station by Steve Bott via flickr (Creative Commons); Photo of Downtown LA by Ron Reiring via flickr (Creative Commons); Photo of Movie Screening at Hollywood Forever Cemetery by vmiramontes via flickr (Creative Commons); Photo of Beverly Hills Sign at Beverly Gardens Park by Dave Herholz via flickr (Creative Commons); and Photo of Rose Bowl in Pasadena by Gareth Simpson via flickr (Creative Commons).