Los Angeles Vacation Ideas
Roughly 75 miles north of Mexico and 400 miles south from San Francisco, "The City of Angels" has one of the world's most idyllic climates. Los Angeles enjoys around 284 sunny days each year, and it's definitely a good place to plan some vacation fun!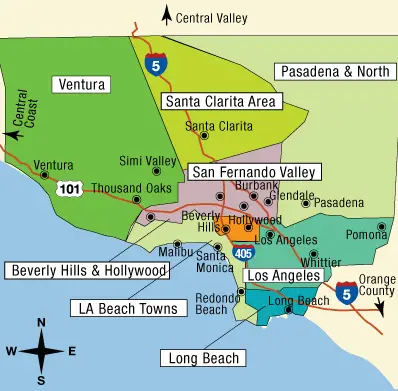 The Los Angeles area is geographically quite large, measuring almost 100 miles from one end to the other. We've detailed the regions typically of interest to tourists on the map on the left to help you begin planning your visit.
Bounded on the west by roughly 75 miles of Pacific coastline and then in a semi-circle by mountains – north to south: the Santa Monica, the San Gabriel, the San Bernardino, the San Jacinto and the Santa Ana ranges – Los Angeles County's 88 interconnected cities sprawl some 4,000 square miles. While everything revolves around the city of Los Angeles, the surrounding cities also offer plenty of things to do and see.
While that map provides a general orientation, we've also assembled a collection of links to maps that Los Angeles travelers may find useful. The linked maps include everything from ones that will help you use the area's public transportation options to others that can direct you to the best spots for Instagram photo opportunities. You want to go ahead and open that article now so that you don't forget to look at it; the information really is quite useful!
There are also maps available at the Los Angeles tourist information center run by the state, as well as at the outposts for local convention and visitors bureaus. When you're trying to make the most of your time in an area this massive, maps are definitely your friend.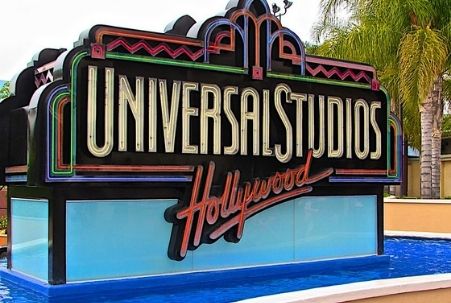 Los Angeles is known as "The Entertainment Capital of the World," and it's a fitting nickname. Not only is the area a music, film and television industry Mecca, there's simply a lot of entertaining things to do there! Endowed with a diverse selection of museums, several world-renowned tourist attractions, exceptional restaurants, shopping opportunities galore and truly spectacular natural surroundings, it's no wonder Los Angeles is a top-ranked vacation destination.
Every visitor's "must see" or "must do" Los Angeles bucket list will differ, of course, depending on personal tastes and circumstances. Just like there are Los Angeles food and beverage festivals for every taste, there is an amazing range of activities available — everything from laid-back to high energy and from low cost to big budget. Quite frankly, most people run out of vacation time before their Los Angeles vacation ideas are exhausted.
So, then, what should go on your list? Let's start with the fabulous LA beaches, each of which has a somewhat different "vibe" or personality. Between the cool canals and its muscle-man boardwalk, Venice Beach is probably the most unique. If you're short on time, it has enough trendy restaurants, shops and outdoor activities to completely fill a weekend getaway — and it's just a short jaunt from LAX.
You can read the article linked above to try to find the best LA beach for you and yours — be that your family, a special someone, a group of friends, whatever — but if you want to keep it simple we suggest that you just add "visit Santa Monica" to your list.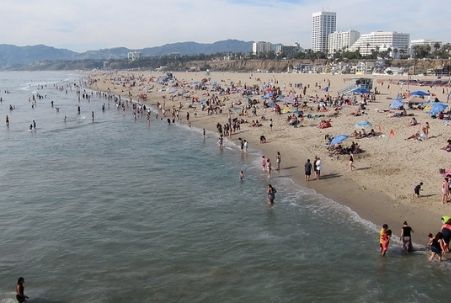 In addition to lovely beaches, it offers an excellent variety of restaurants, shopping and even a small amusement park, Pacific Park, at the Santa Monica Pier. It's also accessible via the Metro which we always consider a big plus, especially in the Los Angeles area. The Metro from downtown Los Angeles terminates at Santa Monica Place, which is about a half-mile from Santa Monica Pier.
If you drove your car or have rented one and if you have more time to explore, you might want to hop on the Pacific Coast Highway and sample all the Los Angeles beaches — start at Long Beach in the morning, perhaps, then head to Manhattan Beach or Hermosa Beach for lunch, swing by Santa Monica and then head to Malibu to catch the sunset. That's definitely doable, and if traffic cooperates it will be an enjoyable day.
You get the idea. Now it's just a matter of adding to your list and then, perhaps, paring the list down to what might reasonably fit into your allotted vacation time.
There's quite a bit to do in Downtown Los Angeles — the Walt Disney Concert Hall, the Broad Museum, Union Station and Grand Central Market, to name a few — plus the Arts District, Chinatown and Little Tokyo are close by, as well. You may also want to check out the LA Conservancy's walking tours; we've been on several, and the guides have been top-notch. Frankly, if you're limited to a weekend trip, you may want to consider focusing solely on activities and sites in and around downtown Los Angeles.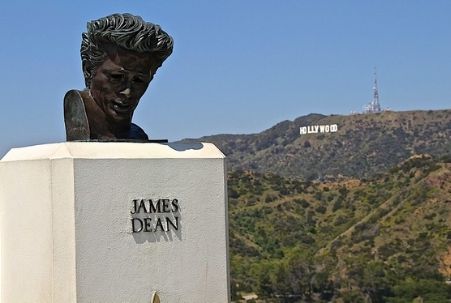 Hollywood — with its TCL Chinese Theatre, the Hollywood Walk of Fame and "Homes of the Stars" Hollywood Hills bus tours — is a popular addition, even if just to get a glimpse of that infamous HOLLYWOOD sign. If time allows, Griffith Park is nearby and has some amazing hiking trails. An added benefit is that, except for the park's observatory, it's free to visit.
Then again, if money isn't an issue at all, there's always shopping at Rodeo Drive in Beverly Hills, and that's also not far from Hollywood. West Hollywood, with its iconic Sunset Strip neighborhood and Melrose Avenue shopping district, sits in between the two.
That's the process — read some articles and add ideas to your list — before long you'll have planned an absolutely awesome Los Angeles vacation… and maybe even have ideas left over for a future trip.
A few final things you may want to know: while our Los Angeles travel guide also provides information for some cities in Ventura County (e.g., Ventura, Ojai and Thousand Oaks), Orange County cities often associated with Los Angeles (e.g., Anaheim, Santa Ana, Huntington, Newport Beach and Laguna Beach) are covered in our Orange County section. Catalina Island, while technically a part of Los Angeles County, is also covered in the Orange County section, as one can ferry to the island from several Orange County locations (e.g., Newport Beach, Marina Del Rey and Dana Point) in addition to the ferries that depart from Long Beach and San Pedro.
Likewise, San Diego is it's own subcategory of Southern California, while Santa Barbara is covered in our Central Coast section. And, if you're looking Palm Springs information, that's in our Desert & Inland Empires section. The downtown area of each of those lovely California travel destinations is roughly a two-hour drive from downtown Los Angeles.
Los Angeles Vacation Destinations Map © CaliforniaTouristGuide.com; Photo of Universal Studios Hollywood Sign by Travel Junction via flickr (Creative Commons); Photo of Santa Monica Beach by K M via flickr (Creative Commons); and Photo of James Dean Statue and Hollywood Sign as seen from Griffith Observatory by Travel Junction via flickr (Creative Commons).