Best Los Angeles Area Beaches
Southern Los Angeles County beaches start off kind of slow, but as you move up the coast they finish strong. At the southwest tip of the county coastline is Palos Verdes, a 1000-foot high rock outcropping with a rocky shoreline below, and east and south is Long Beach harbor. While both of these locales have excellent tourist attraction offerings, neither would be considered "beach-goer friendly." 
But west and north — at the Santa Monica Bay — you are treated to some of the most famous and "best" beaches in America. (California residents may argue that Orange County beaches are better, but in the end it's a matter of taste and difficult to quantify perfection.)
You can find everything you need for a true California beach vacation in Santa Monica — hotels, resorts, restaurants and even a small-but-lively amusement park. It's "the good life" at its finest!
Let's investigate them all, starting at the southern tip of the county. Heading north from Palos Verde, the first beach you come to is Torrance Beach, which is physically like the beaches further north although not nearly as "fashionable" nor, it should be noted, as crowded. If you're looking for an uncrowded pristine beach with all the amenities of its more famous cousins to the north — Malibu, Santa Monica, Venice, Manhattan Beach and so on — then you should definitely consider Torrance Beach.  There are even stretches of beach here that are used for fishing.
More often considered the gems of Los Angeles area beaches, however, are Manhattan Beach, Hermosa Beach and Redondo Beach, all in what is known as the South Bay. The sands are perfect, beach access is easy, amenities are close by and the on-beach activities available are world class. Between surfing, swimming, beach volleyball and strolling along The Strand (walkway), it's easy to enjoyably fill your day. These areas are casual and laid-back, so restaurants tend to cater to the beach goer. Accommodations range from beachfront hotels to incredible vacation rentals on The Strand.
There's a lovely pier stretching into the Pacific Ocean at all three of these Los Angeles area beach towns, and the restaurants, shops and traveler accommodations are largely centered around them. Redondo tends to be a little more formal, especially around the marina area where you can find plenty of steakhouses and hotels.
North of Manhattan Beach is El Segundo, home of several oil refineries and beaches that are desolate for a reason: there's nothing around and the air is foul.  Best to steer clear here, unless you need serious solitude.  The next beach north is near Los Angeles International Airport, and like El Segundo, it tends to be desolate except for the occasional intrepid surfer.
Marina Del Rey's Marina Beach offers an excellent family friendly beach with lifeguards, especially if you have little ones in tow. It's also known as Mother's Beach, which should give you a good idea of its vibe. It is a marina, though, so you may want to ask the lifeguards about water quality.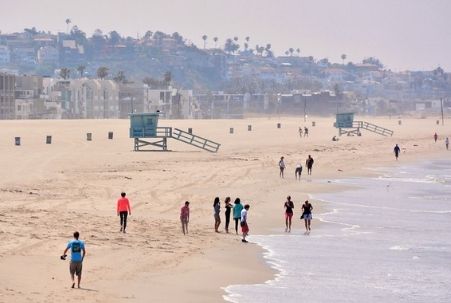 Just north of the Marina Del Rey inlet is Venice Beach, famous for rollerblading, muscle builders, exotic people and the unconventional. Accommodations cover the range, and the restaurant scene is excellent. Even though it's a beautiful beach, most people don't come here for simple swimming. It's a bit "slink or swim" for the ladies and a parade of bravura for the men. Honestly, though, people-watching here is also a popular "sport," and no trip to Los Angeles is complete without a few hours (at least) on Venice Beach.
A bit further north is Santa Monica, home of Santa Monica State Beach… and aging starlets, residents who commute to downtown Los Angeles on the Santa Monica Freeway (or Metro Rail's recently opened Expo Line), artisans, UCLA expats, etc. Near the Santa Monica Pier, in the heart of downtown, you can find a cornucopia of tourist services and lovely beachside hotels, motels and cottages. The coast here is pure southern California beach (a lot like The OC's Huntington Beach or Laguna Beach) for part of the way, and as you head north on the busy Pacific Coast Highway you'll zip past a broad sandy beach Mecca, complete with vast parking lots.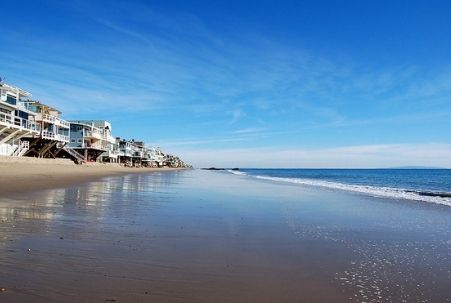 Once the Pacific Coast Highway leaves Santa Monica, the coast gets more mountainous and the beaches are just beaches, reachable only by car and supported by a restaurant here and there.  You'll see the occasional motel when some canyon road meets the Pacific Coast Highway, but nothing of substance until you reach Malibu. Topanga State Beach, about halfway to the main action in Malibu, is the charming exception and well worth a stop, especially if you're interested in fishing. The Getty Villa art museum is nearby.
Much of Malibu is the gated-home playground of the Hollywood set, of course, with Pepperdine University and Malibu Canyon thrown in to keep things real. Historically, Malibu beaches have been hard to reach — especially in the Carbon Beach area, also known as Billionaire's Beach — because residents would block, hide or restrict access. Things have improved somewhat in recent years, though, and you can find a gate at the address 22126 PCH if you'd like to explore the eastern portion of Carbon Beach. You'll have to park along the Pacific Coast Highway, and you'll need to be careful not to block residents' driveways or garages.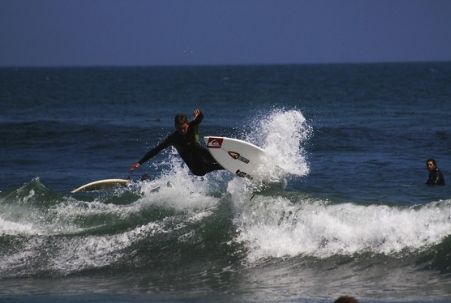 And that brings us to the very popular Malibu Lagoon State Beach, also known as Malibu Surfrider Beach. It boasts a sandy beach, a well-loved surfing spot and the Malibu Sport Fishing Pier. There are also some fabulous Malibu seaside restaurants — Paradise Cove Cafe near the Point Dume promontory, GEOFFREY'S, Malibu Farm near Surfrider Beach, Duke's Malibu, Moonshadows and more — some of which provide at least a bit of access to the beach.
At Zuma Beach, just to the north of Point Dume State Beach, there's a truly spectacular stretch of the coast that's yours to enjoy if you're willing to travel there by car. Past Zuma, you may recognize El Matador State Beach from the movies. This beautiful beach has appeared in several films, the best known being The Notebook. Obviously, it's quite photogenic, especially at sunrise and sunset. Leo Carrillo State Beach has a film portfolio, as well, including appearance in Grease, 50 First Dates and Karate Kid. It has more to offer than a pretty face, though. There are all the usual beach activities, of course, plus tidal pools, coastal caves and camping. Giant Sycamore trees shade the main campgrounds, and you can even partake in some back country hiking here.
As you drive up the coast and leave the Los Angeles beaches behind, things thin out — dotted by the occasional state or county park — and head into Ventura County. Ventura and Oxnard provide a more laid-back place to enjoy the Los Angeles area's beaches, and they're definitely less expensive beach vacation options. Frankly, we're big fans of all Ventura has to offer travelers. You may want to stop there or continue on to "The American Riviera" of Santa Barbara's lovely beaches.
Photo of Santa Monica Beach by cmonville via flickr (Creative Commons); Photo of Manhattan Beach by mbtrama via flickr (Creative Commons); Photo of Venice Beach Early Morning by Mike McBey via flickr (Creative Commons); Photo of Carbon Beach / Billionaire's Beach in Malibu by tensaibuta via flickr (Creative Commons); and Photo of Surfrider at Surfrider by Omar Laribi via flickr (Creative Commons).